West central Michigan vegetable update – Aug. 7, 2019
Cucurbit diseases are on the uptick.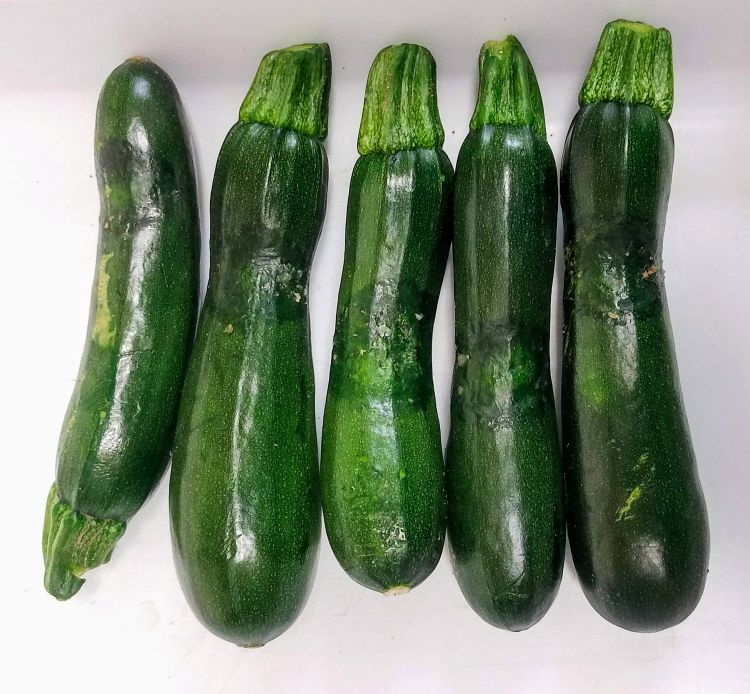 Weather
We have been under a trough in the Jetstream with northwesterly flow, which cuts off Gulf of Mexico moisture. A cold front will make its way through the state through tomorrow morning, Aug. 8, setting off showers from northwest to southeast. There will be a good chance of rain with chances highest to the north, with most areas expected to get 0.25-0.5 inches.
For the medium term, below-normal temperatures and near-normal precipitation are predicted for Aug. 12-16. Models hint at a possible change towards west to east airflow with more normal temperatures towards the end of the second week of August.
Crops
For carrots, aster leafhopper infectivity was 2.3% for two samples taken from Oceana County on Aug. 1 and Newaygo County on July 30; at this infectivity, the threshold is 22 leafhoppers per 100 sweeps. Alternaria symptoms were visible on lower leaves of carrots and petiole lesions were also present at one carrot field I visited last week. Merivon and Luna Tranquility are good products to consider during periods when weather is conducive to foliar disease.
For celery, caterpillar pests are far more active than normal this year and aphid colonies were detected last week. Last week, scouts also reported higher than normal variegated cutworm pheromone catches of moths, and egg masses and larvae have been found in some locations. Celery leaf tier moths were also common in fields and scouts have observed loopers. Insecticides with caterpillar activity and their preharvest intervals (PHIs) are below:
Baythroid (zero-day PHI)
Brigade (seven-day PHI)
Coragen (one-day PHI)
Lannate (seven-day PHI)
Mustang Maxx (one-day PHI)
Perm-Up (one-day PHI)
Radiant (one-day PHI)
Coragen and Radiant have been highly effective against caterpillars in other crops as alternatives to pyrethroids. Radiant also has activity against onion thrips, which may be helpful if your celery is adjacent to onions that are tipping over.
Anthracnose has also been observed at higher than normal levels on some farms. Some growers have reported what appears to be blackheart progressing into a rot. These symptoms can also be associated with anthracnose. A rotation of strobilurin fungicides (e.g., Quadris and Cabrio) alternated with protectants (mancozeb or chlorothalonil) can protect plants in the field.
For cole crops, cabbage looper was present in higher than normal numbers at one location this year that Michigan State University Extension interns are scouting. For organic growers, consider switching to spinosad vs. Bt if you have loopers; Bt may be less effective for loopers than it is for other caterpillars.
For cucurbits, downy mildew was detected in Berrien County on July 29. Pickle and melon growers should include a downy-specific material in their spray program. Good options for rotation in your program include:
Ranman plus chlorothalonil or mancozeb
Zampro plus chlorothalonil or mancozeb
Orondis Opti (premix with chlorothalonil)
Elumin plus chlorothalonil or mancozeb
Cucurbit powdery mildew colonies increased over the past two weeks at one pumpkin field I have been scouting. Powdery-specific fungicides should be applied on a regular (seven-to-10 days) schedule as labels permit where protection is needed. Check out page 128 of the Midwest Vegetable Production Guide for information on products.
Phytophthora capsici was causing root, crown and fruit rot in Oceana County cucurbits last week after our recent heavy rains (see photo). For zucchini, products with a zero-day PHI that could be rotated on a seven-day schedule to protect fruit include:
Orondis Opti
Revus
Zampro
For winter squash, remember that protection of acorn, butternut, spaghetti and Buckskin fruit is most critical for the first 21 days after fruit set. After this, fruit develop a degree of age-related resistance. Products include:
Best products: Ridomil Gold Bravo (where resistance is not present) or Orondis Opti
Revus is another good product that has performed well in winter squash trials and could be a rotational partner with Ridomil Gold Bravo or Orondis Opti.
Presidio could also be considered as a rotational partner.
For onions, below is repeated potential spray program for Stemphylium:
Week 1: Luna Tranquility at 22 ounces per acre plus Bravo
Week 2: Tilt EC at 8 ounces per acre plus Bravo
Week 3: Luna Tranqulity at 16 ounces per acre plus Mancozeb
Week 4: Tilt EC at 4 ounces per acre plus Bravo
Week 5: Luna Tranquility at 16 ounces per acre plus Mancozeb
Week 6: Tilt at 4 ounces per acre plus Bravo
The above program includes materials that should be helpful for other foliar diseases. What is a good rotational partner for Luna materials for Stemphylium? Tilt is a FRAC group 3 fungicide that showed intermediate efficacy against Stemphylium in a 2018 trial. It is a cost-effective rotational partner (generics are available) for Luna Tranquility, which contains a group 7 and 9 fungicide. Interestingly, on a recent tour that included Ontario growers, participants noted they also are rotating between Luna materials and a group 3 fungicide. For a bigger list of materials with efficacy, read "Vegetable disease alert: Act now to protect cucumbers and onions" from MSU Extension's Mary Hausbeck. Note that the only product with efficacy (besides chlorothalonil) that did not contain either a group 7 or 3 fungicide was Omega (FRAC 29). Chlorothalonil is the best protectant for Stemphylium, and stobilurins (group 11) have no activity.
For peppers, European corn borer moths were flying at one farm (in sweet corn) I visited last week in Kent County. Fruit should be protected with an effective product. Highly effective products include Coragen (one-day PHI) and Orthene (seven-day PHI). If you have had issues with thrips damage, consider using Coragen as it can conserve minute pirate bugs that keep thrips in check. In the absence of pheromone trap information, effective products could be used for the first two weeks of August. Following this, other products could be used through the end of harvest, including Mustang Maxx (one-day PHI) and Avaunt (three-day PHI). Bt-products can be helpful for organic growers, but should be applied twice per week when moths are active and fruit is present. Entrust (active ingredient spinosad) is another product that can be helpful for organic growers.
For potatoes and tomatoes, bacterial diseases have begun to take off in tomatoes. To date, late blight has not been confirmed in Michigan.
Sweet corn caterpillars have been causing issues this spring in some southeast and west central Michigan plantings. Spinetoram (Radiant) and chlorantraniliprole (in both Coragen and Beseige) are good products to include when pressure is high. When pressure is lower, pyrethroids can still be useful.