West central Michigan vegetable update – July 11, 2018
With our dry weather, we have not had major disease outbreaks, and the season is progressing with lots of growers focused on irrigation.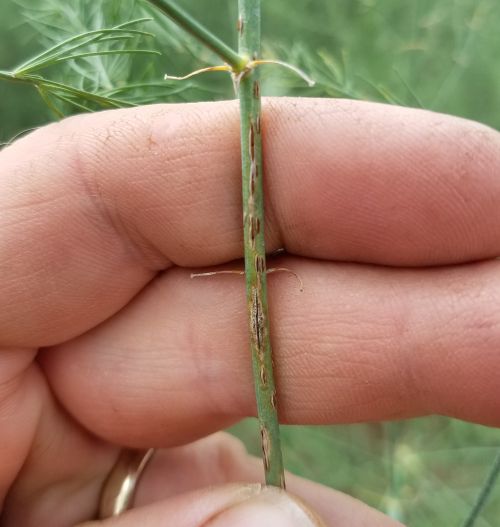 Rust uredospores were visible on the branches of asparagus plants at one field I visited last week. Tebuconazole should be promptly applied where rust is detected.
Japanese beetles continue to be present in asparagus. Formulations of carbaryl with extended residual could be helpful for this pest.
The hot, dry weather may bring on symptoms of Fusarium, especially in fields where plants are already stressed. Stressors could include an acidic pH or simply old stand age. Symptoms include yellowing and death of shoots on infected plants and russet-colored lesions on lower stems and roots.
Aster leafhopper infectivity has continued be low in carrot samples analyzed by Michigan State University Extension. If you are using TomCast sensors, place them in a location where the center pivot's sprinklers will reach them. This will give a more accurate picture of the duration of leaf wetness than if they are placed in dry corners or under the end-gun.
Leafhopper infectivity in celery remained low through July 5. Scouts have reported seeing few leafhoppers recently. I have not heard of mite issues, but if they do become problematic, the miticide Oberon (seven-day pre-harvest interval) is available through a Special Local Needs label.
Thrips remain the main pest in cole crops reported by MSU scouting interns. Diamondback moth larvae are present but at low levels.
For cucurbits, cucurbit downy mildew has not been reported in the state to date.
Be on the lookout for a number of diseases in peppers, tomatoes and potatoes. If you are a commercial pepper grower who regularly uses copper and are detecting leaf spot, please let us know (email me at werlingb@msu.edu). The vegetable pathology lab is testing isolates for copper sensitivity.
Tomato spotted wilt virus has been detected at a second location in Michigan in tomatoes. Tomatoes infected with this virus will not produce marketable fruit, and it is not cost-effective to continue to grow them. Please let me know if you suspect this problem is an issue in your commercial planting.
Potato late blight has not been detected in the state to date, and the forecast suggests risk remains moderate.
Captures of earworm in sweet corn in an Oceana County trap remained low through today, July 11. At captures of one per night in a large Hartstack trap, spraying silking corn can still be helpful, but tight intervals are not critical. Insect Forecast is predicting a low risk of corn earworm migration this weekend, with higher risk in southwest Michigan and towards Sunday-Monday. It will be worth checking your traps Monday morning.