West central Michigan vegetable update – July 8, 2020
Keep tabs on insect pests in a hot, dry year.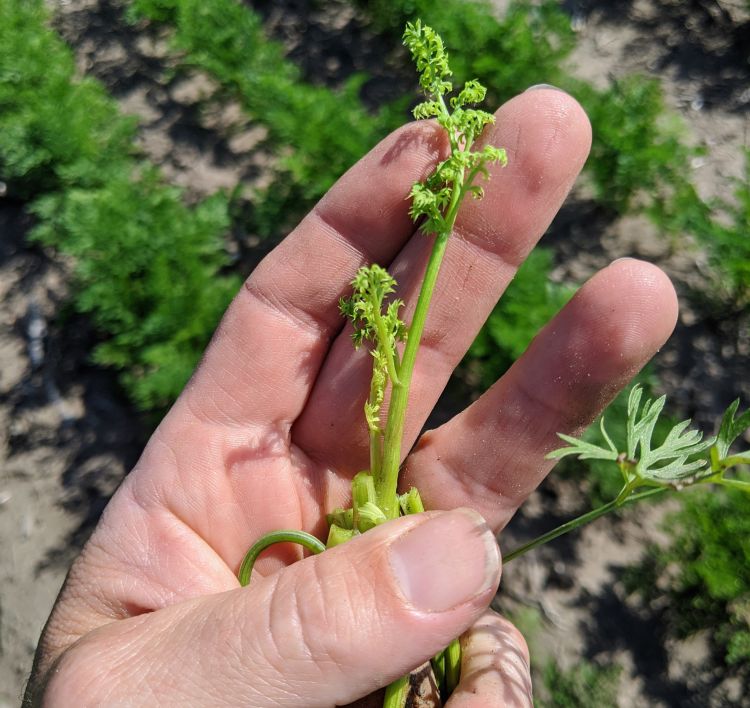 Weather
Thursday, July 9, will be the last day with highs in the 90s. Highs will be in the 80s Friday with lows in the 50s and 60s through early next week. However, it will likely warm again towards the middle of next week.
The next weather system will arrive overnight Friday morning. This will be the best chance for widespread rain in quite some time. The time of day this front arrives will affect whether the western Lower Peninsula gets much rain. If its arrival is delayed later into Friday morning, it will allow the air to warm and increase chances of rainfall. The front will likely stall out, bringing a continued chance of rain in the southern lower Saturday through Monday. Rainfall totals are predicted at 0.5-0.75 inch for most of the state for the next seven days.
Potential evapotranspiration rates are predicted to total 1.3-1.5 inches for the next week. This is roughly 0.2 inch per day, which is still high but lower than the previous week.
The medium range forecast reflects a stubborn ridge in the Jetstream with troughs to our west and east. As a result, the outlook calls for a very high chance of higher than normal temperatures for July 13-21. There could be a possibility of some rainfall depending on the location of a boundary between Canadian and U.S. air. Wherever this storm track sets up, there could be rain. The 3-4-week outlook calls for warmer and drier than normal conditions for July 18-31.
Crop updates
Asparagus growers may consider adding the standard permethrin plus carbaryl mix to their cover sprays. One field I visited earlier this week had common asparagus beetle adults, eggs and small larvae. Tarnished plant bug was also present. Grasshoppers were also present along field edges. Be on the lookout for tarnished plant bug where hay is mowed. Tarnished plant bug and grasshoppers may also be more active than normal in asparagus since surrounding vegetation is dry. Permethrin carries tarnished plant bug on its label, and carbaryl carries grasshoppers on its label (for other crops besides asparagus).
There have been some periods of extended leaf wetness over the last week at the Hart and Elbridge/Hart Enviroweather stations. With our high overnight temperatures, it will be important to watch Disease Severity Values (DSVs) from TomCast meters. If dewpoints are right, disease could still develop even though it has been so dry during the day. Dewpoints for the region are forecast for the upper 60s to 70s through Saturday afternoon, when dewpoints will decrease.
Carrot growers should be aware that aster leafhoppers carrying aster yellows have been present in west Michigan, with infected leafhoppers detected in both Oceana and Newaygo counties. Symptoms of aster yellows were present on scattered plants at one field I visited this week, reflecting leafhopper activity (Photo 1).
There have been some periods of extended leaf wetness over the last week at the Hart and Elbridge/Hart Enviroweather stations. With our high overnight temperatures, it will be important to watch DSVs. If dewpoints are right, disease could still develop even though it has been so dry during the day. Dewpoints for the region are forecast for the upper 60s to 70s through Saturday afternoon, when dewpoints will decrease.
Celery scouts have detected aphid colonies in most of the major growing areas in the state. Movento (three-day preharvest interval) provides excellent control when paired with a penetrating surfactant. Actara (seven-day preharvest interval) also provides control. Check field edges for distorted leaf growth. Aster leafhopper numbers do not seem as high as they were earlier, according to scouts. Celery leaftier moths are present only in low numbers. Tarnished plant bug was present later last week in one field I checked, and overall has been present at higher than normal levels this year. With the hot, dry weather it may be good to keep a lookout for mites in the coming weeks.
Cole crops were very clean of insects in one well-managed field I visited this week. At this location, it should be possible to skip an insecticide application, pointing to the value of scouting.
It is onion thrips go-time as wheat harvest starts up and our hot, dry weather persists. See Ohio State University's information on thrips control in cabbage.
Second generation cabbage maggot larvae were quite large and tunneling in turnip roots at one west Michigan location I visited (Photo 2).
Cucurbit downy mildew has been detected in cucumbers in Berrien, Monroe and Sanilac counties to date. In southwest Michigan, it was also detected in cucumbers with only one true leaf, pointing to the importance of protecting early plantings, which can be frustrating but important. Putting knockouts in nozzle tips is one way to accomplish banded applications, depending on nozzle vs row spacing. Check out your one-stop shop for cucurbit downy mildew news.
Are you seeing strange patterns of stunting in your squash plantings? A colleague has observed this in past years when heavy rains after planting wash herbicide down into the zone where seed is. The spottiness is very confusing but may come from variability in how deep the seed was placed. Shallower seed is more likely to be exposed to herbicide washing down from the surface.
When should powdery mildew scouting or fungicide applications be initiated? Keep in mind that powdery mildew is known to develop once fruit set starts. This is a good general indication that it's a good time to scout or begin your program. Prevention is key with powdery mildew. The below is a repeat, but I wanted to share it again.
As you prepare for the powdery mildew season, I'd strongly encourage you to listen to the Great Lakes Vegetable Producers Network podcast with mildew guru Meg McGrath. Her lab does annual trials and screens for fungicide resistance in powdery mildew in New York State. Visit her website to learn more, it includes a list of key modes of action that she recommends. For 2020, these include Vivando (FRAC 50), the DMI fungicides including Proline and Procure (FRAC 3), and Gatten (FRAC U13). Note, there is variability in the number of applications allowed, and the efficacy, of DMI fungicides. Proline or Procure could be options to consider.
Also, note that our powdery mildew could have a different resistance history than New York populations, so some products may work OK here that do not in the Northeast. For organic growers, using micronized sulfur products (e.g., Micro Thiol Disperss) has been effective, but it is important to not apply these close to application of oils. Oils can facilitate entry of sulfur into the plant, leading to injury. Micronized formulations of sulfur are less corrosive to equipment than other formulations.
Onion growers should make sure to include "A-team" Stemphylium products in their rotation. In rank order, these could include:
A-team: Luna Tranquility or Miravis Prime
Second best: Tilt (tank mix with mancozeb to cover other pathogens)
Third tier: Bravo
Bravo could be sandwiched between an A-team product and Tilt plus mancozeb. Making a "fungicide oreo" with Bravo in the middle can help ensure you don't go more than 14 days without including a very effective material.
Onion thrips continue to be present in the hot weather, but Movento has still helped at two farms I have been visiting. I see now why growers really like this product. One farm with transplanted onions was able to skip two insecticide applications, though this week it is time to treat again. The best option will vary with the maturity of your onions, preharvest intervals (PHI) for products, and thrips levels. For the post-Movento slot, Agri-Mek (30-day PHI) plus Warrior II (14-day PHI) is a good choice if thrips are between 0.8 to one per leaf and you can fit in the long PHI. Minecto Pro (30-day PHI) is more effective and is a good choice if thrips are between one to two per leaf, but again it has a long PHI. Radiant is the only product able to knock back thrips populations over three per leaf. If you are already in the third spray slot, Exirel (one-day PHI), Radiant (one-day PHI) or Lannate (seven-day PHI) plus Warrior II (14-day PHI) are options.
Minecto Pro, Exirel and Agri-Mek all share active ingredients in common and should not be used in the same year. Check out Cornell University's onion thrips management guidelines for 2020. Warrior by itself is ineffective due to long-standing resistance, but research in New York has shown benefit to tank mixing it with other modestly effective products.
Potato and tomato growers should be aware that with our dry weather, our risk of late blight has only been low to moderate. Early blight has started to develop on tomatoes in other parts of the state. Consider applying chlorothalonil as a protectant spray on a seven- to 10-day schedule.
Sweet corn growers should be aware that corn earworm has been present at low levels in some parts of the state (Photo 3). It is time to protect silking corn. I captured 0.4 earworm moths per night in one Ottawa County trap this week, but none in an Oceana County trap. At these low trap captures, treatment with a pyrethroid at a maximum five-day spray interval should be sufficient for control.
Western bean cutworm was just starting to emerge in very low numbers at an Oceana County location. If you are initiating corn earworm sprays promptly at silking, you should also control this pest.