West central Michigan vegetable update – June 17, 2020
Take a quick peek in sweet corn planted after a heavy rye cover crop to see if true armyworm is around.
Weather
June has been very sunny to date with relatively high evapotranspiration. This means that potential water demand could be high for the time of year. We will likely continue to see high evapotranspiration rates over the next week.
Temperatures will increase gradually from the 80s today, June 17, to close to 90 degrees Fahrenheit Saturday, with muggier weather. The best chance for rain will be overnight Saturday into Sunday. Once this front moves in, it will stall out bringing chances for rain through Tuesday. However, totals may be low. The forecast calls for 0.5 inches or less of rain through next Wednesday.
What could drier weather mean for fertility? If you are seeing dry soils, consider purchasing urea that includes a urease inhibitor for your top or sidedresses. This will help reduce nitrogen losses.
Crop updates
Asparagus growers can start thinking about herbicide choices for field shutdown. Shutdown is a good time to chip away at perennial weeds like quackgrass, milkweed, field bindweed and Canada thistle. Glyphosate has activity against milkweed and quackgrass. Experience suggests including an acidifier with glyphosate is important for some perennial weeds. Quinstar is labeled for asparagus and has activity against field bindweed and thistle. If Canada thistle is an issue, Spur is another good option. Don't forget to print your indemnified label if you are applying Dual Magnum at lay-by.
Carrot growers can stay tuned to aster leafhopper texts. Please let me know if you are not receiving these but would like to. Leafhoppers were present again this week in an unsprayed Oceana County field, but infectivity was 0%, just like last week.
Cucurbit downy mildew spores were detected at the Muskegon and Berrien County spore traps. The disease has not been detected in field plantings. Pickle, cucumber and melon growers should prepare to initiate fungicide programs earlier than last year. Check out Mary Hausbeck's website to track spore counts and get spray recommendations for 2020.
Continue to be on the lookout for striped cucumber beetle, which seems to be a more persistent pest this year. Remember, neonicotinoids including FarMore FI1400 seed treatments and at-plant applications will run out of gas two to three weeks after planting. Early control is important for preventing later problems with bacterial wilt in squash and pumpkin. Squash and pumpkins gain some tolerance after they have four to five true leaves. Cucumbers and muskmelons are less tolerant of beetle feeding and bacterial wilt. Watermelons are tolerant of bacterial wilt, but later in the season beetles can feed on the fruit. Some general thresholds that could be used as rules of thumb for squash and pumpkins are:
Cotyledon and one leaf: 0.5 beetle per plant
Two to four leaves: one beetle per plant
More than 4 leaves: three beetles per plant
Organic growers may want to consider using flex tine weeders to get small weeds. Dan Brainard has used this in squash planted 1.5 inches deep that have one true leaf. This tool has done a good job killing small weeds without injuring mall cucurbits. Sunny, dry conditions are an ideal time for mechanical weed control.
Onion thrips were present in one transplanted and direct-sown field I visited this week. Given our hot, dry weather, it will be important to check your own fields and make decisions about Movento application accordingly. For direct-sown onions, it is beneficial to delay Movento application if thrips populations are below threshold. In the field I scouted towards the northern part of our growing area, thrips populations were low at 0.14 per leaf yesterday. A conservative threshold, allowing for a lag between scouting and application, is 0.6 thrips per leaf. Given this, it makes sense to wait at least a week to apply Movento for this field. For transplanted onions, it is important to apply Movento before they start bulbing, even if thrips populations are low. Once onions start bulbing, Movento is not as effective.
Growers were thinking about initiating fungicide programs later this week on some farms. Products to consider for a rotation include:
Luna Tranquility or Miravis Prime
Tilt plus mancozeb
Chlorothalonil
For potatoes, mid-size Colorado potato beetle larvae along with fresh egg masses were present in untreated potatoes this week.
For peppers and tomatoes, tomato spotted wilt virus is something to be on the lookout for if your transplants are grown along with ornamentals. Thrips vector this virus between ornamentals and vegetable transplants in the greenhouse. Spread of this virus within the field once plants are out is minimal. The University of Florida maintains a nice photo gallery of symptoms for peppers and tomatoes.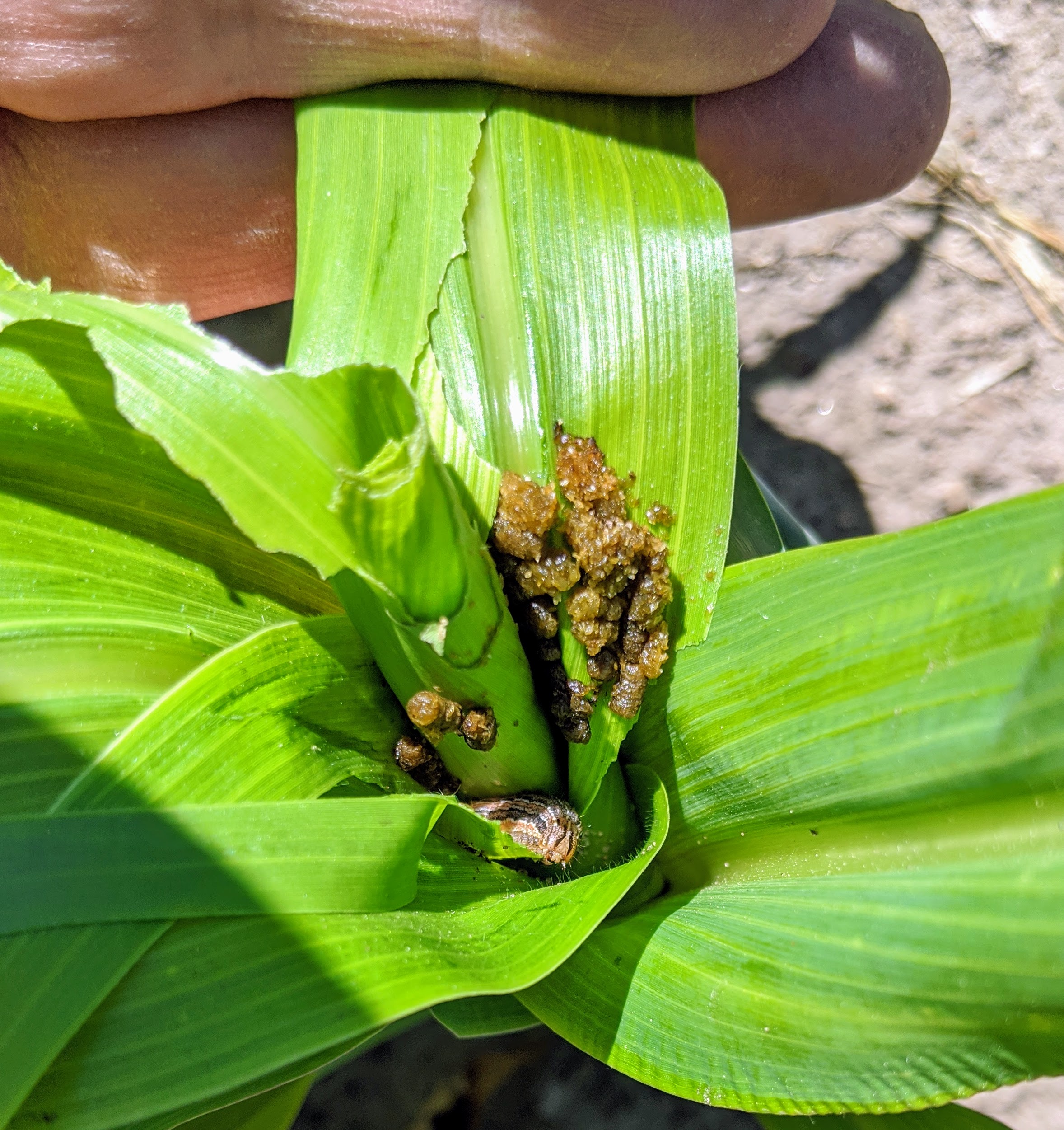 Sweet corn growers should check fields that had a heavy rye cover crop for true armyworm and, if it is present, determine if it is across the field or just here and there on edges. This pest was present in one sweet corn field I visited this week and it has also been reported in field corn. Caterpillars about 1 inch in size are ideal for control. Moths can lay eggs on rye cover crops, and larvae can then move over to sweet corn. Look for its distinct damage—with edge feeding—and then look for frass and caterpillars in the whorl. Purdue University recommends treating sweet corn if true armyworm is present in more than 35% of plants.
Growers with early sweet corn that was grown under low tunnels may want to consider their risk of European corn borer. Early sweet corn was just starting to tassel at some locations this week and the first generation of this pest seeks out the largest corn for egglaying. Degree day models suggest the first flight of this pest started over the last two weeks based on weather at the Hart, Hudsonville and Kent City Enviroweather stations.
This pest is of most concern after tasseling when caterpillars leave the whorl and can bore into developing ears. For this reason, the early generation is usually not a major problem for standard planting dates, but it might be worth considering in early planted corn if you had this pest in the neighborhood last year.
Affordable pyrethroids can provide effective control. More expensive products should be saved for corn earworm later in the season. Risk would be highest if non-GMO corn was grown in the area last year and stubble was left to overwinter (this pest overwinters as partly grown caterpillars in corn stalks).