West central Michigan vegetable update – May 27, 2020
Vegetable pest activity is starting for crops that weathered recent cold then hot weather.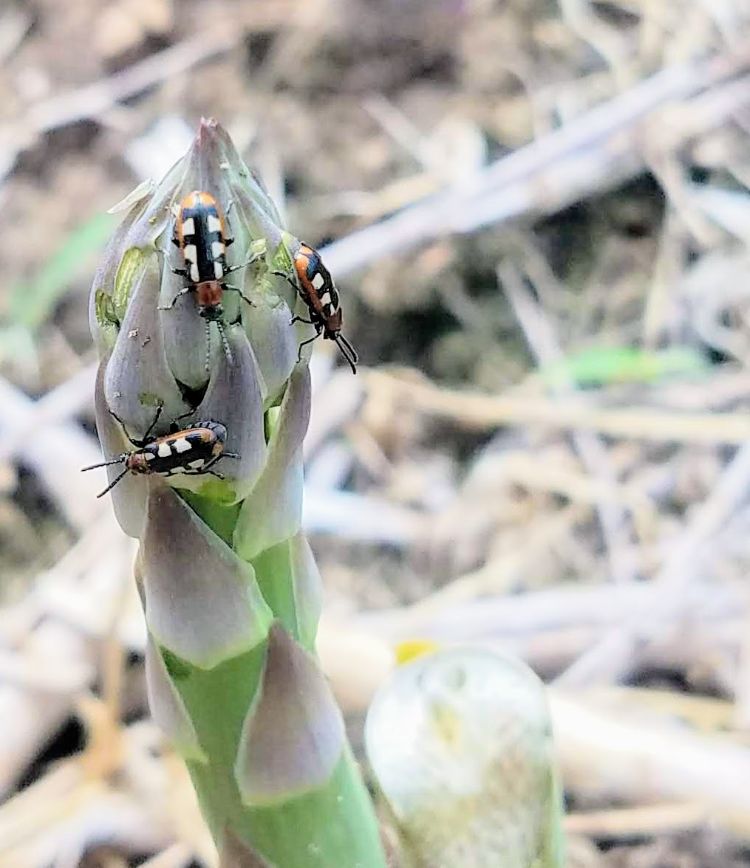 Weather
Today, May 27, will be warm and humid with scattered showers and thunderstorms this afternoon through early evening, with chances strongest in the western lower. Widespread showers will move in Thursday afternoon, May 28, and persist through early Friday. This will be the highest chance of rain through early next week. A Canadian origin air mass will arrive behind this front, bringing cooler air on Friday. Cooler temperatures are forecast through next Tuesday, with highs in the 60s and lows in the 40s.
Precipitation totals for the next week are forecast for 0.5-0.75 inches.
The medium-range forecasts predict above-normal temperatures and below-normal precipitation for June 1-9. There is less certainty about the precipitation portion of this forecast.
The new seasonal outlooks call for June-August predict above-normal temperatures and precipitation, though confidence in this forecast is relatively low.
Crop updates
Asparagus harvest started around May 17 in west central Michigan, with harvest rapidly accelerating with the heat over the Memorial Day weekend. There are reports of high activity of common asparagus beetle in problem fields (Photo 1), both in southwest and west central Michigan. In at least one case, multiple modes of action are being sprayed extremely frequently. Beetles are visibly dying after each application, but fields are rapidly recolonized. This suggests that, at least in this case, applying different modes of action is not a clear solution. Hopefully, the upcoming cooler weather will help.
What products are available for control? The carbamate Carbaryl remains the industry standard (one-day preharvest interval). If you desire to apply carbaryl at 1 quart per acre and cost is a concern, consider banding the applications over the asparagus rows and treating entire fields. Acetamiprid (one-day preharvest interval) is a different mode of action than carbaryl, Lorsban and Lannate, and is available in soluble granule or wettable powder formulations. Some growers used it in 2018 and felt it was at least as effective as carbaryl. A variety of generics are available. Two applications are allowed per year. Formulations with labels include Anarchy (Loveland Products), Anniston (Tacoma Ag), Arvida (Atticus Ag Products), Assail (UPL), Azomar (AgBiome) and Intruder Max (UPL).
Hot and humid nights may favor foliar diseases such as rust and purple spot in young fields when they develop fern. It can be very challenging to keep these fields covered with fungicide when harvest is ongoing, but it may be especially important this year, as weather could favor an early start to disease. Consider applying chlorothalonil and tebuconazole as soon as these fields begin to fern out.
Celery scouts have captured aster leafhoppers in low numbers this week and last week. Slugs were causing damage at some locations before the arrival of hot weather. Products with both metaldehyde (e.g., Deadline Bullets and Lock Out) and iron phosphate (e.g., Sluggo) are labeled for celery. Slugs can be very active along specific ditches, so edge applications near these areas are one possibility. Both products suggest the soil be moist at the time of application. Hopefully, our recent hot weather will reduce slug activity.
Cole crop growers should be aware that the 2019 label for Command allows for use on transplanted broccoli. Cabbage maggot activity will peak in the next seven days, according to degree day accumulations at the Hudsonville and Grant Enviroweather stations.
Diamondback moth activity was detected in cole crop fields in southeast Michigan. Imported cabbage worm butterflies were also present.
After our heavy rains, look out for nitrogen deficiencies in early sown turnips planted on mineral soils. Nitrogen deficiencies in cole crops look different. Instead of the typical yellowing, the older leaves can turn purple (Photo 2). Note, other deficiencies can cause this same symptomology.
Cucurbit planting has started in west central Michigan for winter squash, with zucchini planting ramping up. Organic growers are concerned about seedcorn maggot, and damage has occurred on cucurbit transplants in other parts of the state. Risk of damage decreases once soil temperatures consistently reach a maximum of at least 70 F each day at a 4-inch depth. Unfortunately, at this time there are no proven control measures for organic cucurbits that I am aware of. The FarMore FI400 seed treatment provides good control for conventional growers.
Onions were getting their third true leaf in the most advanced fields, with fields started from sets having as many as five true leaves. Barley was sprayed in direct-sown onions and is dying. Fungicide programs were being initiated in onions planted from sets.