West central Michigan tree fruit update – April 27, 2017
Seasonal updates and considerations for the tree fruit industry in west central Michigan.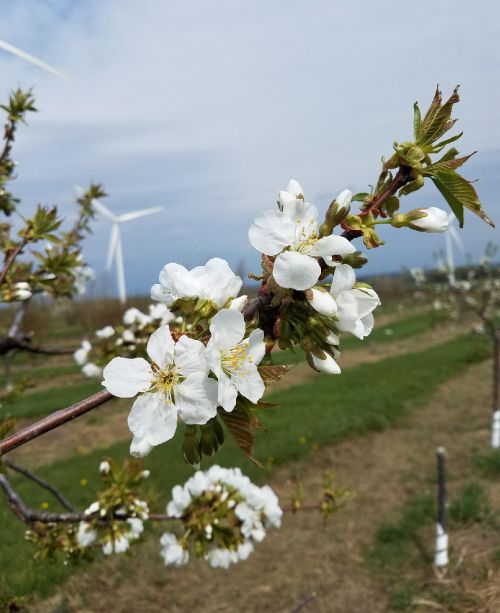 Weather
In west central Michigan, trees and shrubs have begun to leaf out rapidly with the recent warm weather. Last week, daytime temperatures were between 50 and 70 degrees Fahrenheit for most of the region. Night temperatures over the past weekend dipped below freezing on Friday night, April 21, into Saturday morning, (April 22, causing some light but very minor freeze damage in isolated pockets in the region.
More rain last week has caused some fields in west central Michigan to continue being waterlogged. With more rain in the forecast in the coming seven days, this is likely to continue. Forecasts for the next week indicate a front of cooler, wet weather moving in to the region. Current daily highs are projected in the 50s for the next several days.
We are moving right along with growing degree-days, but are still significantly behind the southwest region of the state, which is running nearly double of what has been accumulated at some stations.
West central Michigan GDD summary from Jan. 1–April 26, 2017

Station

GDD 42 F

GDD 45 F

GDD 50 F

243

169

87

305

224

128

340

252

148

315

232

133

293

214

118
Crop development
Stone fruit bloom has arrived in west central Michigan very quickly in the past couple of days. Sites closer to the lake continue to track several days slower than inland sites. Since we have open blooms, it would take temperatures below about 30 F to cause damage. In general, bloom looks very heavy at most sites.
In the Hart, Michigan, area, sweet cherries are between early and full bloom, depending on cultivar. Growers who are still at popcorn or early bloom opening are putting out ReTain.
Montmorency tart cherries are at popcorn to early bloom at most sites. I saw my first tart cherry blossoms opening on row ends April 26.
Peaches, nectarines and plums are also in bloom. Percent bloom depends on the cultivar and area at this time, but several cultivars of plums and apricots are at full bloom, and peaches are not far off.
Stone fruit growers should be concerned about brown rot with the forecasted rains and open blossoms. Additionally, extended periods of wetting and temperatures above 50 F favor development of bacterial spot. The push of warm weather will also bring increasing insect pressure. Peach and nectarine growers should have mating disruption for oriental fruit moth in place ahead of the first flight of the season, which could be any day. Growers should be using traps to determine biofix (first season catch) for this pest, as several products for oriental fruit moth are designed to be applied after specific degree-day accumulations after biofix.
Apple blossoms and leaves have pushed growth rapidly in the past several days. McIntosh in Hart, Michigan, is currently at full pink, with other later cultivars not far behind.
Apple scab spore catches have steadily increased over the past two weeks, with the highest spore rod catches of the season recorded with the rains last Thursday, April 20. Growers should remember that the number of spores captured on rods is not designed to be a measure of whether or not they are at risk of apple scab infection. The utility of monitoring scab spore release is to know when it begins and when it ends, not to gamble with numbers in terms of management. Once susceptible green tissue is exposed in spring, growers need to cover until primary scab is over. This same assumption should be made for pear scab.
Apple and pear growers should monitor flower buds closely in the coming days. Fire blight will become a concern as soon as blossoms open, and there is a chance some early cultivars may bloom during the rain events in the next several days, potentially providing the required event if temperatures warrant. The predictive model available on MSU Enviro-weather should be used to determine risk. Management is recommended at any risk labelled "moderate" or higher in the model.