West central Michigan vegetable update – Aug. 2, 2017
Use the right products at the right time for foliar disease control in asparagus and carrots.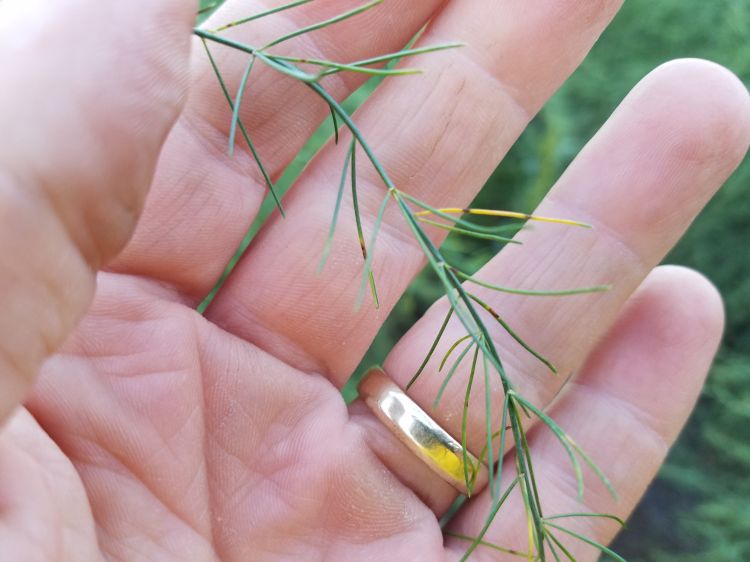 Weather update
Chances for rain will increase over the next 48 hours as a frontal boundary parks over us. There will be chances for scattered rain today, Aug. 2, in the afternoon and early evening. The best chance will come Thursday afternoon through Friday morning, with 0.25-0.5 inch predicted for most of the state, including areas that have been missed by recent rain. The threat of rain will dissipate late Friday through early Saturday with mostly dry conditions through most of Sunday. There could be additional chances for rain Sunday, but rain is more likely to occur Monday or Tuesday.
We will likely see near- to below-normal temperatures over the next one to two weeks with northwesterly flow aloft and Canadian-origin air masses. Weather will feel more like early fall. However, the National Weather Service's fall outlook still calls for warmer than normal weather. Given this, Michigan State University meteorology and climatology professor Jeffrey Andresen expects that by mid-August we should see a change to more summer-like temperatures.
Crop update
Which products are good for foliar disease control in asparagus? Chlorothalonil and mancozeb are still the most cost-effective protectants for purple spot. What about Quadris? Quadris (active ingredient azoxystrobin) has not proven to be any more effective than protectants, so it will not likely be a cost-effective addition to a spray program. For rust, tebuconazole-containing products are still the best choice.
In contrast to Quadris, Quadris Top has proven highly effective for rust and purple spot, but it contains difenoconazole in addition to azoxystrobin and is not yet labelled for asparagus. So, applications of protectants like chlorothalonil or mancozeb along with tebuconazole are still the best option for foliar disease control. Catch rust problems early, make timely applications using the TomCast disease forecasting system for purple spot and get good coverage.
Foliar disease, including petiole lesions, has been present in most carrot fields I have visited. Luna Tranquility (seven-day pre-harvest interval) is labelled for carrots and is an effective addition to fungicide programs. The only rotational restriction for this product is that another mode of action should be applied between it and other group 7 fungicides (e.g., Merivon). Recent data from MSU trials suggested the strobilurins are only providing intermediate control of foliar diseases.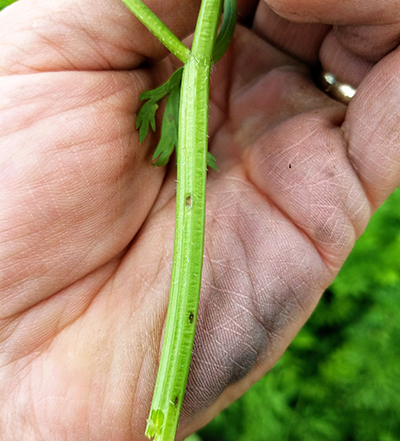 Small aphid infestations in celery fields have been detected in Van Buren and Newaygo counties by scouts and an affected plant with dead aphids was visible in one Ottawa County field yesterday, Aug. 1. Movento (seven-day pre-harvest interval) applied with a penetrating surfactant can provide effective control.
Scouts report variegated cutworm trap catches have been lower this week compared to last week. There have been only isolated reports of foliar disease, though symptoms of anthracnose were visible on a low percentage of scattered plants in fields I visited yesterday. This disease is favored by high temperatures and humidity. It can spread via rain splash or movement of equipment and people through wet fields. Symptoms include leaf curl, but can also include browning and twisting of petioles, as well as cupping of heart leaves which eventually die. These symptoms can look similar to black heart.
Rotating strobilurin fungicides (Cabrio, zero-day pre-harvest interval, and Quadris, zero-day pre-harvest interval) with protectants (Bravo, seven-day pre-harvest interval) can provide protection against anthracnose as well as early and late blight. The disease can move with transplants from the greenhouse to the field.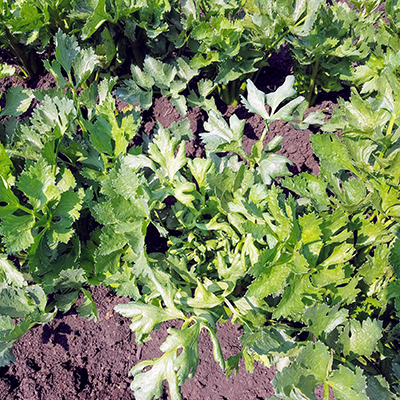 Cucurbit downy mildew spore counts in the Muskegon County spore trap suggest the disease is present in west Michigan. For new pickle plantings and cantaloupe, it is time to use effective product such as Orondis Opti, which can be rotated with products such as Zampro and Ranman.
For protecting squash fruit against Phytophthora capsici, consider the forecast when deciding on which product to use. If warm weather or high rainfall is predicted, Orondis Opti could be warranted if you can apply it without violating label restrictions. Presidio and Revus are good "B-team" products to rotate with Orondis. Orondis needs to contact the fruit to protect it. This means application in 30 or more gallons per acre of water is ideal. If you are not contacting the fruit, applications will not be cost-effective.
For powdery mildew, include effective, locally systemic products early in your program. After the disease becomes well-established, these products will not be able to halt infection. Using locally systemic products is important since powdery mildew infection can start on leaf undersides where foliar sprays of protectants may not reach.
See "Cucurbit Powdery Mildew: A Little Late this Year but Start Scouting Now" by Ohio State University for information on products that have been effective in pumpkin trials in Ohio. The history of disease resistance may vary by location, so product efficacy could be different here than in other areas.
Stemphyllium leaf blight has been detected in onions. Luna Tranquility has proven highly effective in recent trials (seven-day pre-harvest interval).
Western bean cutworm egg masses were present in Oceana County sweet corn I checked Monday. Applying a pyrethroid can help control this pest; earworm spray programs should control it if started promptly at silking.
To scout for western bean cutworm, check the upper surface of the top three to four leaves for egg masses and prioritize corn that is just about to tassel, or has just tasseled, for scouting. To target it specifically, apply a pyrethroid when eggs are about to hatch and the majority of the corn is tasseling. Eggs become darker as they near hatch.
Earworm trap catches continue to be low. There is a low risk of additional earworm migration Thursday morning into Friday.