Working together to increase Michigan institutions local food purchasing
The Michigan Farm to Institution Network convened institutions, organizations and supply chain stakeholders to promote local product procurement.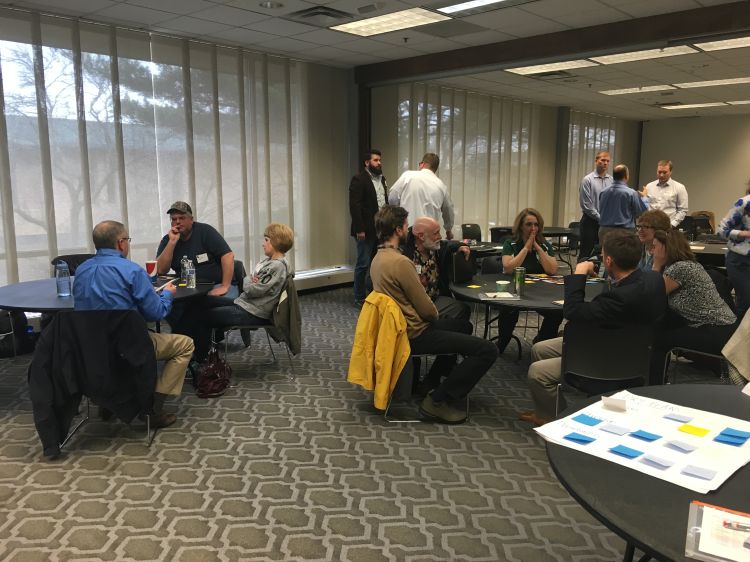 In February, a diverse group of farm to institution stakeholders gathered at the University of Michigan-Ann Arbor North Campus. The Michigan Farm to Institution Network (MFIN) organized this gathering with help from University of Michigan Director of Student Engagement, Keith Soster. This event offered an intentional networking opportunity, as well as the chance to workshop the 2016 featured foods, with the input and insight of representatives from nearly every sector of the supply chain, institutions, and supporting organizations. The forthcoming featured foods for 2016 are kale, carrots, potatoes and cherries. Participants also discussed the 2015 winter featured food, dry beans.
This interactive workshop kicked off with a participatory activity, where attendees were asked to brainstorm challenges, opportunities, comments and questions for each featured food. Following everyone's individual contributions, Colleen Matts and Lindsey Scalera co-facilitated a lively discussion on each featured food. These conversations allowed thoughts, ideas and concerns to the surface and to identify themes that emerged from individual contributions and group conversation.
By nature of those that were in the room, the conversations allowed for some quick learning. A number of concerns or questions that arose had to do with varieties of each featured food product, when they were available, and how they could be processed to better meet institutional purchasers' needs. In addition to the topics that were able to be addressed within the workshop, many surfaced that require further attention and follow-up. The institutions present confirmed that the staff time required to prepare and process whole vegetables and fruits is a significant barrier. This led the group to discuss possibilities for growing Michigan processors' capacity for providing more Michigan produce options.
Purchasers and providers (producers, distributors and processors) agreed that there was value in having Michigan products available through broadline distributors and the option of purchasing directly from a farm. An important quality, regardless of how the product was procured, was the ability to know where the product came from to share its story with the consumer. Purchasers confirmed that their consumers want to have access to this story and the connection with the producer. There was agreement that this happens naturally when sourcing directly from a producer, and could be promoted by source identified labeling if the product were purchased through a distributor.
In addition to the inclusive discussion, the day was rich with connections. Purchasers and providers were able to talk specifically about their needs, interests and ability to provide products. Processors and producers were able to connect with distributors that could potentially carry their products. Industry representatives were able to provide specific information on their products to help inform the overall conversation. This diverse mix of participants certainly contributed to the well-rounded and informed conversation that MFIN organized.
Lindsey Scalera summed up the goal of the event: "…to facilitate in-person dialogue among Michigan institutions, producers, processors, and distributors in order to better understand the challenges, questions, and opportunities for institutional purchasing and use of Cultivate Michigan Featured Foods." Colleen Matts added, "Discussions and connections made at this and other MFIN events are crucial for institutions to be able to source featured and other local foods through their chosen channels in the volumes and forms they need, as well as for Michigan farmers and supply chain partners to profitably supply to Michigan institutions as their demand for local foods continues to increase."
The organizations that were represented at this workshop included: University of Michigan Dining, Dexter Schools, Wayne RESA and MOR Coop (K-12 Schools), Bronson Health System, Beaumont Hospital – Troy, Beaumont Hospital – Royal Oak, Shoreline Fruit, Cherry Marketing Industry, MSU Product Center, Michigan Potato Industry Commission, Michigan Bean Commission, Heeren Brothers Produce, Pearson Foods, Todosciuk Farms, Grow Eastern Market, Detroit Eastern Market, Cherry Capital Foods, Michigan Department of Agriculture and Rural Development and Local Orbit.
Michigan State University Extension supports local institutional sourcing practices and the expansion of markets for local producers. By institutions purchasing more Michigan products, their consumers have access to fresh, healthy options, and Michigan producers experience greater economic opportunities.