Youth demonstrate dairy knowledge at statewide management contest
Teams from Michigan's Branch and Clinton counties earn top honors at the state contest.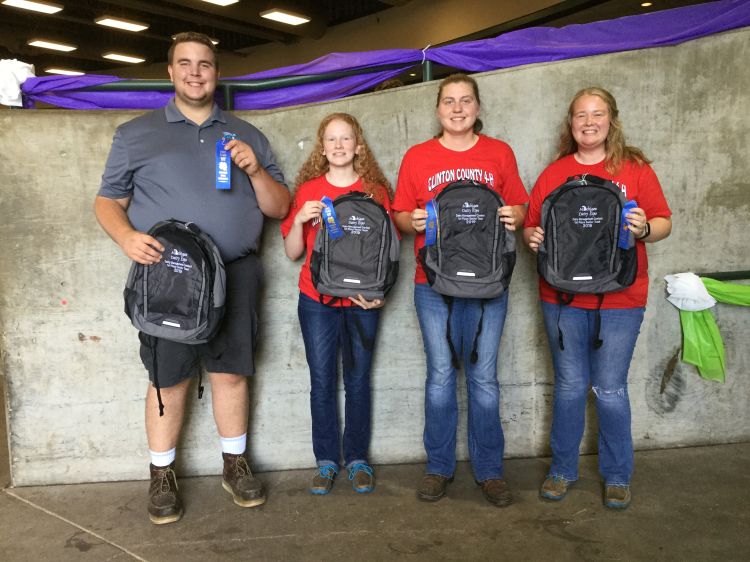 Every July, youth from across Michigan gather at the Michigan State University Pavilion for Agriculture and Livestock Education to demonstrate their knowledge during Michigan 4-H Youth Dairy Days and Michigan Dairy Expo. This week-long event, supported by MSU Extension and the MSU Department of Animal Science, includes three educational contests for 4-H members, youth showmanship and breed shows, and culminates with an open show for youth and adults that showcase the best cattle in the state. This year, nearly 160 youth from 20 counties participated in events during the week.
The week opens with the Dairy Management Contest on Monday night. Youth compete in one of three age divisions: Novice (8-11 years old), Junior (9-14 years old) and Senior (15-19 years old). This contest allows youth to demonstrate their dairy cattle management knowledge by answering a wide variety of questions. The theme this year for the contest was dairy cow nutrition and included such topics as identifying physiological structures on a cow, body condition scoring cows, understanding the Purebred Dairy Cattle Association (PDCA) scorecard, nutrition related health concerns, matching dairy animal terms and many more.
In the Novice Division, the team from Branch County took home the blue ribbon. Team members were Lucas Dooley, Paige Wineland, MacKenzie Sickles and Kelsey Grunner. The second place team was a combination team from Allegan, Clinton and Shiawassee counties with team members Carlton Petroshus, Dylan Alexander, Breeah Reed and Evan Ritter. A combination team from Mecosta and Ottawa counties came in third with Jadyn Herzog, Taylor Killebrew, Mykka LeBrun and Jenessa Tripp. Cal Place, Angela Rice, Makayla Jacobs and Abby Lehman from Shiawassee County came in fourth place. In fifth place were the 4-Hers from Allegan and Iosco counties, Brandon Galscow, Lane Guoan, Gabreilla Nelkie and Gavin Grubaugh.
The top five individuals from the Novice Division were:
Kelsey Grunner (Branch County)
Jadyn Herzog (Mecosta County)
Gabrielle Nelkie (Iosco County)
Carlton Petroshus (Allegan County)
Paige Wineland (Branch County)
A team from Clinton County took top honors in the Junior Division with team members Landon Thelen, Jordan Hicks, Paul Meyer and Emma Fox. Coming in second was a second team from Clinton County: Olivia Black, Willow Evans, Jolene Nash and Joseph Domecq. Ross Kelsey, Megan Wilson, Lydia Deters and Eli Deters from Isabella County took home third place. In fourth was the Allegan County team, with 4-H members Sage Scripps, Colby Tucker, Tristan VanDenBerg and Logan Welch. Rounding out the top five teams was combination team from Allegan, Branch and Washtenaw counties. Team members were Kaden Petroshus, Lexi VanDenBerg, Sebastian Brenneman and Katie Polzin.
The individuals earning the highest scores in the Junior Contest were:
Landon Thelen (Clinton County)
Tristan VanDenBurg (Allegan County)
Megan Wilson (Isabella County)
Sage Scripps (Allegan County)
Willow Evans (Clinton County)
A team from Clinton County won the Senior Division with team members Ian Black, Miriam Cook, Madison Halfman and Adalee Thelen. By winning the contest, this team earned an invitation to the National Junior Dairy Management Contest held during the All-American Dairy Show. The team will travel to Harrisburg, Pennsylvania, in September to compete against other 4-H teams from around the country.
The team from Isabella County took second with 4-H members Katie Wilson, Drew Neyer, Abby Wilson and Emily Wilson. Shannon Good, Olivia Coffey, Caleb Tucker and Katrina Tucker from Allegan County placed third. A combination team from Lapeer and Ottawa counties youth were in fourth: Jonah Haskins, Jacob VanderMolen and Joshua Tripp. Rounding out the top five teams was the Branch County with team members Hayley Wineland, Hope Shilling and Kaylee Kriser.
The individuals earning the highest scores in the Senior Division were:
Shannon Good (Kent County)
Miriam Cook (Clinton County)
Katie Wilson (Isabella County)
Jonah Haskins (Lapeer County)
Drew Neyer (Isabella County)
Congratulations to you all youth who competed in the Dairy Management Contest and good luck to the Michigan team moving on to the national contest!