Youth leadership and citizenship opportunities
Providing meaningful experiences for youth in local government.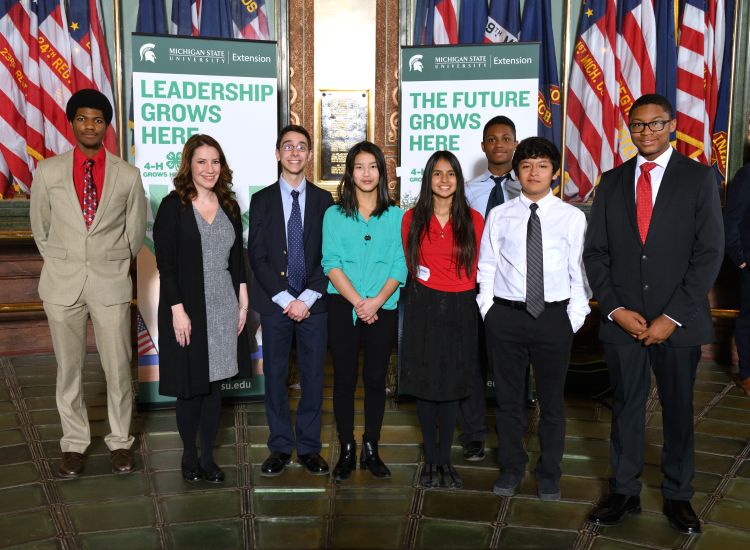 Traditional leadership roles within 4-H clubs have expanded tremendously for youth. 4-H is providing opportunities for youth voice in local, state, national and even international affairs. Youth are accepting the challenge of these roles by providing a fresh and meaningful perspective for existing programs, units of government or any group of interest. 4-H members now have unique opportunities to be part of state and national government through programs like 4-H Capitol Experience, 4-H Citizenship Washington Focus, 4-H National Congress and 4-H National Conference.
As other groups recognize the power of youth in communities, youth are invited to be a part of boards and councils to give their input and work to make a better community. A recent example is the 2018 U.S. Conference of Mayors Youth Involvement Task Force that conducted a survey of city mayors to develop a report, "Youth Involvement Best Practices Report." Michigan had at least two cities in the 54 cities that participated in the survey. It illustrates ways that youth can participate in a meaningful way in local government and help to change their cities. Findings from this survey are below and are shared to give examples of how youth can be involved.
80% of all cities surveyed maintain an active youth council that helps advise city programming.
89% of all cities surveyed have a youth leadership program that helps young people learn leadership and professional skills.
89% of all cities surveyed administer or help administer an internship program for youth.
85% of all cities surveyed actively engage with youth in their communities through social media.
52% of all cities surveyed are actively engaged in a voter registration effort for youth in their communities.
54% of all cities surveyed actively engage elementary school-aged children in some form of civics programming.
48% of all cities surveyed host a "youth day" or hold additional city-wide events for youth.
According to the survey, the U.S. Conference of Mayors is an organization of the 1,407 cities with 30,000 or more people. The conference serves to provides opportunities for young people to engage in their city's government. Conference ideas to build youth participation are:
Youth advisory council
Internship programming
Community partners and departments involved with youth interns
Youth voter registration programs
Youth employment opportunities designed to be job shadowing
Youth participating in budget processes
Youth led welcome centers in schools
Youth led community days of service
Youth commissions or seats on youth/adult commissions
Regional youth forums
TEDX conferences middle schools
Teen ambassador programs
Peer listening programs
Youth academy
Youth summits
Find the full study at Youth Involvement Best Practices Report.
We already know that including youth voice in civic engagement and leadership is a domino effect that grows more participation. Tuft's 2006 study of the Positive Development of Youth found that:
4-Hers in grades 7-12 are nearly four times more likely to make contributions to their communities.
4-Hers in grades 8-12 are about two times more likely to be civically active.
View the full Comprehensive Findings from the 4-H Study of Positive Youth Development.
From 4-H to the White House, youth have a powerful, meaningful voice sharing new ways to meet challenges and the needs of the community.
To learn about the positive impact of Michigan 4-H youth leadership, citizenship and service and global and cultural education programs read our Impact Report: "Developing Civically Engaged Leaders." Additional impact reports, highlighting even more ways Michigan State University Extension and Michigan 4-H have positively impacted individuals and communities can be downloaded from the MSU Extension website.