Youth feel the honor of competing in 2012 Michigan 4-H State Horse Show
At the annual 4-H State Horse Show, approximately 520 competitors from 48 Michigan counties were chosen to compete and given the honor of representing their county.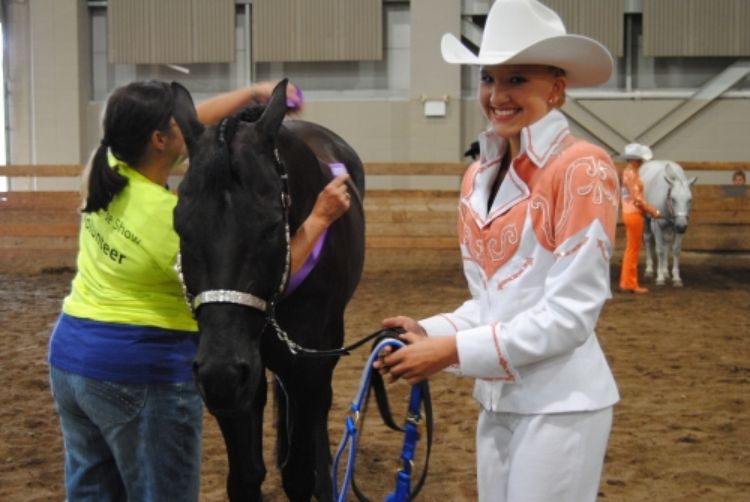 The 2012 Michigan 4-H State Horse Show drew to a close Sunday, August 20 at the Michigan State University Pavilion for Livestock Education in East Lansing, Mich. The annual three-day event brought together roughly 520 4-H'ers from 48 counties across Michigan. Members are selected by their county 4-H programs to participate in this event, which makes competing and representing their home county a great honor for the youth.
During the show, participants compete in English, dressage, western, trail, hunter hack, gymkhana and Miniature Horse classes with some of the most accomplished young equestrians in Michigan. In addition, the show provides the opportunity for young people to submit equine-themed scrapbooks, photography, creative writing and t-shirts designs that are potentially used for future State 4-H Horse Show t-shirts. Many have spent months, even years preparing themselves and their horses or ponies for the show in the hope of bringing home a gold medal or even being named a state champion.
Although the show is very competitive, the experience youth gain from it is far greater than the awards won. One parent (who was also volunteering) stated, "We love this show. Olivia looks forward to coming here every year to see friends she has made from other counties, and to participate in such a large event."
Another parent found they had forgotten their clippers while finalizing show preparations. One announcement in the barn and she had at least four pairs from four different counties within 15 minutes. She stated, "When the craziness of the show starts tomorrow, I will think about this and will never forget the good sportsmanship and generosity we experienced."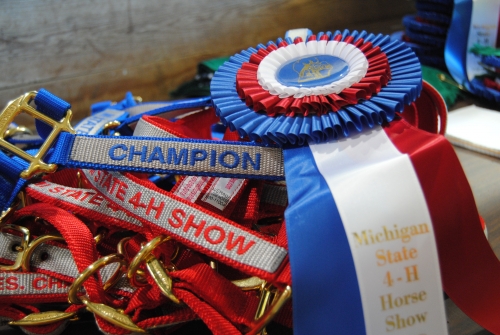 What is unique about the State 4-H Horse Show is that it is almost entirely run by volunteers. A committee of approximately 15 4-H family members and friends from across the state come together during two annual meetings to plan and run the show. When the actual event occurs, an additional 135 individuals step up to make the event happen. It is truly a "Michigan 4-H" show. Without their help and the support of the many sponsors and commercial vendors, the show simply could not occur.
For information on the 2012 State 4-H Horse show, please visit http://www.msue.msu.edu/horsekids/. For more information on the Michigan 4-H Horse Program, contact your local MSU Extension office
.