Equipment for Zoom Meetings and Webinars
You do not need a lot of expensive equipment to host and/or participate in a Zoom Meeting. Below are recommendations for audio, video, and conference room equipment.
Audio
Many staff members use their built-in laptop microphone source for internal staff meetings. While this is an option, a headset will provide higher quality sound to those you are meeting with. If you share an office with others or if you want a better audio quality experience you may want to purchase a headset. If you are using Zoom to meet with clients a headset is highly encouraged so that you give them the best experience possible. You do not need an expensive headset for Zoom - the only suggested requirement is that it is a USB headset. Below you will see a Logitech H390 headset which sells for around $30.00.
Note that a desktop computer will typically not have a microphone built into it.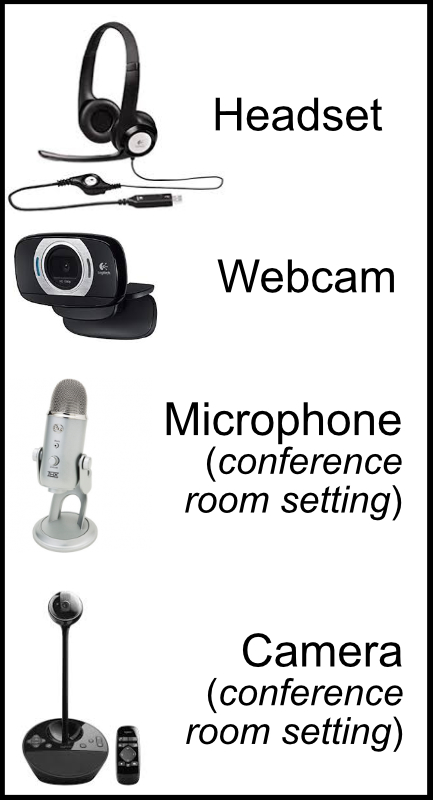 VIDEO
If you are sharing your video (a video of you speaking) you can use a built-in webcam on a laptop or you could purchase a USB webcam. if you are using a desktop computer you will need a USB webcam in order to share your video. Webcams vary in price starting at around $30 - the only requirement is that it is a USB webcam.
CONFERENCE ROOM EQUIPMENT
If you are going to use Zoom in a conference room setting additional equipment is suggested. For audio you might consider a Yeti microphone. This microphone has a variety of settings include one for picking up audio throughout the room and another setting if you are focusing on one speaker. This can be purchased through the Michigan State University Computer Store opens in new window.
For video in a conference room setting you may consider a Logitech BCC950. This ConferenceCam can be used to capture video and audio. It can also be used as a speaker. This ConferenceCam sells for around $260.
Gwyn Shelle
Instructional Technology Specialist
Michigan State University Extension
heyboerg@msu.edu