Online Courses: Getting Started
Online Courses: Getting Started
Below is the process for getting started with an MSU Extension online or blended course. Developing a course may take many months for an individual or team based on resources, time, and the complexity of the course.
STEP #1: SUBMIT COURSE REQUEST FORM

STEP #2: COMPLETE TRAINING

The following training should be completed by staff would will be working on the course.

Designing Online/Blended Extension Programs. This course is self-paced however, teams can request a consolidated live training. Topics include course design, learning objectives, communication, accessibility, assessments, instructional strategies, implementation
D2L training should be completed by going through the

STEP #3: COMPLETE COURSE DESIGN PLAN

During the design phase, the elements of the course are outlined, budgets are defined, and plans are made for content development.

Course Development Checklist: This checklist is a great resource for individuals or teams to use when they are at the planning stages of developing an online or blended course.
Course Development Flowchart: This document gives an overview of a process for developing an online or blended course including the following five stages: 1) Define 2) Plan 3) Build 4) Test/Refine 5) Launch 6) Evaluate/Improve.

STEP #4: BUILD COURSE

Staff will receive guidance in developing a course based on learning outcomes and assessment requirements, and the course will reflect appropriate virtual teaching strategies.

Each course will go through a final checklist, including a check for meeting accessibility guidelines. It is also recommended that all courses are peer reviewed.
If you are ready to explore online/blended courses, please contact Gwyn Shelle heyboerg@msu.edu or Alan Pilkenton pilkento@msu.edu (CYI courses only) for assistance with building your course - we look forward to working with you!
D2L Online Course Platform
D2L is the learning management system used by Michigan State University for offering online and blended courses. Features include the ability to share video content, tracking of participant progress, quizzes, file submissions, and peer learning through discussion forums. MSU Extension offers approximately 60 online courses to members of our local communities. Participants receive access to one of our online courses by creating an MSU Community ID (they do not need an MSU NetID). We also offer many professional development courses to our staff through D2L.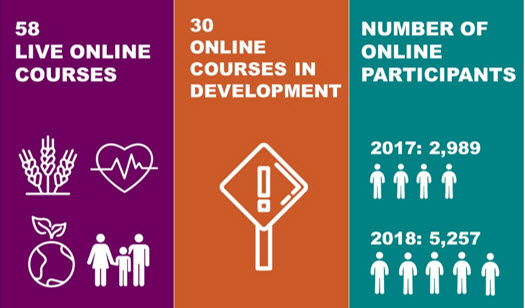 Resources