Show Pigs
Ranking twelfth in the U.S. for pork production, Michigan's swine industry is extremely diverse and has a robust show pig industry. Youth in Michigan can become involved in the pork industry by participating in various events including jackpot shows, educational opportunities and county fairs. Involvements in these events help foster the growth and future of the pork industry in Michigan.
As swine exhibition in Michigan grows, efforts are being made to provide producers, show organizers and youth with information. This page is the "go to" resource for information on official identification, health management and contacts.
Official Identification
According to Public Act 466 of the Animal Industry Act official identification for exhibition swine is required by state law. The purpose of official identification is to help the state track swine if a disease outbreak occurs, this is called traceability. This includes all swine being shown at exhibitions, including county fairs, jackpot shows, birthing exhibits and other events. Official identification is imprinted with a nationally unique official animal identification number and bears the official U.S. shield.
Please note:
For the 2021 exhibition year and beyond, Michigan Department of Agriculture and Rural Development (MDARD) will no longer provide bulk orders of the plastic NUES tags for county fairs to use as official ID as they have in the past.
The individual exhibitor or owner of the animal will need to acquire the official identification (ID) for the animal(s).

This can be done by the exhibitor purchasing a pig that has already been tagged with a USDA 840 tag by the breeder or by the exhibitor purchasing USDA 840 tag(s).
Exhibitors are strongly encouraged by the Michigan Department of Agriculture and Rural Development to request that tags are placed in the pig before purchasing it.
Currently there is no requirement for in state breeders to provide official ID or USDA 840 tags; instead, this is a service that the breeder can provide for their customers.
Frequently asked questions on official identification for exhibition swine can be found below:
How can I get a premises identification number (PIN) for my farm?
A premises identification number (PIN) is a number issued to your farm when you register with the Michigan Department of Agriculture and Rural Development. By registering as a premises, your farm will be listed with the National Animal Identification System, which increases traceability. This information is not shared with other sources. If you would like to obtain a Premises Identification Number (PIN) or if you have questions, contact the Animal ID department at Michigan Department of Agriculture and Rural Development at 1-888-565-8626.
It is important to remember that PINs are assigned to a physical address, not an individual. If a person moves locations, their PIN does not remain the same.
Who are approved suppliers of USDA 840 tags?
USDA 840 tags are sold by multiple distributors and can be ordered from your company of choice.

The following companies are approved to manufacture USDA 840 tags for swine; Allflex, Destron Fearing, EZid (Leader Products), Shearwell, Temple Tag, Y-Tex.
Tags can be ordered in bulk from approved distributors listed on each manufacturer's website.

Most Michigan livestock markets will sell single USDA 840 EID tags to exhibitors.

Exhibitors are encouraged to call their local livestock market to inquire if they sell single USDA 840 EID tags for use in swine.

Additional retailers are approved to supply single EID USDA 840 tags.
Contact information sheet for assistance with official identification or disease management
Health and Disease Management
When working with exhibition swine every effort should be made to manage the health of the animals prior to, during and after exhibition. Minimizing disease risks through proper care, transportation and a herd health plan will help youth producers and exhibition event organizers avoid a disease outbreak. Information on vaccination, weigh in and tagging event protocols, along with suggestions on biosecurity and show procedures are below:
Youth for the Quality Care of Animals (YQCA)
Youth for the Quality Care of Animals (YQCA) is a national multi-species quality assurance program for youth ages 8 to 21 with a focus on three core pillars: food safety, animal well-being, and character development. The YQCA program highlights 10 good production practices for youth producers to review and includes specific information on: pigs, beef cattle, dairy cattle, sheep, goats, market rabbits and poultry. This program is available online through the YQCA system. It is also offered as instructor-led face-to-face workshops by certified YQCA trainers.
The YQCA Program is committed to educating youth about good production practices, including producing safe, healthy products for consumers. This program ensures packers and consumers that the animals are cared for correctly and that the caretakers are aware of the standards and guidelines for using animal health products, using scientific based information.
The YQCA program may be required by some county fairs or livestock exhibitions in order for youth to participate, this is a fair-by-fair and show-by-show requirement and youth should clarify the rules with the specific exhibition they are attending.
Use of Ractopamine in Exhibition/Show Pigs
Ractopamine is a beta-agonist feed additive used in production swine diets to promote lean muscle growth. It has been approved for use in swine diets in the United States. In recent years the use of ractopamine has been prohibited in many countries around the world because of concerns about its possible health effects when used improperly. Several commercial pork processing plants have announced they will no longer purchase pigs that have been fed ractopamine.
These recent announcements will have an impact on county fairs and exhibitions that utilize resale markets as a service to their livestock auction buyers. In 2020 many of the county fairs and other swine shows in Michigan have been discussing the product ractopamine and several have decided to eliminate its use in hogs exhibited at their events to protect their market for these animals following the fair or exhibition.
Resources about ractopamine have been developed by MSU Extension and are available for exhibitors, parents, county fair staff and exhibitions that are considering or have implemented a ban on this product.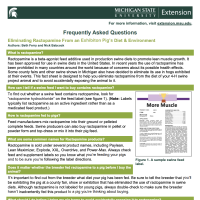 March 13, 2020
MSU Extension provides an opportunity to review frequently asked questions regarding ractopamine.
FILE DOWNLOAD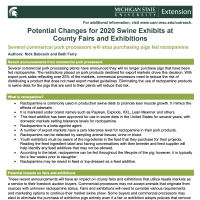 March 13, 2020
MSU Extension provides information on the impacts of ractopamine on county fairs and exhibitions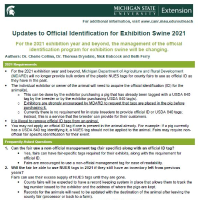 January 14, 2021
For the 2021 exhibition year and beyond, the management of the official identification program for exhibition swine will be changing.
FILE DOWNLOAD