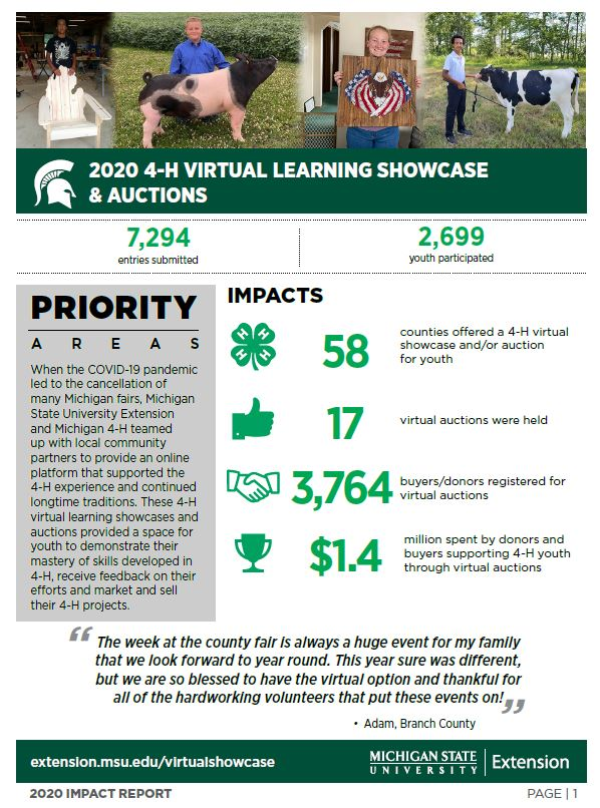 2020 4-H Virtual Learning Showcase & Auctions
DOWNLOAD FILE
December 11, 2020 - Author: MSU Extension
PRIORITY AREAS
When the COVID-19 pandemic led to the cancellation of many Michigan fairs, Michigan State University Extension
and Michigan 4-H teamed up with local community partners to provide an online platform that supported the
4-H experience and continued longtime traditions. These 4-H virtual learning showcases and auctions provided a space for youth to demonstrate their mastery of skills developed in 4-H, receive feedback on their efforts and market and sell their 4-H projects.
7,294 entries submitted
2,699 youth participated
58 counties offered a 4-H virtual showcase and or auction for youth
17 virtual auctions were held
3,764 buyers/donors registered for virtual auctions
$1.4 million spent by donors and buyers supporting 4-H youth through virtual auctions
"The week at the county fair is always a huge event for my family that we look forward to year round. This year sure was different, but we are so blessed to have the virtual option and thankful for all of the hardworking volunteers that put these events on!"
-Adam, Branch County
Learn more on the virtual showcase website.