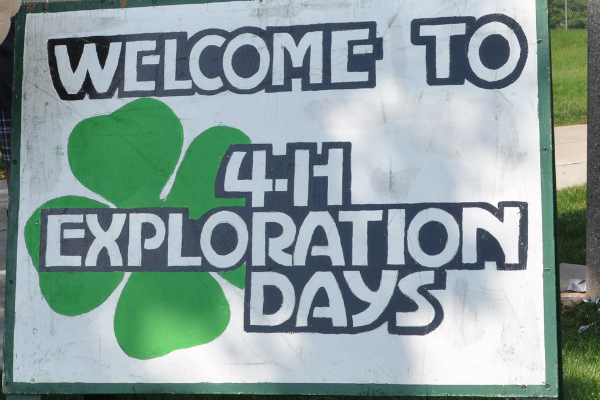 4-H Exploration Days Session Instructor Role Description
October 15, 2020 - Author: Michigan State University Extension
Purpose:
To create a statewide pre-college event featuring a variety of diverse sessions that appeal to youth ages
12-19 years of age. Utilizing resources on and off campus from all fields of study to prepare our young
people for a complex and changing world.
Time Required:
Submission request form and pre-event planning form
June event times
Complete the pre-event Session Instructor Training and Volunteer Central What Every Volunteer working with Youth Training.
Qualifications:
Session Instructors can be any one of the following individuals:


MSU/MSU Extension staff person teaching as part of their official MSU role
MSU Extension Gold Volunteer: must have completed the MSU Extension Volunteer Selection Process; enrolled in 4-HOnline and accepted/enrolled as a Gold level volunteer.
Person representing partner agency (not necessarily screened) as long as they are overseen by staff person or Gold volunteer on site throughout the duration of the session.

A willingness to become familiar with and work within the philosophy and guidelines of the MSU
Extension 4-H Youth Development Program.
The ability to teach or assist young people ages 12-19 years of age.
A sincere interest in working with youth, other volunteers and professional staff in an
educational setting.
Good verbal and/or written communication skills, openness to work with all youth from all
racial, ethnic, gender identities, etc.
Responsibilities:
Submit the session request form, which includes the title, description, and session needs.

Submit required pre-event planning information for registration and housing (needed after session is accepted).

Attend and be prepared to teach during all scheduled session times

Recruit or request an adult session support, to ensure at least two adults are present throughout the entire session. If recruiting your own adult session support they will need to be through the MSU Extension Volunteer Selection Process as a gold level volunteer.

Take attendance at class at start of session and submit at the start of the session ( Or submit request prior to the event via session needs form to recruit attendance help through an adult session support)

Follow up with students after the event to ensure expenses have been paid/receipts properly submitted.

Share any concerns that need to be dealt with at the event to Instructor Support Team members.

Share any concerns that impact the delivery of the session in future years with the Instructor Support Team following the event.

Arrive at session location at least 30 minutes prior to session start time. Make sure to account for time in finding parking and loading/unloading supplies as needed.

Make sure the session room door is labeled with the sign given in the pre-event packet.

As needed pick up any requested session supplies at headquarters prior to session start. Return any unused supplies after the session ends.

Administer and collect session evaluations if determined applicable by Instructor Support Team.

Prepare your sessions to run the full time allocated for the session. Youth should not be dismissed early.
Benefits:
Will be provided meals for the days teaching a session and if lodging is needed, the cost will be reduced to $100
Experience the satisfaction of contributing to the positive growth of youth
Grow personal leadership and communication skills
Gain respect and gratitude of members, volunteers, parents, and the community
Recognition for your contributions
List as an outreach/service/research activity on Form D for Recommendation for Reappointment, Promotion or Tenure Action (applies to Tenure System only)
Boundaries and Parameters:
Please note that all sessions will not be accepted due to need, size of sessions, and spacing availability. A session submission does not equate to a session at the event.
Classroom locations are throughout campus; parking, room temperature, and accessibility are all different so flexibility is important.
Michigan 4-H Staff Instructor Support Team members agree to:
Provide training opportunities that will help the volunteer fulfill his/her responsibilities as a 4-H Days Exploration Days Instructor
Have professionals available to listen to volunteers' ideas to help improve the 4-H program
Provide appropriate recognition and awards to volunteers
Assist instructors with supply procurement or basic reimbursement for session supplies
Contact(s):
Laurie Rivetto, MSU Extension educator, at rivettoL@msu.edu.