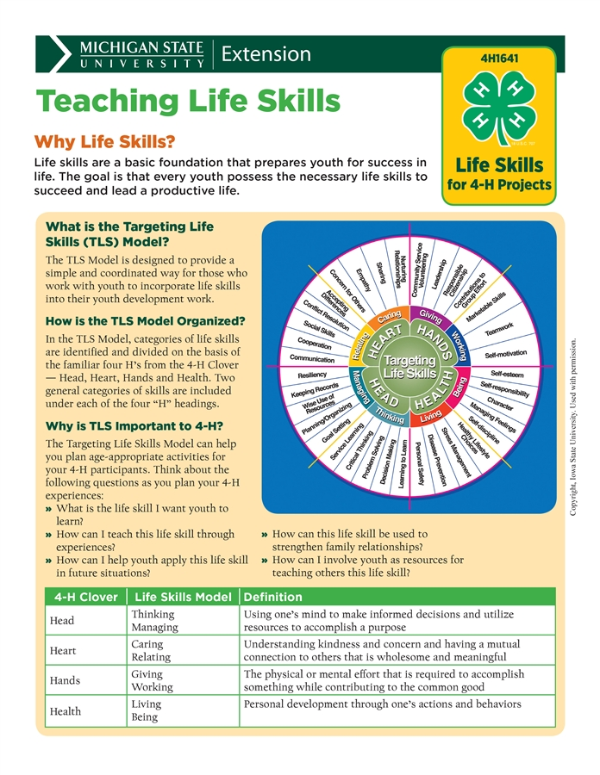 4-H Life Skills Sheets (4H1641)
DOWNLOAD
December 20, 2013 - Author: Kendra Moyses
These 15 single-page, double-sided sheet sets help 4-H and other youth group leaders better understand basic components of how working in various project areas can help young people develop such key life skills as goal setting, responsible citizenship, conflict resolution and leadership. Each includes age-appropriate discussion questions that can be used with youngsters between ages five and 19.
Teaching Life Skills
Why Life Skills?
Life skills are a basic foundation that prepares youth for success in life. The goal is that every youth possess the necessary life skills to succeed and lead a productive life.
What is the Targeting Life Skills (TLS) Model?
The TLS Model is designed to provide a simplea and coordinated way for those who work with youth to imcoporate life skills into their youth development work.
How is the TLS Model Organized?
In the TLS Model, categories of life skillos are identified and divided on the basis of the familiar four H's from the 4-H clover—Head, Heart, Hands and Health. Two general categories of skills are included under each of the four "H" headings.
Why is TLS important to 4-H?
The Targeting Life Skills Model can help you plan age-appropriate activites for your 4-H participation. Think about the following questions as you plan your 4-H experiences:
What is the life skill I want youth to learn?
How can I teach this life skill through experience?
How can I help youth apply this life skill in future situations?
How can this life skill be used to strengthen family relationships?
How can I involve youth as resources for teaching others this life skill?