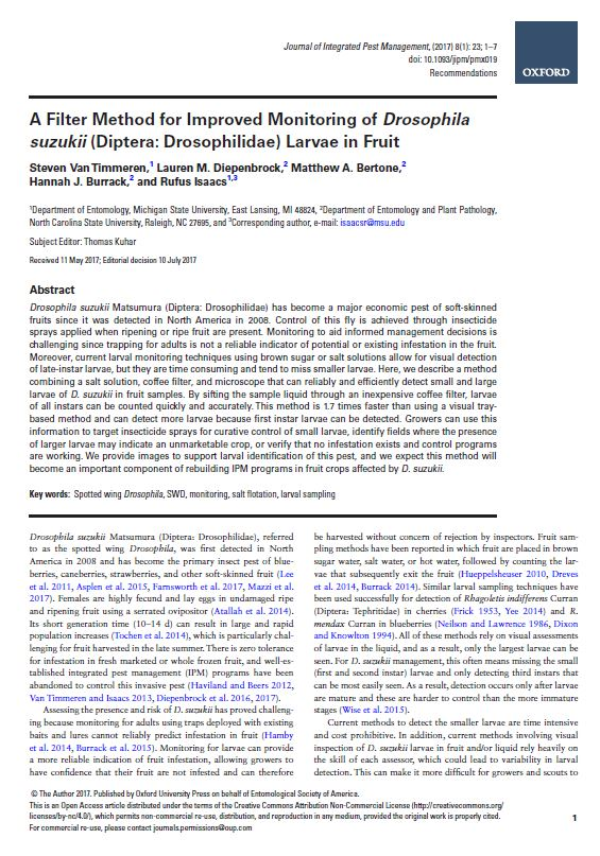 A Filter Method for Improved Monitoring of Drosophila suzukii (Diptera: Drosophilidae) Larvae in Fruit
DOWNLOAD
July 1, 2017 - Author: Steven Van Timmeren, Lauren M. Diepenbrock, Matthew A. Bertone, Hannah J. Burrack, and Rufus Isaacs
Drosophila suzukii Matsumura (Diptera: Drosophilidae) has become a major economic pest of soft-skinned
fruits since it was detected in North America in 2008. Control of this fly is achieved through insecticide
sprays applied when ripening or ripe fruit are present. Monitoring to aid informed management decisions is
challenging since trapping for adults is not a reliable indicator of potential or existing infestation in the fruit.
Moreover, current larval monitoring techniques using brown sugar or salt solutions allow for visual detection
of late-instar larvae, but they are time consuming and tend to miss smaller larvae. Here, we describe a method
combining a salt solution, coffee filter, and microscope that can reliably and efficiently detect small and large
larvae of D. suzukii in fruit samples. By sifting the sample liquid through an inexpensive coffee filter, larvae
of all instars can be counted quickly and accurately. This method is 1.7 times faster than using a visual traybased
method and can detect more larvae because first instar larvae can be detected. Growers can use this
information to target insecticide sprays for curative control of small larvae, identify fields where the presence
of larger larvae may indicate an unmarketable crop, or verify that no infestation exists and control programs
are working. We provide images to support larval identification of this pest, and we expect this method will
become an important component of rebuilding IPM programs in fruit crops affected by D. suzukii.