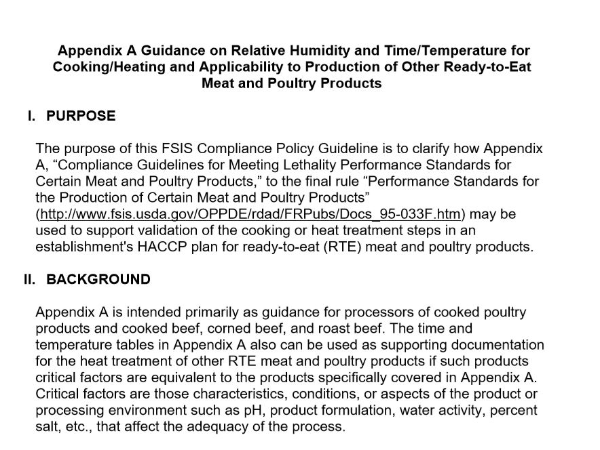 Appendix A Guidance on Relative Humidity and Time/Temperature for Cooking/Heating and Applicability to Production of Other Ready-to-Eat Meat and Poultry Products
DOWNLOAD FILE
March 17, 2020
I. PURPOSE
The purpose of this FSIS Compliance Policy Guideline is to clarify how Appendix A, "Compliance Guidelines for Meeting Lethality Performance Standards for Certain Meat and Poultry Products," to the final rule "Performance Standards for the Production of Certain Meat and Poultry Products" (http://www.fsis.usda.gov/OPPDE/rdad/FRPubs/Docs_95-033F.htm) may be used to support validation of the cooking or heat treatment steps in an establishment's HACCP plan for ready-to-eat (RTE) meat and poultry products.

II. BACKGROUND
Appendix A is intended primarily as guidance for processors of cooked poultry products and cooked beef, corned beef, and roast beef. The time and temperature tables in Appendix A also can be used as supporting documentation for the heat treatment of other RTE meat and poultry products if such products critical factors are equivalent to the products specifically covered in Appendix A. Critical factors are those characteristics, conditions, or aspects of the product or processing environment such as pH, product formulation, water activity, percent salt, etc., that affect the adequacy of the process.
The relative humidity levels suggested in Appendix A for cooked beef under 10 pounds do not apply to all products. Although the use of relative humidity during cooking is not specified in the Guidelines for Cooked Poultry Rolls and Other Cooked Poultry Products in Appendix A, the same scientific principles and reasoning apply to poultry products. The following explains the reason for the suggested relative humidity levels and provides examples of some products and processes for which they are applicable:
High relative humidity (or moisture) during cooking is a critical factor for ensuring adequate lethality for pathogens in RTE products. "Relative humidity" is defined as the ratio of the amount of water vapor in the air to the maximum capacity of the air at the same temperature. High relative humidity around a product during cooking promotes heat process lethality in two ways. First, the humidity reduces surface evaporation and the energy or heat that evaporation removes from the product during heating. Thus, if a sufficiently high relative humidity surrounding the product is not maintained during heating, undesirable evaporative cooling at the surface will occur. Products produced under conditions of high humidity must reach a higher temperature before evaporation will occur.