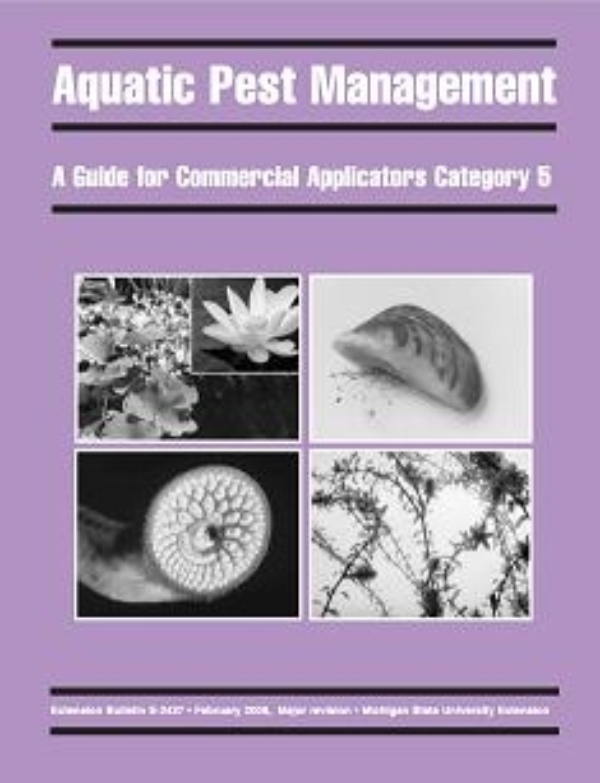 Aquatic Pest Management: Guide for Commercial Applicators - Category 5 (E2437)
October 28, 2015 - Author: Carolyn Randall
Order Information
To order training manuals, go to https://npsecstore.com/pages/michigan
INTRODUCTION
Welcome to the world of aquatic pest management. Aquatic pests may include algae, macrophyte s (rooted and non-rooted plants), invertebrates and vertebrates. These organisms may become pests when they interfere with the economic, environmental or recreational uses of a body of water. Interference may take the form of unsightly algae; dense growths of aquatic plants impeding swimmers and boats; leeches and blood flukes that discourage swimmers; or carp that dominat e shallow areas of a lake durin g the spring and ruin the habitat for more desirable fish.
Though you may be familiar with land-based pest management techniques, you will find that aquatic pest management techniques are different. While many aquatic pesticide application techniques are similar, the management plans and goals for each wate r body are often different because each water body is unique. The primary goals of an aquatic pest management program may include uninhibited recreation, improved appearance and habitat restoration.
As a member of the aquatic pesticide application industry, you need to develop the knowledge and skills to recognize:
• If an organism is a pest.
• What caused the pest to become a nuisance.
• The life cycle of the pest.
• Which life stage of the pest is susceptible to your management strategies.
• Various management techniques and tools, including pesticides, suitable for aquatic uses.
• How nontarget organisms may react to a proposed management strategy.
• The changing conditions of the aquatic environment in which you work.
When working on the water, you must be prepared to interact with people having many interests, people ranging from the once-a-year angler to year-round residents, and those who favor use of chemicals and those who oppose their use. As a pesticide applicator, you are often the first person to whom these people direct their questions and concerns. Often, these persons ask questions to satisfy their curiosity. If applicators do not thoroughly understand the principles of aquatic pest management and the related equipment, they can project a negative image of themselves and the aquatic industry.
The purpose of this manual is to help you learn about the highly specialized area of aquatic pest management. Only by being properly prepared can you expect to perform your duties safely and effectively.