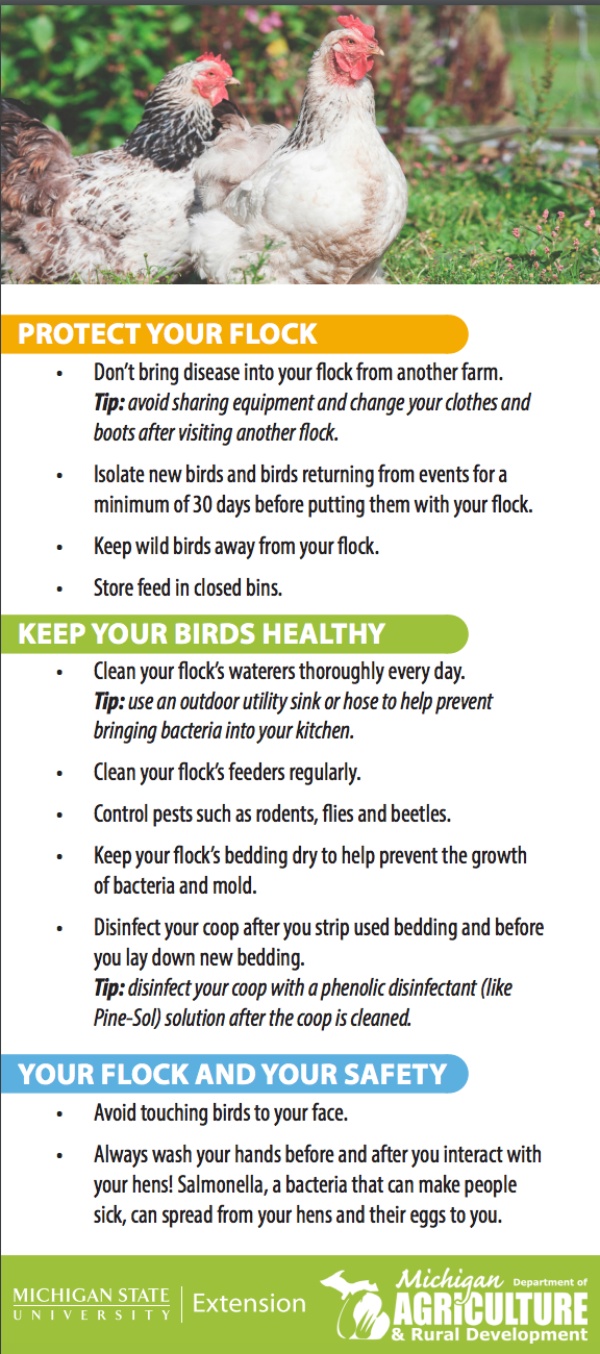 Biosecurity Tips for Poultry Owners
DOWNLOAD FILE
March 10, 2017 - Author: Michigan State University Extension
Protect your flock
Don't bring disease into your flock from another farm. Tip: avoid sharing equipment and change your clothes and boots after visiting another flock.
Isolate new birds and birds returning from events for a minimum of 30 days before putting them with your flock.
Keep wild birds away from your flock.
Store feed in closed bins.
Keep your birds healthy
Clean your flock's waterers thoroughly every day. Tip: use an outdoor utility sink or hose to help prevent bringing bacteria into your kitchen.
Clean your flock's feeders regularly.
Control pests such as rodents, flies and beetles.
Keep your flock's bedding dry to help prevent the growth of bacteria and mold.
Disinfect your coop after you strip used bedding and before you lay down new bedding. Tip: disinfect your coop with a phenolic disinfectant (like Pine-Sol) solution after the coop is cleaned.
Your flock and your safety
Avoid touching birds to your face.
Always wash your hands before and after you interact with your hens! Salmonella, a bacteria that can make people sick, can spread from your hens and their eggs to you.
Get involved
Michigan State University (MSU) Extension has many hands-on opportunities for youth (5-19 yrs. old) to learn more about poultry through 4-H.
Contact your local MSU Extension office to find out about programs in your area. Visit 4h.msue.msu.edu to explore opportunities, msue.anr.msu.edu/county to find your county office or call 888-678-3464.
Sign-up for the MSU Extension Poultry Newsletter to get poultry-related news and events delivered right to your inbox. To subscribe, text "MSUE" to 22828 or visit msue.msu.edu and click on "Newsletter Sign-Up."
Resources