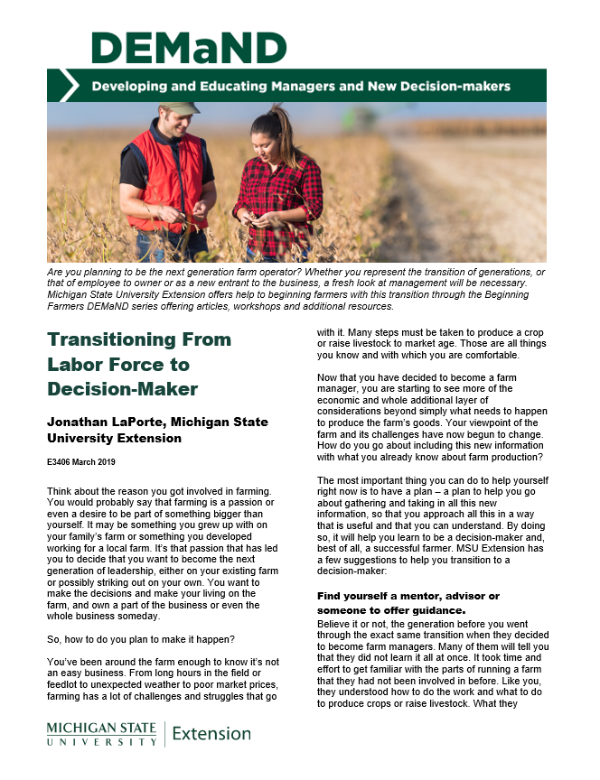 Bulletin E-3406: Transitioning From Labor Force to Decision-Maker
DOWNLOAD FILE
May 30, 2019 - Author: Jon LaPorte, MSU Extension
Think about the reason you got involved in farming. You would probably say that farming is a passion or even a desire to be part of something bigger than yourself. It may be something you grew up with on your family's farm or something you developed working for a local farm. It's that passion that has led you to decide that you want to become the next generation of leadership, either on your existing farm or possibly striking out on your own. You want to make the decisions and make your living on the farm, and own a part of the business or even the whole business someday.
So, how to do you plan to make it happen?
You've been around the farm enough to know it's not an easy business. From long hours in the field or feedlot to unexpected weather to poor market prices, farming has a lot of challenges and struggles that go with it. Many steps must be taken to produce a crop or raise livestock to market age. Those are all things you know and with which you are comfortable.
Now that you have decided to become a farm manager, you are starting to see more of the economic and whole additional layer of considerations beyond simply what needs to happen to produce the farm's goods. Your viewpoint of the farm and its challenges have now begun to change. How do you go about including this new information with what you already know about farm production?
­
The most important thing you can do to help yourself right now is to have a plan – a plan to help you go about gathering and taking in all this new information, so that you approach all this in a way that is useful and that you can understand. By doing so, it will help you learn to be a decision-maker and, best of all, a successful farmer. MSU Extension has a few suggestions to help you transition to a decision-maker.