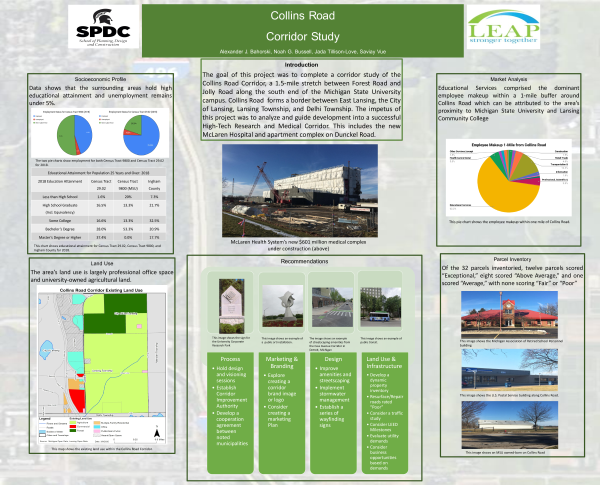 Collins Road Corridor Study
DOWNLOAD
June 13, 2020
The Spring 2020 Urban and Regional Planning Practicum report examines the Collins Road Corridor, a 1.5-mile road south of MSU's campus within Ingham County, Michigan and provides recommendations for corridor improvements and economic stimulus. Part of the impetus for completing this study is the desire to have an analysis of the area's potential for future development activity which will be influenced by two current development projects. Those project include McLaren Health Care's new $601 million hospital at the intersection of Collins Road and Forest Road, and new apartments being constructed at the intersection of Collins and Dunckel Road.
To gain a better understanding of the demographics, economic characteristics, and needs of the Collins Road Corridor and its surrounding areas, data was collected from several sources including the U.S. Census Bureau's Decennial Census and American Community Survey and ESRI Business Analyst. This data was combined with primary data collected by the practicum team via site visits and stakeholder interviews
Socio-economic data within this report was used to analyze current demographic and economic characteristics for the census tracts that the Collins Road Corridor is situated in. After analysis, it was found that the areas surrounding Collins Road are generally composed of white college-aged students (ages 18-24). Educational attainment for those residents older than 24 was higher than the state average, which was not surprising given the presence of both 2- and 4-year academic institutions within Ingham County. Unemployment rates within the area have been consistently low, at less than 5% within the subject area.
Zoning and Land Use information, provided by the City of Lansing, combined with multiple site visits found that the area's land use is largely professional office space and university-owned agricultural land. Infrastructure data, provided by the Lansing Board of Water & Light (BWL), and Consumers Energy, indicates that the corridor currently receives gas, water, sewer, and electric service and current development has not placed any strain on existing services. However, any future development is likely to necessitate expansion of the area's utility capacities.
The Retail MarketPlace Profile included in this study identifies industry sectors in demand in the areas around the Collins Road Corridor. The findings reveal that market leakages exist where the local population must leave the area to purchase certain goods or services. Within a 1-mile radius of Collins Road, Food Services & Drinking Places and Health & Personal Care Stores were two particular industry sectors which experienced market leakages that are commonly associated with high-tech research and medical corridors. This suggests that businesses specializing in these sectors would complement existing businesses within the corridor and their products & services would be in demand based on current consumer consumption rates.
This Parcel Inventory included in this study examines the detailed characteristics and quality of the individual parcels of land along the corridor. Also included is a Zoning Buildout Analysis which illustrates the hypothetical buildout of the corridor based on current zoning restrictions and maximum building size per the City of Lansing's zoning ordinance. This analysis revealed a future development potential in excess of 650,000sf.
Recommendations within this report are primarily based on socio-economic data, the practicum team's assessment of current conditions along the corridor, research on market demand, and case study research on noteworthy practices. Specifically, the recommendations are set forth in the following categorical focus areas: 1. Process Related Actions; 2. Marketing and Branding; 3. Corridor Design; 4. Land Use & Infrastructure. Focus Areas 1 & 2 cover procedural recommendations while Focus Areas 3 & 4 deal with physical improvement recommendations for Collins Road.
Process related action recommendations are based on analyses performed by the practicum team and the case studies examined within this report. These studies revealed that stakeholder involvement results in an effective, fair, and multipartite approach which is necessary for effective corridor planning. These recommendations include developing a cooperation agreement between the City of Lansing, Lansing Charter Township, City of East Lansing, and Delhi Charter Township, holding corridor design charrettes and visioning sessions amongst stakeholder groups, and exploring the establishment of a Corridor Improvement Authority.
Marketing and branding recommendations are based on case study research and the socioeconomic analysis. It is clear that effectively marketing and branding an area to a targeted demographic can serve as an important means to attract customers and businesses, which can result in direct business investment. These recommendations include considering the creation of a marketing plan and exploring a unique brand image or logo.
Corridor design recommendations are based on the practicum team's analyses and case study research where it is apparent that good design and amenities play a critical role in attracting businesses and clientele to the corridor. Recommendations include providing amenities and relevant streetscaping along the Corridor, implementing storm water management practices, and establishing a series of wayfinding signs along Collins Road.
Land use & infrastructure recommendations based out of assessments performed by the practicum team and a Retail MarketPlace Profile include developing a dynamic property inventory, resurfacing and repairing Collins Road and surrounding roads rated "Poor" by PASER, considering a traffic study to be completed by Tri-County Regional Planning Commission (TCRPC), considering LEED construction milestones for new developments, continually evaluating the demand for gas, water, sewer, and electricity services, and considering business recommendations based on consumer demands.
The recommendations presented suggest that there are many opportunities for Collins Road to redevelop itself as a successful Med-Tech Corridor – an area tailored to the tenancy and development of medical and technology enterprises. The corridor itself has several positive attributes as it is located adjacent to a world-class academic institution in Michigan State University and has access to a large population of over 324,000 people within a 10-mile radius providing a potential customer base and workforce. Through a strong regional planning approach and a unified vision amongst stakeholders, the data and recommendations within this report can assist both the public and private sectors in making decisions that enable appropriate development along the Collins Road Corridor.