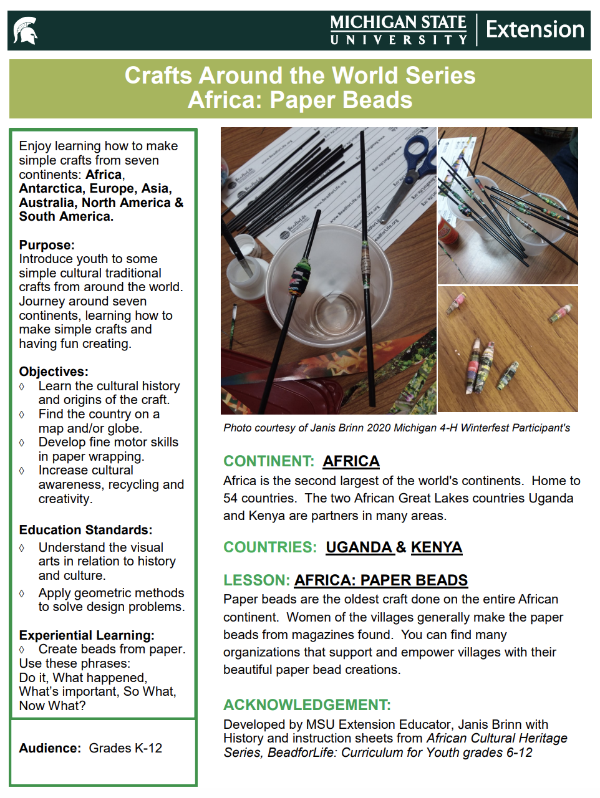 Crafts Around the World Series: Paper Beads
DOWNLOAD FILE
May 21, 2020 - Author: Michigan State University Extension
Enjoy learning how to make simple crafts from seven continents: Africa, Antarctica, Europe, Asia, Australia, North America & South America.
Purpose:
Introduce youth to some simple cultural traditional crafts from around the world. Journey around seven continents, learning how to make simple crafts and having fun creating.
Objectives:
Learn the cultural history and origins of the craft.
Find the country on a map and/or globe.
Develop fine motor skills in paper wrapping.
Increase cultural awareness, recycling and creativity.
Education Standards:
Understand the visual arts in relation to history and culture.
Apply geometric methods to solve design problems.
Experiential Learning:
Create beads from paper. Use these phrases:

Do it, What happened, What's important, So What, Now What?
Continent: Africa
Africa is the second largest of the world's continents. Home to 54 countries. The two African Great Lakes countries Uganda and Kenya are partners in many areas.
Countries: Uganda & Kenya
Lesson: Africa: Paper Beads
Paper beads are the oldest craft done on the entire African continent. Women of the villages generally make the paper beads from magazines found. You can find many organizations that support and empower villages with their beautiful paper bead creations.
Time:
30-45 minutes or multiple days depending upon the interest to learn more.
Materials:
Colorful paper i.e. Magazines, Holiday paper, maps, etc.
Scissors and/or paper cutting board
Rulers
Glue or Mod Podge
Clear Nail Polish (optional glitter polish) —suggested over varnish
Coffee Stir Sticks, thin straws, toothpicks, cotton swabs with cotton ends cut, or wire (plant flags type) for wrapping paper around—depends on size of hole desired.
Paint Brushes
Markers
Foam board, cups and/or modeling clay for paper drying beads holder
Wet cloths for possible mess  String and/or wire for making into jewelry if desired
Optional: Samples and instruction sheet
Instructional Video Link:
Procedure: How to make paper beads
Cut the paper into long tapered or triangular strips that are ½" – ¾" wide at one end and from 6"-10" long.
Start at the wide end of one strip and wind it around the straw or wire (whatever you chose for the hole size). You can add the glue to help hold – just be careful to not glue your bead to the toothpicks if they are used. Generally, it will not stick to the wire or plastic straws. Apply thinly on the end of the strip on the inside of your paper.
Roll the beads slowly and evenly making sure to smooth the paper and keeping the edges even. After gluing the end of the strip, take the bead off (or you can leave on to dry) and start your next bead.
Final touch is to use the clear (or sparkling) nail polish to give all the beads a nice protective coating. For a more matted look you can cover with the mod podge. Let dry and apply other coats if you feel needed. Two to three coats of polish are recommended.
Create by stringing the now dry beads into necklaces, bracelets, earring, and so much more with your finished beads! Be creative!!