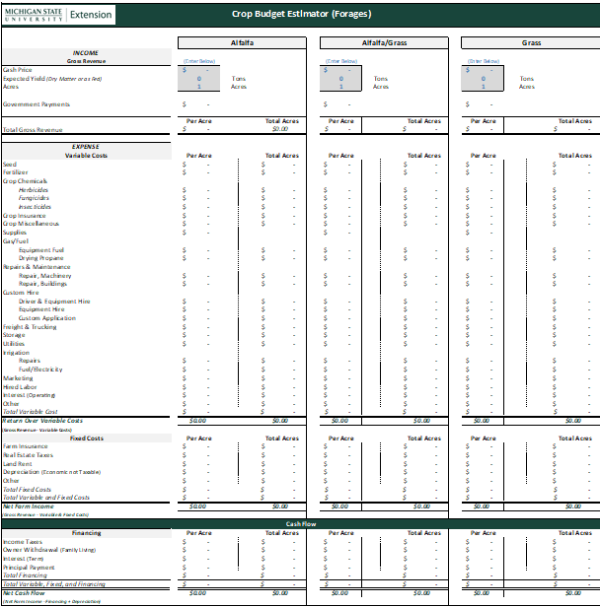 Crop Budget Estimator Tool for Forages (Detailed)
DOWNLOAD
December 17, 2020 - Author: Jonathan LaPorte
The Microsoft Excel based tool is built around critical farm management decisions you'll need to consider as you plan for and continually evaluate your growing season. Using your own farm records, you can build a budget that is used to:
Create break-evens for use in marketing decisions
Compare chemistry & fertilizer programs recommended by crop nutritionists and advisors
Calculate the amount of fertilizer you'll need to reach your yield goals using soil test data, tri-state fertilizer recommendations, manure applications, and nutrient removal information
Evaluate capital purchases (i.e. a new tractor or combine)
Assess the efficiency of your operation with financial ratios
Optimization Tool - Using the budgets created in the estimator, the optimization tool will determine what combination of acres returns the highest profitability. You'll define the:
Maximum total operating costs
Minimum acres of alfalfa, alfalfa/grass, or grass to be planted or kept in rotation
Total number of acres to be planted or kept in rotation
Economic Profitability – The Budget Estimator Tool has the ability to consider opportunity costs impacts to your farm's profitability. This information can be found on the Capital & Management tab.
An example file for the Crop Budget Estimator Tool for Grains, the same tool for grain crops, is available as are walk-through videos on the tools functions. Those resources can be found on the Crop Budget Estimator for Grains webpage.
More information on how to use this tool can be found in the Crop Budget Estimator Tool factsheet.