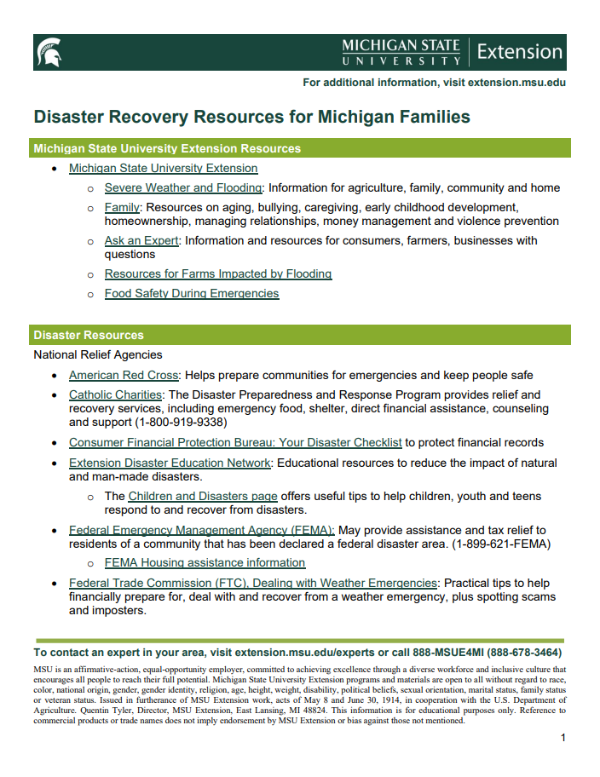 Disaster Recovery Resources for Michigan Families
DOWNLOAD
August 30, 2023 - Author: Michigan State University Extension
This document is available for families to review and use these resources to help during difficult financial times.
Michigan State University Extension Resources
Disaster Resources
National Relief Agencies
Michigan Relief Agencies
Crisis Resources
Agriculture Resources
Benefits Screening, Referral Services and Assistance
Consumer Education and Protection
Federal Trade Commission: Provides consumer protection information (1-877-382-4357)
Michigan Department of Insurance and Financial Services: Insurance help line (877-999-6442)
Michigan Attorney General: Resources on consumer protection, housing, health care, senior legal rights, cars, personal finance, identity theft, charities search, fraud, etc. (1-517-335-7622 or email miag@michigan.gov)
Consumer Financial Protection Bureau: Financial tools about various consumer loans, financial products, money management, buying a house, planning for college and retirement, and more.
Insurance Information Institute: Aims to improve public understanding of insurance, what it does, and how it works.
Direct Marketing Association (DMA): Submit requests to stop unwanted marketing messages through direct mail, telemarketing and emails:

To stop direct mail marketing: Send a letter to Direct Marketing Association, Mail Preference Service, PO Box 643, Carmel, NY 10512
To stop telemarketing: Send a letter to Direct Marketing Association, Telephone Preference Service, PO Box 1559, Carmel, NY 10512
To stop email marketing: Visit dmachoice.org

Do Not Call: Place your phone numbers on the Federal Trade Commission's national registry to stop unwanted telemarketing calls (1-888-382-1222)
Opt-Out of Credit: "Opt-out" of pre-approved credit offers (1-888-567-8688)
Phone Discounts for Low-Income Users: Sign up for services such as Lifeline, Telephone Assistance Plan (TAP), and Link-Up; contact your local phone company for information.
Employment and Unemployment Resources
Financial Management
Credit Counseling
Debt Management
Bankruptcy Resources
Gambling Resources
Other Debt Resources
Investment Resources
Food and Nutrition Resources
Michigan State University Extension
Michigan Food Pantries: List of some food pantries in Michigan
Food Bank Council of Michigan: Cooperative food resource and distribution program to local emergency food providers
United Way 2-1-1: Help with accessing food. Also available in Spanish.
Michigan Food Assistance Programs: Visit the website or contact your county health and human services office
Free or Reduced School Breakfast and Lunches: Apply any time to your local school district
MyPlate.gov: Personalized eating plans and interactive tools from the U.S. Department of Agriculture (USDA) to help access and plan food choices based on the dietary guidelines for Americans
USDA Center for Nutrition Policy and Promotion (CNPP): Develops and promotes dietary guidance that links scientific research to nutrition needs of consumers
WIC (Women, Infants & Children Program): Provides supplemental foods, health care referrals, and nutrition education for low-income women, infants, and children up to age five who are at nutritional risk
Health Care, Medical and Dental Resources
Housing Resources
Heating Assistance
Foreclosure Prevention Resources
Home Repairs
Rental Assistance
Immigration and Human Rights Issues
Legal Resources
Military Service Member Resources
Parenting and Family Education Resources
Tax Assistance