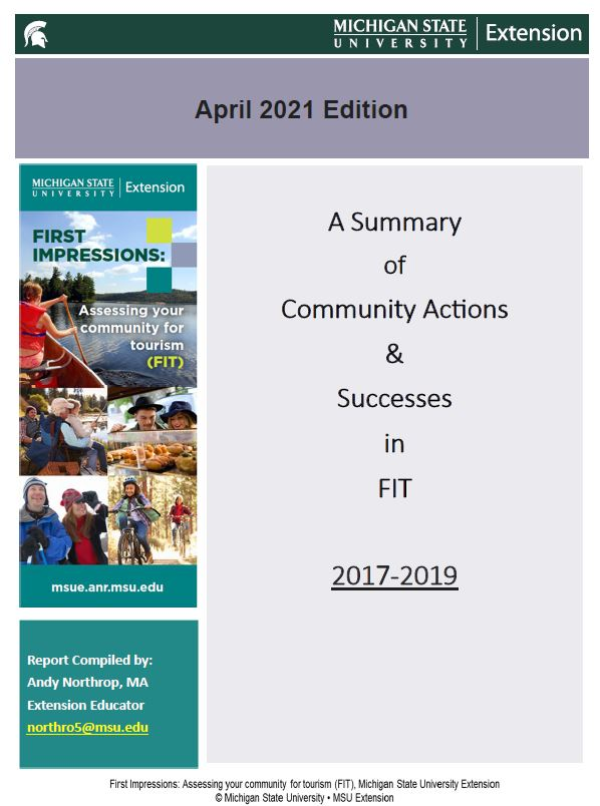 FIT Successes Report - April 2021 Edition
DOWNLOAD FILE
May 3, 2021 - Author: Andy Northrop, MSU Extension
What is FIT?
FIT is a comprehensive community assessment conducted by unannounced visitors in a host community. Overall, FIT helps communities learn about their strengths and weaknesses through the eyes of first‐time visitors. It empowers leaders and stakeholders to develop an ac􀀁on plan to improve their communities based on new perspectives from first‐time visitors. These action plans strengthen the quality of life for residents and visitors alike. The results of FIT also spawn local leadership; strengthen community vitality; and form the basis for future development.

Purpose of this report:
FIT has proven to be the catalyst needed to launch and expand small town tourism across Michigan. Launched in 2017 as a solution to drive community‐driven tourism, FIT has provided rural leaders and their stakeholders opportunities to collaborate around suggestions and strategies from first‐time visiting tourists to their community. This document will focus on the actions and successes implemented by several small town Michigan communities that engaged in the FIT program between 2017‐2019.
Report Objectives:
To give a general overview of the FIT program.
To provide a comprehensive overview of the FIT program successes since 2017.
To identify specific actions and impacts taken by communities after capturing first‐time visitor perspectives via FIT.
To serve as a resource for communities interested in learning more about FIT.