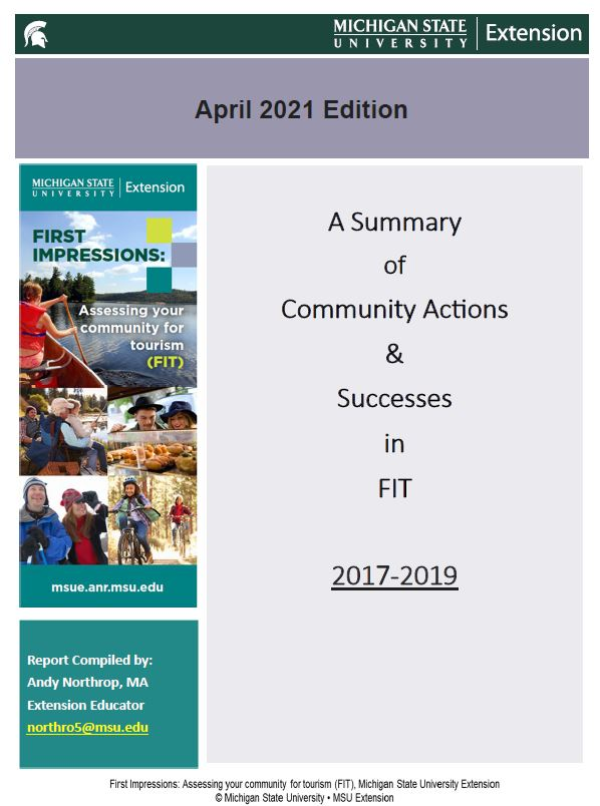 FIT Successes Report - April 2021 Edition
DOWNLOAD
May 3, 2021 - Author: Andy Northrop, MSU Extension
What is FIT?
FIT is a comprehensive community assessment conducted by unannounced visitors in a host community. FIT helps participating communities learn about their strengths and weaknesses through the eyes of first‐time visitors. It empowers leaders and stakeholders to develop an action plan to improve their communities based on new perspectives and suggestions from first‐time visitors. These action plans ultimately strengthen the quality of life for residents and visitors.
Purpose of this report:
FIT has proven to be the catalyst needed to launch and expand small town tourism across Michigan. Launched in 2017 as a solution to drive community‐driven tourism, FIT has provided rural leaders and their stakeholders opportunities to collaborate around suggestions from first‐time visiting tourists to their community. This report focuses on the actions and successes implemented by several small town Michigan communities that participated in the FIT program between 2017‐2019.
Webinar:
Hosted in May 2021 by the National Extension Tourism Network, Andy Northrop of Michigan State University Extension shares results from his report - "First Impressions Tourism Assessments-Three Years of Successful Community Action in Small Town Tourism".