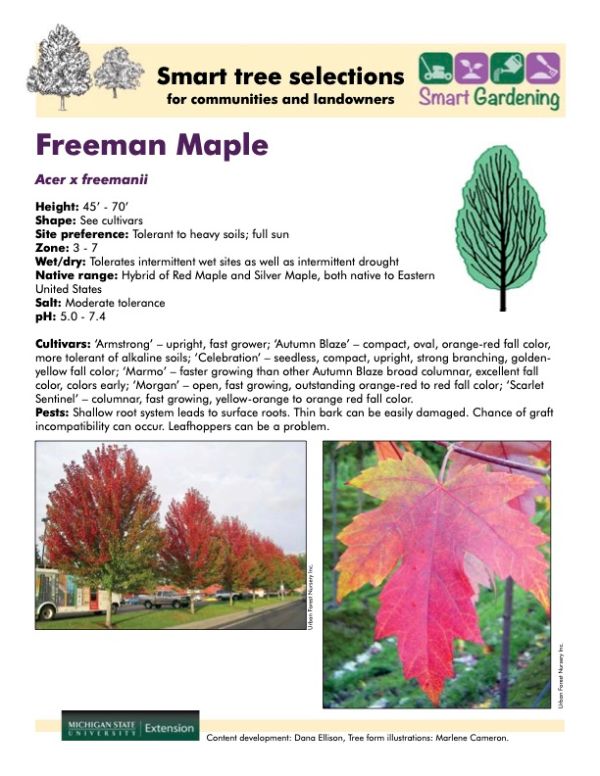 Freeman Maple
DOWNLOAD
March 11, 2016 - Author: Bert Cregg

Acer x freemanii
Height: 45' - 70'
Shape: See cultivars
Site preference: Tolerant to heavy soils; full sun
Zone: 3 - 7
Wet/dry: Tolerates intermittent wet sites as well as intermittent drought
Native range: Hybrid of Red Maple and Silver Maple, both native to Eastern United States
Salt: Moderate tolerance
pH: 5.0 - 7.4
Cultivars: 'Armstrong' – upright, fast grower; 'Autumn Blaze' – compact, oval, orange-red fall color, more tolerant of alkaline soils; 'Celebration' – seedless, compact, upright, strong branching, goldenyellow fall color; 'Marmo' – faster growing than other Autumn Blaze broad columnar, excellent fall color, colors early; 'Morgan' – open, fast growing, outstanding orange-red to red fall color; 'Scarlet Sentinel' – columnar, fast growing, yellow-orange to orange red fall color.
Pests: Shallow root system leads to surface roots. Thin bark can be easily damaged. Chance of graft incompatibility can occur. Leafhoppers can be a problem.
See full list of smart tree selections for communities and landowners