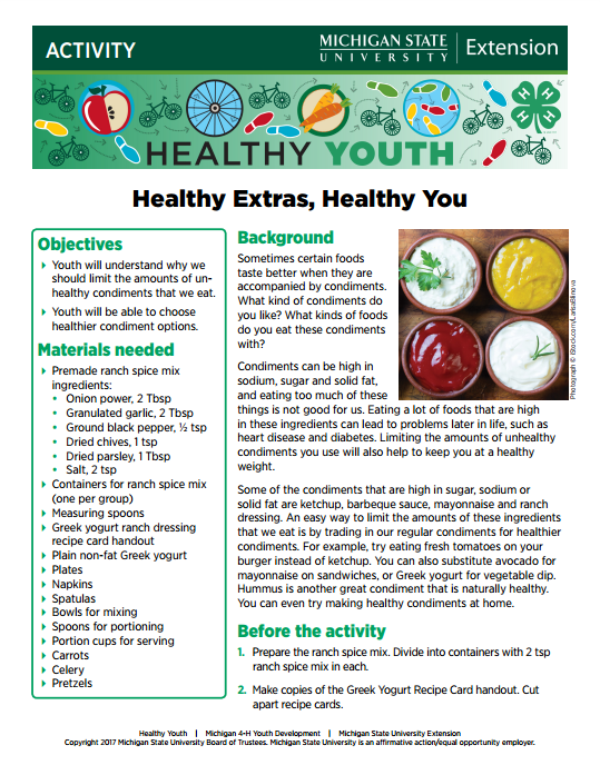 Healthy Youth: Healthy Extras, Healthy You
DOWNLOAD
March 20, 2017 - Author: Michigan State University Extension
Objectives
Youth will understand why we should limit the amounts of unhealthy condiments that we eat.
Youth will be able to choose healthier condiment options.
Materials needed
Premade ranch spice mix ingredients:

Onion power, 2 Tbsp
Granulated garlic, 2 Tbsp
Ground black pepper, ½ tsp
Dried chives, 1 tsp
Dried parsley, 1 Tbsp
Salt, 2 tsp
Containers for ranch spice mix (one per group)
Measuring spoons
Greek yogurt ranch dressing recipe card handout
Plain non-fat Greek yogurt
Plates
Napkins
Spatulas
Bowls for mixing
Spoons for portioning
Portion cups for serving
Carrots
Celery
Pretzels
Background
Sometimes certain foods taste better when they are accompanied by condiments. What kind of condiments do you like? What kinds of foods do you eat these condiments with?
Condiments can be high in sodium, sugar and solid fat, and eating too much of these things is not good for us. Eating a lot of foods that are high in these ingredients can lead to problems later in life, such as heart disease and diabetes. Limiting the amounts of unhealthy condiments you use will also help to keep you at a healthy weight.
Some of the condiments that are high in sugar, sodium or solid fat are ketchup, barbeque sauce, mayonnaise and ranch dressing. An easy way to limit the amounts of these ingredients that we eat is by trading in our regular condiments for healthier condiments. For example, try eating fresh tomatoes on your burger instead of ketchup. You can also substitute avocado for mayonnaise on sandwiches, or Greek yogurt for vegetable dip. Hummus is another great condiment that is naturally healthy. You can even try making healthy condiments at home.
Before the activity
Prepare the ranch spice mix. Divide into containers with 2 tsp ranch spice mix in each.
Make copies of the Greek Yogurt Recipe Card handout. Cut apart recipe cards.
Activity with youth
Divide the group into smaller groups of four to five students.
Give each group a Greek yogurt ranch dressing recipe card.
Give each group a small container of Greek yogurt, a premade ranch spice mix portion, a mixing bowl, a spatula, spoons and portion cups.
Have one student from each group mix together the Greek yogurt and the ranch spice mix.
Have another student from the group use a spoon to portion the dip into the portion cups.
Let students come up and grab snacks for dipping, plates and napkins.
Have the students try dipping their snacks into the Greek yogurt ranch dressing.
Variation
Explore the various spices in this recipe. Teach the kids what they are and how they are used. Show pictures so they see how each one looks as a plant.
Questions to ask
Does this taste similar to ranch dressing from the store?
What was the most surprising thing about doing this activity?
What else could you eat this with?
What other kinds of condiments could you make at home?
Why is it important to know about condiments and to make our own?
How can you share what you learned today with others?