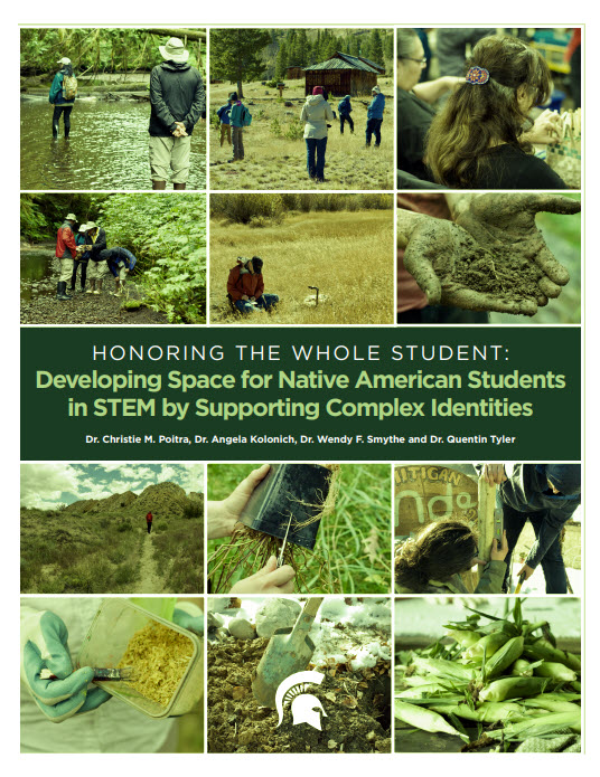 Honoring the Whole Student: Developing Space for Native American Students in STEM by Supporting Complex Identities
DOWNLOAD FILE
April 30, 2020 Author: Christie Poitra, Quentin Tyler
Description
The Honoring the Whole Student workbook was made possible by support from the National Science Foundation. The motivation for this workbook is to provide Science, Technology, Engineering and Mathematics (STEM) faculty the support and tools needed to reflect on their instructional, mentorship, and teaching practices—individually or within a community of learners.
The goal is for STEM faculty to foster a deeper understanding of how to more dynamically support Native American students. The activities in this workbook are intended to generate conversation and reflection about the challenges faced by, and worldviews of, Native American STEM students.
Authors
Overview
The workbook is comprised of different activities that provide scenario and reflection components.
Activity 1: History of your Campus
Activity 2: Inclusive Language
Activity 3: Mentorship
Activity 4: Instruction
Activity 5: Lab Research
Activity 6: Preparation for Fieldwork
Activity 7: Field Research
Activity 8: Continued Learning
Resource List for Further Learning
Feedback
Once you have completed the workbook, please fill out a survey about your experiences and to receive a personalized letter from the Michigan State University Native American Institute that recognizes your professional development efforts.
---
Creative Commons License
Honoring the Whole Student: Developing Space for Native American Students in STEM by Supporting Complex Identities by The Native American Institute at Michigan State University, is licensed under a Creative Commons AttributionNonCommercial-ShareAlike 4.0 International License.
---