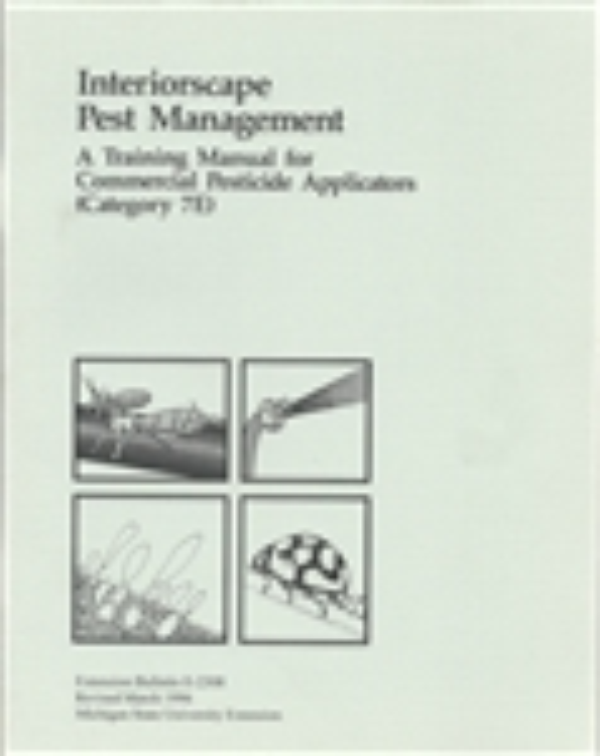 Interiorscape Pest Management: Commercial Applicators-Category 7E (E2308)
October 26, 2015 - Author: Julie Stachecki
Order Information
To order training manuals, go to https://npsecstore.com/pages/michigan
Preface
This manual along with the Commercial and Private Pesticide Applicator Core Manual (E-2195), is intended to prepare pesticide applicators in Category 7E, interiorscape pest management for initial certification and recertiflcation under the Michigan Pesticide Control Act of 1976, as amended. This category includes the management of pests of plants used in indoor landscape settings.
After studying both manuals, complete appropriate forms and contact the Michigan Department of Agriculture to schedule an examination for becoming a certified pesticide applicator in category 7E, interiorscape pest management.
INTRODUCTION
The increased use of plants in shopping malls, offices, restaurants, public spaces and homes has created an important industry in North America; indoor plant maintenance. The plants which make up interior landscapes play an important role in defining an establishments' image. The aesthetics and health of these plants directly reflect on an establishments' presumed level of service, quality of food, professionalism, and cleanliness. Owners and managers of these establishments recognize that customers are drawn to places of business where they see living, healthy plants. Conversely, unhealthy plants can have an adverse effect upon a business enterprise.
Several factors can negatively influence the health and appearance of indoor plants. Stressed plants are more prone to pest invasions and may also show more severe damage symptoms than unstressed plants subjected to identical insects and diseases. The relationship between environmental conditions, cultural practices, and the potential for pest invasion needs to be understood to appropriately maintain plants.
The knowledge and services of interior plantscapers are indispensable to maintaining healthy plants. In a sense, interior plant technicians contribute directly to the wellbeing of the establishments whose plants they maintain and carry a significant amount of responsibility. The management of indoor plants incorporates public relations, horticultural knowledge, cultural and mechanical practices and potentially, pesticide applications. The purpose of the pesticide applicator certification program is to insure that pesticide applicators in the interior landscape are knowledgeable in all these areas.
Portions of this manual discuss growing conditions and cultural practices that may promote insect or disease development, how to avoid these problems, their diagnosis, corrective treatments and evaluation of management tactics used. Legal and social implications of applying pesticides in the interior landscape are also discussed.
In order to fully understand your legal obligations, obtain copies of those laws and regulations that influence your line of work, especially:
-Federal Insecticide, Fungicide and Rodenticide Act
- Michigan Pesticide Control Act including Regulation 636 and 637.
Suggestions For Studying This Manual
This manual is to assist prospective commercial pesticide applicators in meeting the certification requirements for Category 7E under state and federal guidelines. Interiorscape Pest Management, A Manual for Commercial Pesticide Applicators (Category 7E), number E-2308 should be used in conjunction with the Commercial and Private Pesticide Applicator Core Manual, bulletin number E-2195. If you have problems using this manual, please consult your county Extension office or a representative of the Michigan Department of Agriculture (MDA) for help.
Some suggestions for studying this manual are:
1. Find a place and time for study where you will not be disturbed.
2. Read the entire manual through once to understand the scope and the manner in which the material is presented.
3. Study one segment at a time. Consider underlining important points in the manual or take written notes as you study each segment.
4. Reread the entire manual once again when you have finished studying all of its sections. Review with care any sections that you do not fully understand. Seek additional help if necessary.
This manual is intended to help you use pesticides effectively and safely when they are needed. We hope you will use this as a resource in the future and review it occasionally to keep the material fresh in your mind.
---