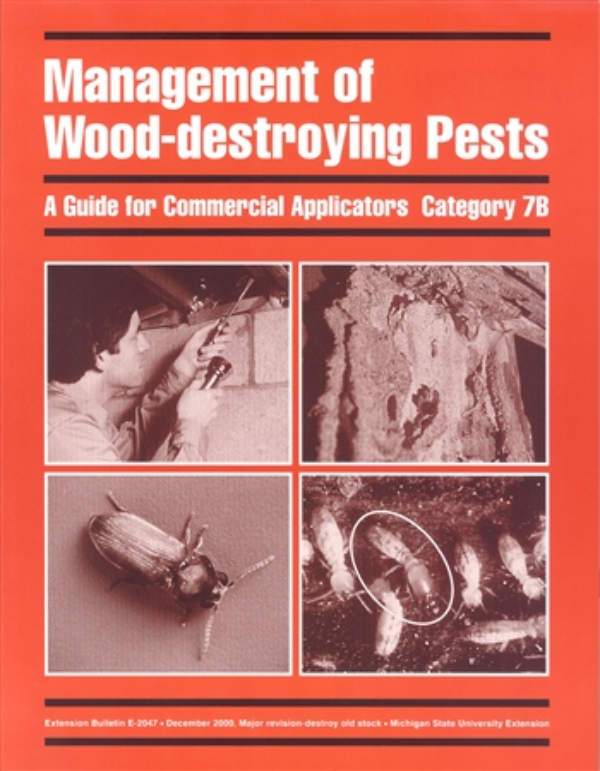 Management of Wood-Destroying Pests: Commercial Applicators - Category 7B (E2047)
October 27, 2015 - Author: Carolyn J. Randall
Order Information
To order training manuals, go to https://npsecstore.com/pages/michigan
INTRODUCTION
How to Use This Manual
This manual contains the information needed to become a certified commercial applicator in Category 7B, Wood-destroying Pests. This manual is intended for use in combination with the Pesticide Applicator Core Training Manual (Extension Bulletin E-2195), available through the Michigan State University Bulletin Office. However, this manual would also be useful to anyone interested in learning more about the management of wood-destroying pests.
Category 7B, Wood-destroying Pests, covers the management and control of wood-destroying pests that become problems in and around buildings. The chapters contain basic scientific information as well as guidelines for practical solutions to pest control problems.
The Category 7B certification exam will be based on information found in this booklet. Each chapter begins with a set of learning objectives that will help you focus on what you should get out of the chapter. The table of contents will help you identify important topics and understand how they relate to one another through the Management of WOod-destroying Pests v organization of headings and subheadings. As you prepare for the exam, read each chapter and answer the review questions located at the end. These questions are not on the certification exam. They are provided to help you prepare for the exam. Questions on the exam will pertain directly to the learning objectives.
The appendices and glossary, including an answer key (Appendix A), at the end of this manual provide supplemental information that will help you understand the topics covered in the chapters. Terms throughout the manual text that are bold and italicized can also be found in the glossary.
This certification manual benefits the applicator and the general public. By learning how to handle pesticides correctly, applicators will be able to protect themselves, others, and the environment from pesticide misuse. For more specific information on how to become a certified applicator in Michigan, refer to the beginning of the core manual (E-2195) or to the Michigan Department of Agriculture'S Web site at <http://www.mds.state.mi.us>.
CHAPTER 1: LAWS CONCERNING CONTROL OF WOOD-DESTROYING PESTS
Protection: The Applicator's Responsibility
More Than Just Pesticide Application
State and Federal Laws
Federal Laws
FIFRA
Endangered Species Act
OSHA
State Laws
Michigan Occupational Safety and Health Act (MIOSHA)
Natural Resources and Environmental Protection Act
Regulation 636
Regulation 637 Requirements
Summary
Review Questions
CHAPTER 2: THE BIOLOGY OF TERMITES AND OTHER WOOD-DESTROYING PESTS
The Biology of Insects and their Relatives
Other Divisions Used in Classification
Growth and Development
Growth
Development
The Biology of Termites
Termite Distribution
Subterranean Termites
Eastern Subterranean Termites
Colony Formation
The Termite and its Environment
Communication in the Colony
Other Termites
Drywood Termites
Dampwood Termites
Other Wood-destroying Insects and Pests
Powderpost Beetles
Longhorned Beetles
Black Carpenter Ants
Carpenter Bees
Wood-decay Fungi
Key to Insect Damage of Wood-destroying Pests
Summary
Review Questions
CHAPTER 3: EQUIPMENT AND METHODS
Termite Application Equipment
Sprayer Components
Tanks
Pumps
Hoses
Applicators
Drills
Calibration of Sprayers
Preventing Contamination of Drinking
Water Systems
Inspection of Wells
Methods
Inspection
The Inspection Report
Prevention
Sanitation
Structural and Construction Defects
Barriers
Products Used in Termite Control
Pyrethroids
Borates
Organophosphates and Carbamates
Insect Growth Regulators
Biotermiticides
Foaming Agents
Fumigation
Advantages of Fumigation
Disadvantages of Fumigation
Bait Technology and Application Bait Placement
Commercial Baiting Products
Advantages and Disadvantages
Summary
Review Questions
CHAPTER 4: SOIL TREATMENT FOR SUBTERRANEAN TERMITES
Foundation Types
Slab-on-ground
Crawl Space Construction
Basement Construction
Soil and Foundation Treating
Preconstruction Treatment
Postconstruction Treatment
General Treatment Guidelines
Exterior Soil Treatment
Exterior Slab Treatment
Treatment of Foundation Voids in Slab Construction
Treatment of Brick or Stone Veneer
Interior Treatment Methods
Vertical Drilling
Short Rodding
Long Rodding
Treatment Guidelines-Slab Construction Special Cases
Floating Slab Construction with Concrete Block . Foundation and Walls
Floating Slab Construction with Concrete Foundation and Brick Veneer on Wood Frame
Monolithic Slab with Tile or Terrazzo Finished Floor
Wood Over Slab
Treatment Guidelines for Crawl Space Construction
Treatment Guidelines for Basement Construction
Special Considerations-Basements
Retreatments for Soil-applied Termiticides
Termite Calculation Problems and Solutions
Summary
Review Questions
CHAPTER 5: OTHER TREATMENTS FOR SUBTERRANEAN TERMITES
Plenum and Non-plenum Crawl Spaces
Subslab Heating Ducts
Special Considerations for Treating Basements
Dirt-filled Concrete Porch on a Frame House
Wooden Porches
Hollow Block, Tile, and Rubble Foundations
Wells, Cisterns, and Other Water Sources
Rigid Foam Insulation Board
Wood Treatment
Borates
Wood Injection
Summary
Review Questions
CHAPTER 6: OTHER WOOD-DESTROYING INSECTS
Prevention of Wood-boring Beetles
Powderpost Beetles
True Powderpost Beetles
False Powderpost Beetles
Furniture and Deathwatch Beetles
Control and Management of Powderpost Beetles
Inspection
Habitat Modification
Pesticide Application
Follow-up
Wood-boring Weevils
Longhorned Beetles
Control and Management of Longhorned Beetles
Inspection
Habitat Modification
Pesticide Application
Follow-up
Carpenter Ants
Black Carpenter Ants
Ant and Termite Swarmers
Control and Management of Carpenter Ants
Inspection
Habitat Modification
Pesticide Application
Follow-up
Carpenter Bees
Control and Management of Carpenter Bees
Summary
Review Questions
CHAPTER 7: WOOD-DAMAGING FUNGI
Wood-decaying Fungi
Brown Rot
White Rot
Soft Rot
Wood-staining Fungi
Sap staining Fungi
Mold Fungi
Chemical Stains
Insects Associated with Wood-destroying Fungi
Control and Management of Wood-destroying Fungi
Inspection
Prevention
Habitat Modification
Chemical Control
Prevention
Control
Borates as Fungicides
Summary
Review Questions
APPENDICES
APPENDIX A: Answers Appendix
APPENDIX B: Glossary
APPENDIX C: Wood-boring Insects
APPENDIX D: Diagrams of Structural Members
APPENDIX E: Convenient Conversion Factors
APPENDIX F: Bibliography
APPENDIX G: Termites and Other Wood-destroying Pests