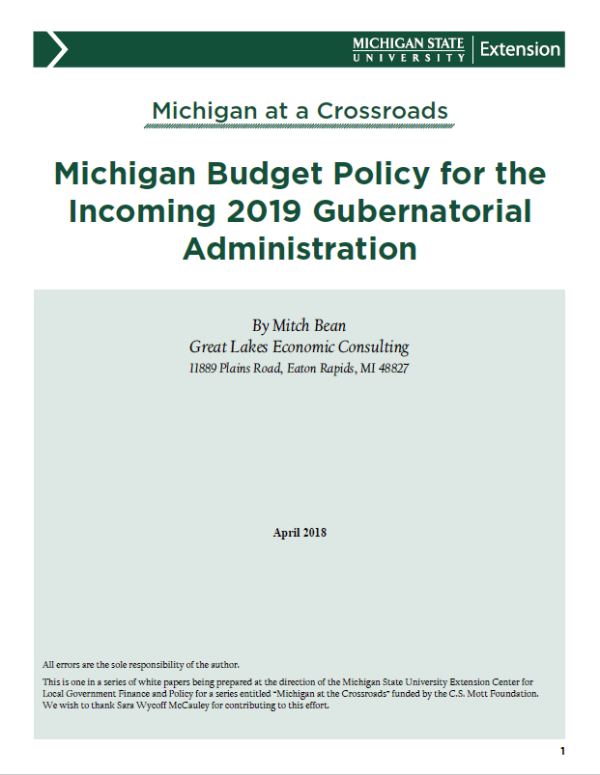 Michigan Budget Policy for the Incoming 2019 Gubernatorial Administration
DOWNLOAD
April 1, 2018 - Author: Mitch Bean, Great Lakes Economic Consulting
State government will experience a significant turnover as a result of the 2018 election cycle, ushering in a new Governor, Attorney General, Secretary of State and many new legislators. All state representatives and senators will face re-election this year and among these are 24 term-limited house members and 26 term-limited state representatives. Newly elected officials will face their first significant task early in 2019 as they participate in
passage of a state budget.
Executive and legislative officials alike have a significant responsibility as it relates to their role in the development, debate and ultimate passage of a state budget. Budgets are a reflection of our government's priorities; providing a roadmap as to where the state is headed and an indicator of whether and where it's gotten, of course.
In recent years, there has been an increased focus in Michigan on the budget. Emerging from the dire financial situation that dogged the state following the Great Recession required difficult choices by public officials. While the state's current budget would appear to be more stable than it was 10 years
ago, much work remains to be done and incoming elected officials can similarly anticipate difficult decisions ahead.
This paper is intended to provide a general overview of key budgetary issues that incoming elected officials can expect to and should be prepared to tackle in the coming years.
Thank you to University of Michigan Press for granting us written permission to use excerpts from "Chapter 13: Budget and Fiscal Policy in Michigan" of Michigan Government, Politics, and Policy, edited by J. S. Klemanski and D. A. Dulio.