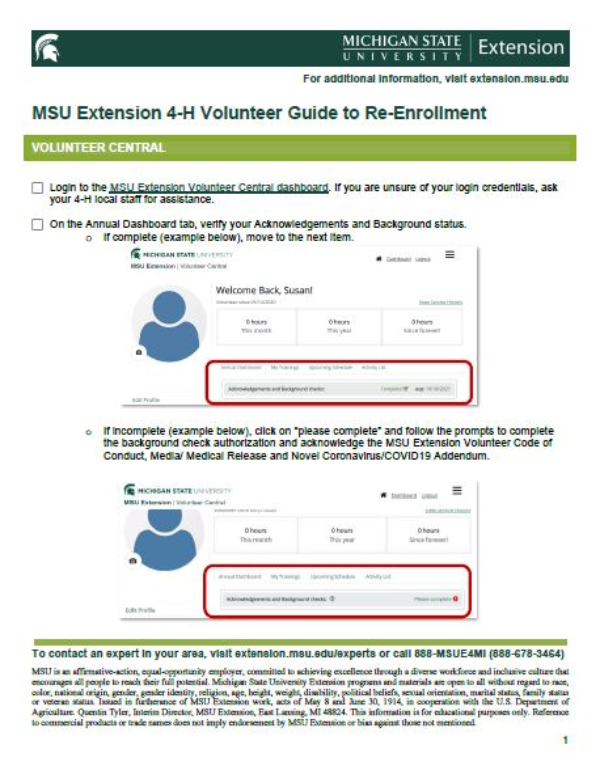 MSU Extension 4-H Volunteer Guide to Re-Enrollment
DOWNLOAD FILE
May 20, 2021 - Author: Michigan State University Extension
VOLUNTEER CENTRAL
Login to the MSU Extension Volunteer Central dashboard. If you are unsure of your login credentials, ask your local 4-H professional for assistance.
On the Annual Dashboard tab, verify your Acknowledgements and Background status.

If complete, move to the next item.
If incomplete, click on "please complete" and follow the prompts to complete the background check authorization and acknowledge the MSU Extension Volunteer Code of Conduct, Media/ Medical Release and Novel Coronavirus/COVID19 Addendum.
4-H ONLINE
Login/create an account in 4-H Online. Contact your local 4-H professional if you need assistance with usernames or passwords.
Enroll for the current 4-H year. 4-H program years are September 1 to August 31.
Key steps in 4-H Online:


Select Volunteer Type: Club volunteer
Select a Unit/Club:
Select a Project:

Continue through the enrollment process and click on submit. Once submitted, your screen will say "Volunteer - Awaiting Review."
For additional information, please view the 4-H Online 2.0 Family Guide.
VERIFY VOLUNTEER STATUS
Prior to starting your volunteer service for this 4-H program year, please speak with your local 4-H program coordinator to confirm these re-enrollment processes were completed and approved.