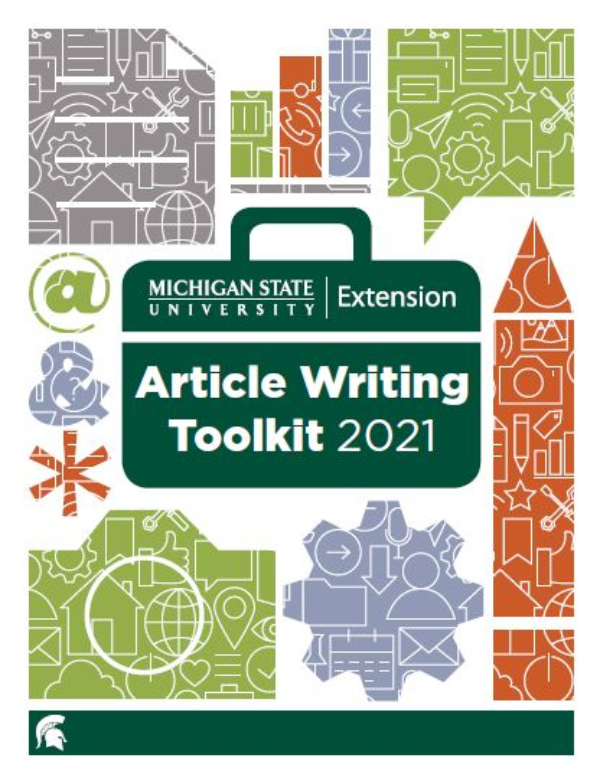 MSU Extension Article Writing Toolkit
DOWNLOAD
January 18, 2021 - Author: MSU Extension Communications & Marketing
Michigan residents have been turning to MSU Extension for answers for more than 100 years. Now more than ever, meeting people where they are means having digestible, relevant information available online.
Writing articles helps bring the vast knowledge and resources of MSU directly to individuals, communities and businesses throughout Michigan and the world. The more people who read our articles, the more people know about MSU Extension – who we are, what we do, what we offer, and the many ways that people can connect with us and get involved.
What is the purpose of articles?
Michigan State University Extension's mission is to help people improve their lives through an educational process that applies knowledge to critical issues, needs and opportunities. The high-quality, useful, current and reliable content created by staff and shared on our website helps to achieve this mission by providing expertise at any time, to anyone at the time when they need it most.
What should I write about?
You should write about topics that relate directly to your current MSU Extension role and area of expertise. If you want to explore writing on a topic outside of this purview, you need prior approval from your institute director.
How many articles do I need to write?
Institute directors determine the number of articles that educators are asked to write for the MSU Extension website each year. For current information about this requirement and answers to any questions or concerns you have related to it, please contact your work team leaders or institute director.
How do I submit articles?
Articles should be submitted to MSUE.News@msu.edu using the MSU Extension News Article Template.
What if I have questions?
Feel free to contact your communicator if you have any questions about article writing or the contents of this toolkit. Alternatively, you can send an email to MSUE.News@msu.edu, and a staff member will try to send you a response within two business days.
Additional Information
Download the toolkit to find additional information on:
Writing articles, made easy (content and structure of articles)
Sourcing and citing
Reviewing articles
Submitting articles
Tips and how-to's for article types and photos
Evergreen and event articles
Incorporating recipes
Writing an article series
Take this as course
The MSU Extension Article Writing Toolkit is also available as a D2L course.