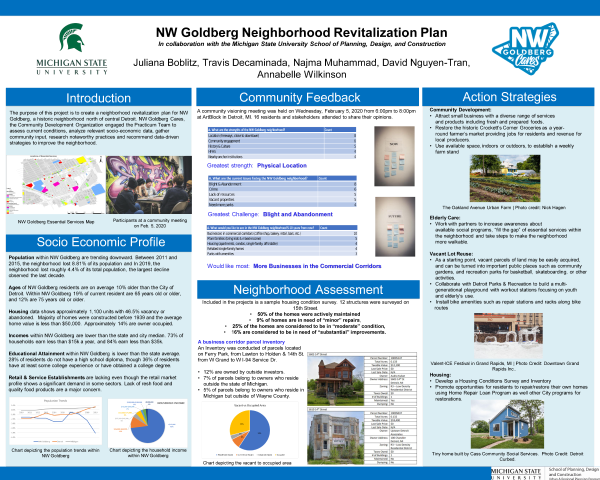 N W GOLDBERG Neighborhood Revitalization Plan Report Executive Summary and Poster
DOWNLOAD
June 13, 2020 - Author: ConstructionJuliana Boblitz, Travis Decaminada, Najma Muhammad, David Nguyen-Tran, Annabelle Wilkinson, Michigan State University
This practicum project was the collaborative result of a five student team in the Michigan State University (MSU) Urban and Regional Planning Program's capstone course. The practicum team worked in cooperation with the community development corporation, NW Goldberg Cares, during the spring semester of 2020 to provide NW Goldberg Cares with a general framework for a neighborhood revitalization plan.
The NW Goldberg neighborhood, a historic neighborhood north of downtown Detroit, includes the Motown Museum, a cultural highlight of the City of Detroit, as well as various businesses, cultural and historic sites, an educational institution (Detroit Collegiate Prep), and nearby medical facilities (Henry Ford Hospital). To obtain a better understanding of the community, a community visioning session was planned and executed, and several studies were conducted. The majority of data presented within the document were obtained from the U.S. Census Bureau decennial census, the American Community Survey, as well as from Environmental Systems Research Institute (ESRI), a leading spatial analytics firm. Additional data was collected by the authors while surveying NW Goldberg.
While learning about and researching NW Goldberg, the practicum team identified conditions that were deemed opportunities for future revitalization. Around 59% of residential lots in NW Goldberg are currently vacant and 46% of current homes are vacant, resulting in housing and land development opportunities in close proximity to downtown Detroit. Vacant land provides opportunities to enhance natural green space and encourage recreation and connection amongst residents. However, a detailed socio-economic profile indicated that 73% of residents have a median income of less than $15,000, which likely limit their quality of life, the ability to maintain or restore a home, or to have an economic impact. An analysis of business corridors illustrated that there is future potential for commercial development; with a retail market analysis showing that the highest retail demand for the neighborhood is a grocery store. As the NW Goldberg neighborhood was identified to be located in a food desert with little access to fresh produce for residents, a grocery store was found to be beneficial for the neighborhood. NW Goldberg also has the unique opportunity to restore and highlight three iconic historic structures, two of which are listed on the National Register of Historic Places. Though, those two historic landmarks are in a state of significant disrepair and restoration will require public and private collaboration, but ultimately bringing the structures back to some semblance of their original glory, would also represent a rebirth of the neighborhood as a whole and will be an important catalyst for new investment in parks, homes and businesses throughout NW Goldberg. More residents and businesses mean more jobs and public services, including grocery stores, transit routes, and resources for seniors. As the neighborhood attracts new residents, it is important to ensure that existing residents' needs are being met and housing, services and cultural amenities are easily accessible.
Results of the studies, along with community feedback, helped to make recommendations in consideration of the challenges and opportunities present in the NW Goldberg neighborhood. Seven goals related to seven essential topics were created to provide the initial framework for a future neighborhood plan.
Vacant Lot Reuse: Encourage placemaking and adaptive reuse of vacant lots
Housing: Ensure safe, affordable, high-quality housing for all current and future residents
Economic Development: Target geographic areas for business investment and growth to promote economic vitality
Parks and Recreation: Increase outdoor recreation opportunities and the accessibility of parks and natural habitats
Food Access: Increase access to healthy, nutritious food
Elderly Care: Increase accessibility for seniors and awareness of public healthcare programs
Historic Preservation: Maintain the integrity and the preservation of historic sites Each goal is accompanied by specific action strategies recommended to help NW Goldberg Cares achieve these goals, some of which are accompanied by details on potential partners or funding sources.
The overall focus of these recommendations is to encourage the accessibility and availability of necessary resources and services for residents and to enhance placemaking in public areas. All recommendations also highlight the need for dedicated stakeholder and community engagement and collaboration.