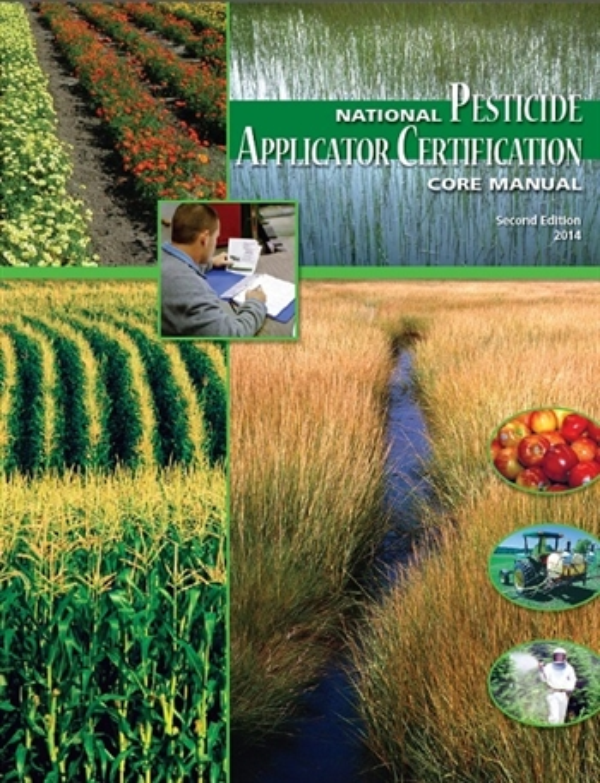 National Pesticide Applicator Certification Core Manual (E3009)
November 11, 2015 - Author: Carolyn Randall
ORDER INFO
The National Pesticide Applicator Certification Core Manual is available for purchase https://npsecstore.com/pages/michigan
INTRODUCTION
HOW TO USE THIS MANUAL
This manual is intended as a study guide for preparing to take the National Pesticide Applicator Certification Core Exam that was developed jointly by the U.S. Environmental Protection Agency and the Pest Management Regulatory Agency of Canada. Check with the pesticide regulatory agency within your individual state, tribe, territory, or federal department/agency to determine whether this manual prepares you for commercial or private applicator certification or recertification or registered technician status. This manual satisfies the basic applicator training requirements of the Federal Insecticide, Fungicide, and Rodenticide Act (FIFRA). More specific pest management information and pesticide terminology are covered in category specific manuals.
The National Core Exam is based on information found in this manual. The table of contents helps you identify important topics and understand how they relate to one another through the organization of headings and subheadings. You may also check the index for key words and concepts. Each chapter begins with a set of learning objectives that help you focus on what you should learn from the chapter. Questions on the certification exam pertain directly to these learning objectives. As you prepare for the exam, read each chapter and answer the review questions located at the end. These questions are not on the certification exam. They are provided to help you prepare for the exam. The answers to the review questions are found in Appendix A, and a sample test is found in Appendix E.
Other appendices, including a glossary, provide supplemental information that help you understand the topics covered in the chapters. Terms in bold type throughout the manual are defined either within the text or in the glossary.
This certification manual benefits both you and the general public. By learning how to handle pesticides correctly, you will be able to protect yourself, others, and the environment from pesticide misuse. For further information, visit: www.epa.gov and select "Pesticides."
CHAPTER 1 PEST MANAGEMENT
Pest Control Over the Years
Pest Recognition
Ways to Identify Pests
Characteristic Damage
Pest Management Methods
Biological Control
Mechanical Control
Cultivation
Exclusion
Trapping
Cultural Control
Cultural Practices
Sanitation
Physical/Environmental Modification
Host Resistance or Genetic Control
Chemical Controls
Regulatory Pest Control
Integrated Pest Management (IPM)
Why Practice IPM?
Components of IPM
1. Identify the Pest and Understand its Biology
2. Monitor the Pest to be Managed
3. Develop the Pest Management Goal
4. Implement the Integrated Pest Management Program
5. Record and Evaluate Results
Effectiveness of Pest Management Programs
Pesticide Resistance
Summary
Review Questions
CHAPTER 2 FEDERAL PESTICIDE LAWS
Federal Insecticide, Fungicide, and Rodenticide Act (FIFRA)
Pesticide Registration
Pesticide Reregistration
Tolerances
Violative Acts and Penalties
Penalties
Civil Penalties
Criminal Penalties
Other Federal Laws and Regulations
Federal Food, Drug, and Cosmetic Act (FFDCA)
Food Quality Protection Act (FQPA)
Worker Protection Standard (WPS)
Endangered Species Act (ESA)
Federal Record-keeping Requirements
Application Records
Maintaining Training Records
Summary
Review Questions
CHAPTER 3 PESTICIDE LABELING
EPA Approval of Pesticide Labeling
The Label
Background of the Label
Toxicity and Toxicological Tests
Efficacy or Performance Tests
Degradation, Mobility, and Residue Tests
Effects on Wildlife and the Environment
Types of Pesticide Registration
Section 3 Registrations
Special Local Need Registrations
Emergency Exemptions
Minimum-risk Pesticides
When to Read the Pesticide Label
Parts of the Label
Trade, Brand, or Product Name
Ingredient Statement
Use Classification Statement
Type of Pesticide
Net Contents
Name and Address of Manufacturer
Emergency Telephone Number
Registration Numbers
Establishment Number
Signal Words and Symbols
Precautionary Statements
Routes of Entry Statements
Specific Action Statements
Protective Clothing and Equipment Statements
Other Precautionary Statements
Statement of Practical Treatment
Environmental Hazards
Special Toxicity Statements
General Environmental Statements
Physical or Chemical Hazards
Agricultural Use Requirements
Restricted-entry Intervals ( REI)
Non-agricultural Use Requirements
Storage and Disposal
Directions for Use
Material Safety Data Sheets
Development of the MSDS
Components of the MSDS
Chemical Product Identification
Physical and Chemical Properties
Fire and Explosion Hazards
Toxicological Information/Human Health Data
Cholinesterase Inhibition
Regulatory Levels and Classification
Personal Protection Recommendations
Additional Information
Summary
Review Questions
CHAPTER 4 PESTICIDE FORMULATIONS
An Overview of the Formulation Process
Solution
Suspension
Emulsion
Liquid Formulations
Emulsifiable Concentrates (EC or E)
Solutions (S)
Ready-to-use Low-concentrate Solutions (RTU)
Ultra-low Volume (ULV)
Invert Emulsions
Flowables (F)/Liquids (L)
Aerosols (A)
Ready-to-use Aerosols
Formulations for Smoke or Fog Generators
Liquid Baits
Dry or Solid Formulations
Dusts (D)
Tracking Powders
Baits (B)
Pastes, Gels, and Other Injectable Baits
Granules (G)
Pellets (P or PS)
Wettable Powders (WP or W)
Soluble Powders (SP or WSP)
Water-dispersible Granules (WDG) or Dry Flowables (DF)
Other Formulations
Microencapsulated Materials
Water-soluble Packets
Attractants
Impregnates
Repellents
Animal Systemics
Pesticide/Fertilizer Combinations
Fumigants
Pesticide Mixtures
Incompatibility
Adjuvants
Types of Adjuvants
Surfactants
Stickers
Extenders
Plant Penetrants
Compatibility Agents
Buffers or pH Modifiers
Drift Control Additives
Defoaming Agents
Thickeners
How to Choose the Right Adjuvant
Summary
Review Questions
CHAPTER 5 PESTICIDE HAZARDS AND FIRST AID
Toxicity, Exposure, and Hazard
Harmful Effects of Pesticides
Contact Effects
Systemic Effects
Allergic Effects
Exposure—How Pesticides Enter the Body
Skin or Dermal Route
Eyes
Inhalation Route
Oral Route
Product Toxicity and Health Concerns
Acute Toxicity
Signal Words and Skull & Crossbones Symbol
Chronic Toxicity
Delayed Effects
Symptom Recognition
Cholinesterase Inhibition
Cholinesterase Monitoring
First Aid for Pesticide Poisoning
General First Aid
Pesticide on the Skin
Pesticide in the Eye
Inhaled Pesticide
Pesticide in the Mouth or Swallowed
Antidotes
Heat Stress
Symptoms of Heat Stress
Summary
Review Questions
CHAPTER 6 PERSONAL PROTECTIVE EQUIPMENT
Chemical-resistant Clothing
Protect Your Skin
Work Clothes
Coveralls
Chemical-resistant Suit
Chemical-resistant Apron
Gloves and Footwear
Hats
Protect Your Eyes
Protect Your Respiratory Tract
Respirators
Use Respirators Properly
Maintaining Personal Protective Equipment
Disposables
Reusables
Washing PPE
Maintaining Eyewear and Respirators
Summary
Review Questions
CHAPTER 7 PESTICIDES IN THE ENVIRONMENT
The Environment
Pesticide Characteristics
Solubility
Adsorption
Persistence
Pesticide Degradation
Volatility
How Pesticides Move in the Environment
Movement in Air
Movement in Water
Movement on or in Objects, Plants, or Animals
Preventing Pesticide Drift
Spray Drift
Temperature Inversions
Vapor Drift
Particle Drift (Dust Drift)
Applicator Responsibility
Sources of Water Contamination
Pesticide Contamination of Surface Water
Pesticide Contamination of Groundwater
Leaching
Soil Properties
Preventing Surface Water and Groundwater Contamination
Preventing Pesticide Effects to Sensitive Areas and Non-target Organisms
Sensitive Areas
Pesticide Effects on Non-target Organisms
Non-target Plants
Bees and Other Beneficial Insects
Fish, Wildlife, and Livestock
Protecting Endangered Species
Summary
Review Questions
CHAPTER 8 TRANSPORTATION, STORAGE, AND SECURITY
Transportation
Transport Vehicle
Vehicle Operator
Other Safety Precautions
Transportation Security
Pesticide Storage
Secure the Site
Prevent Water Damage
Control the Temperature
Provide Adequate Lighting
Use Non-porous Materials
Maintain the Storage Site
Keep Labels Legible
Store Pesticide Containers Safely
Look for Damage
Note Shelf Life of Pesticides
Follow These Safety Tips
Isolate Waste Products
Pesticide Site Security
Benefits of Security Efforts
Risk Assessment
Employee Training and Security Awareness
Evaluating Pesticide Security
Steps for Preventing Security Problems
Summary
Review Questions
CHAPTER 9 EMERGENCY OR INCIDENT RESPONSE
Emergency Response Planning
Fires
Precautions to Reduce Fire Hazards
Pesticide Spills
Control the Spill
Contain the Spill or Leak
Clean Up the Spill
Prevent Spills
Summary
Review Questions
CHAPTER 10 PLANNING THE PESTICIDE APPLICATION
Selecting the Pesticide
Reviewing the Pesticide Label
Compatibility of Pesticides
Conducting a Compatibility Test
Making Tank Mixes
Safe Mixing and Loading Practices
Select an Appropriate Mixing/Loading Area
Protect Water Sources
Select Personal Protective Equipment (PPE)
Opening Containers
Measuring
Transferring Pesticides
Cleaning and Disposing of Pesticide Containers
Container Rinsing Procedures
Applying Pesticides Correctly
Personal Protective Equipment (PPE)
Application Procedures
After Mixing, Loading, and Application
Cleaning Procedures
Summary
Review Questions
CHAPTER 11 PESTICIDE APPLICATION PROCEDURES
Application Methods
Safety Systems
Closed Mixing and Loading Systems
Mechanical Systems
Water-soluble Packaging
Enclosed Cabs
Pesticide Containment Systems
Application Equipment
Sprayers
Sprayer Components
Granular Applicators
Other Application Equipment
Equipment Calibration
Calculating Areas
Calculating the Application Rate
Techniques for Minimizing Drift
Summary
Review Questions
CHAPTER 12 PROFESSIONAL CONDUCT
Supervision
Pesticide Security and Supervision
Public and Customer Communications
How to Answer Consumer Questions
Your Professional Image
Summary
Review Questions
APPENDICES
A. Answers to Review Questions
B. Glossary
C. Conversions & Calculations
Pesticide Calculations
Mixing Soluble and Wettable Powders
Mixing Liquid Formulaions
Square Feet vs. Acre Mixing
D. Additional Federal Pesticide Laws & Federal Record-keeping Requirements
Worker Protection Standard (WPS)
Pesticide Handlers
Agricultural Workers
Field Sanitation Standard
Hazardous Materials Transportation Uniform Safety Act (HMTUSA)
Hazard Communications Standard (HCS)
Federal Occupational Safety and Health Act (OSHA)
Superfund Amendments and Reauthorization Act (SARA Title III)
Emergency Planning
Emergency Release Notification
Penalties
Resource Conservation and Recovery Act (RCRA)
Federal Aviation Administration
Federal Trade Commission Act
Resource Conservation and Recovery Act (RCRA)
Federal Aviation Administration
Federal Trade Commission Act
E. Practice Exam
F. Selected Pesticide References
G. Pesticide-related Resources
EPA Regional Pesticide Program Offices
Index