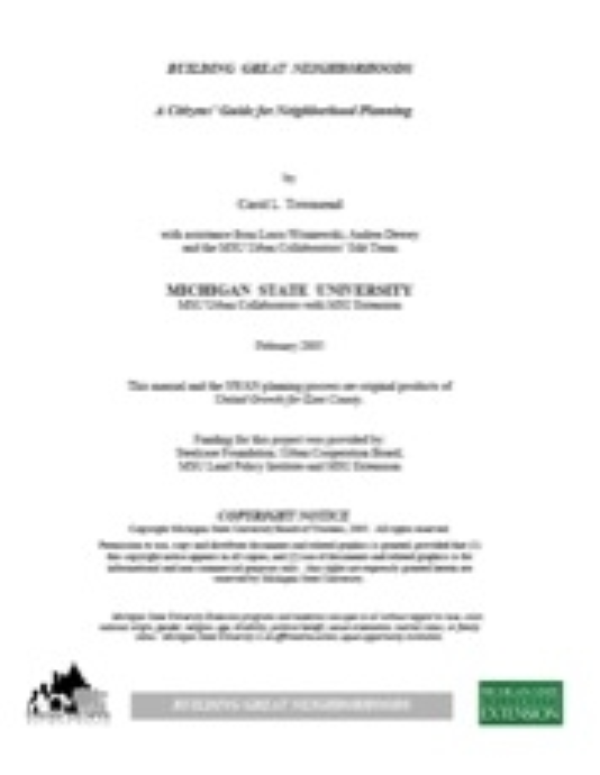 Neighborhood Planning Manual (WO1024)
DOWNLOAD FILE
October 20, 2015 - Author: Carol Townsend
Introduction
During the last half of the 20th century, core cities in Michigan experienced the twin trends associated with urban sprawl - abandonment and disinvestment. As middle- and upper-income people fled to the suburbs, primarily low-income households were left in the central city. Neighborhood and business associations were organized to fight the deterioration, reduction in city services and the crime that followed. The 1990s brought new prosperity to some of our cities as young people and former suburbanites discovered the amenities of city living.
Cities in the process of revitalization are now faced with a new set of challenges: gentrification, a lack of tools to maintain housing that is affordable to a range of household incomes and valued neighborhood businesses squeezed by increasing property values. Cities still suffering from economic decline struggle to build a feeling of community. Residents and business owners in both of these kinds of neighborhood share a feeling of uncertainty about their future and that of their neighborhood.
The Manual
"Building Great Neighborhoods" outlines a neighborhood planning process that can assist residents, businesses and other neighborhood stakeholders in taking control of their future. It provides one potential approach to neighborhood revitalization. This manual explains how a neighborhood can develop a Vision for its redevelopment and construct an Action Plan to implement that Vision. Together, they form the basis of a Neighborhood Plan. The process described here is empowering because it requires current neighborhood stakeholders to take the lead in deciding how their area will be improved (shared vision). It is a consensusbuilding model because it builds upon common ground rather than defining and accentuating differences. This process also has a capacity-building component because the planning activities are coordinated through the neighborhood association or other community-based organizations, expanding stakeholders' ability to handle increasingly complex projects.
Basic Components of a Neighborhood Plan:
1. Leadership Team – guides the planning process.
2. Neighborhood Profile and SWOT Analysis – determine where we are now.
3. Worst Case Scenario – shows where we do not want to go.
4. Visioning and Preferred Scenario – shows where we do want to go.
5. Neighborhood Survey and Neighborhood Summit – provide tools to build the plan.
6. Action Teams and Action Plan - achieve the Vision.
Any community-based organization interested in planning for its neighborhood's future can use this manual. Each chapter explains a step in the process of developing a neighborhood improvement plan. This process has been proven effective in organizing a neighborhood to manage change. This process can be adapted to meet the specific conditions of your neighborhood.
A Neighborhood Plan sets the course for the neighborhood's future. It provides the context from which to evaluate concepts and make policy decisions. For example, when downtown or a private developer proposes a project for a neighborhood, it will be measured against the Neighborhood Plan to see if it helps achieve the Vision. The plan also assists community-based organizations in planning their activities to complement and help achieve neighborhood goals. The plan should also function as a unifying mechanism bringing residents, businesses, and other neighborhood stakeholders together to work collaboratively on agreed upon goals and dreams. Focusing the attention of all sectors on the goals and strategies encompassed in the Neighborhood Plan increases the opportunities for significant neighborhood improvement.
The planning process described in this manual is generally based on a planning project undertaken in Grand Rapids, Michigan, by the South West Area Neighbors (SWAN) in cooperation with Michigan State University. (Appendix M is an overview of the SWAN experience.) This process will have to be adapted to the unique character of each neighborhood and to the unique circumstances of each neighborhood association. This manual should be used as a guide and not as an end in itself.
Neighborhood planning involves hard work, long hours, frustration and stress, but also passion, the art of compromise, and a valuable opportunity to learn about your neighbors, yourself and the community. Make the investment in building the future of your neighborhood – the dividends are tremendous. Just make sure that you take the time to enjoy the process. You must be able to look at your Neighborhood Plan when it is finished and feel good about the work that was done on this worthwhile project. So, two important words to remember: HAVE FUN! ! !
"The strategic visioning process allows the community to stretch beyond what exists now to reach new potential for the future. Through collaboration and consensus building, diverse sectors are brought together to determine what they want the community to be in the future. People become empowered through their active participation in creating the community's future and thereby become more adept in dealing with change." Dr. Janet Ayres Purdue University
---