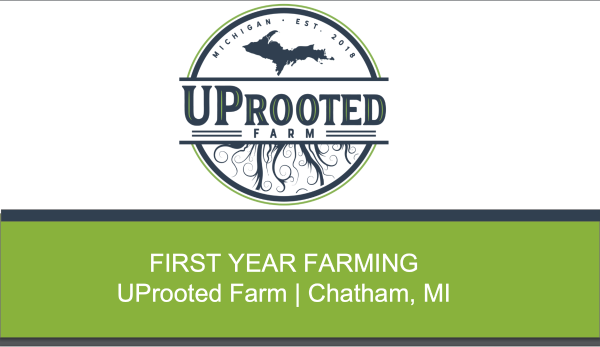 New farm start-up
DOWNLOAD FILE
January 15, 2020 - Author: James Isleib, Michigan State University Extension
What type of farmer do you want to be?
Conventional vs Organic Agriculture?
Regenerative Agriculture under Holistic Management
"A system of farming principles and practices that increases biodiversity, enriches soils, improves watersheds, and enhances ecosystem services. Regenerative Agriculture aims to capture carbon in soil and aboveground biomass, reversing current global trends of atmospheric accumulation."
Permaculture
Your personal philosophy, principals, and beliefs should dictate how you farm. Ideological possession and dogmatic thinking aren't good business strategies.
Traits of a successful farmer
Do you like hard manual labor?
Are you organized and detail oriented?
Are you conscientious and dependable?
Can you power through hard, rainy, uncomfortable days?
Can you be relaxed and adaptable when things get hard and don't go correctly?
Anthropogenic Soil
Intensive cropping systems do not reflect natural plant/soil relationships.
What does tillage do to the soil?
Where do the nutrients for our crops come from?
What tools can facilitate the outcomes we are after?
Management of soil structure vs soil chemistry is different.
Key Takeaways
Comparing farms and farmers is almost never apples to apples. Context is everything.
Every prospective farmer has roughly 45 years to get it right.
Much of what I'm describing is knowledge incorporated from others and applied to my first year experience.
Define your weakness so your systems CAN mitigate them.
Make an honest assessment of your context to find a path forward with the highest probability of success!
A farm must make enough money to support the farmer!
---