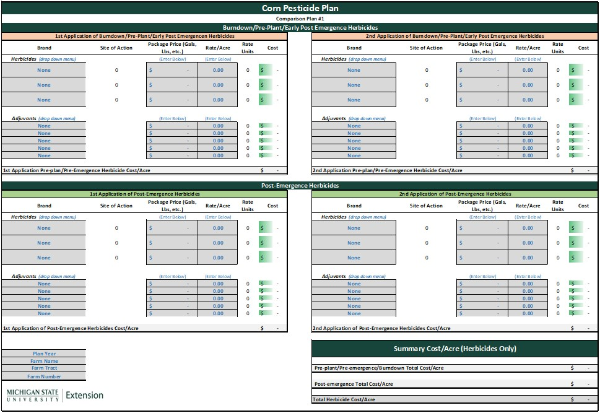 Pesticide Cost Comparison Decision Tool for Field Crops
DOWNLOAD
October 13, 2022 - Author: Jonathan LaPorte, MSU Extension
The Pesticide Cost Comparison Decision Tool provides farm producers with an ability to consider integrated pest management strategies and product costs. Building upon science-based research, the cost comparison tool uses this information as part of developing a pesticide plan for your farm.
What you'll need to use the tool:
Chemical product prices (i.e., price per gallon, price per pound)
Product rates per acre being applied
Product labels (if adding additional products beyond those in the tool) – see Chemical List tabs
Pesticide Plans:
The plan starts with identifying the types of pests that need to be controlled. MSU Extension provides a number of research based publications that offer guidance on pests and control methods. Before seeking a chemical solution to your pest concerns, review the following documents and consider all control methods available:
MSU Weed Science Program – Home of the MSU Weed Guide
MSU & OSU Insect Management Guides for Field Crops
MSU Extension Field Crop Pathology – Home of Fungicide Efficacy and Foliar Disease Information
Pesticide Plans for corn, soybeans, and wheat are available within the decision tool. Within each specific crop, two comparison plans can be created to consider different types of chemistry and projected costs per acre. Each comparison provides a total pesticide plan cost per acre to assist you in finding which mix of products meets your IPM needs at the lowest possible cost.
Herbicides:
The herbicide section has two areas split between burndown/pre-plant/early post application or post-emergence. Each section allows for up to two different applications. For example, a burndown application followed by a pre-plant or early post application may be desired. Both applications, the products used, and their costs per acre can be outlined separately.

A third and/or fourth application for post emergence herbicides can also be input into the tool. This provides producers with an ability to consider multiple passes across the field to manage their weed concerns.
Note: Each product selected in the herbicide section also provides the Site of Action to allow for weed resistance consideration in pesticide planning. Product names and information are based on the MSU Weed Guide. To use "generic" products, reference the weed guide and active ingredients to select the corresponding "name brand" product within the decision tool.
Fungicides & Insecticides:
For fungicides and insecticide sections, there are two application options available to outline a first (1st) and second (2nd) pass across field. Note: for these sections, active ingredients are displayed with each product selected. The intent is to provide users with an opportunity to consider "generic" products using the same active ingredients in their pesticide planning.
Adjuvant Help Guide:
Some pesticide products recommend or require the use of adjuvants (i.e., ammonium sulfate, crop oil) for maximum effectiveness. These additional products add to your pesticide plan's overall cost per acre. The help guide is designed to use product label information to calculate the application rate of the adjuvant(s) being used. Input that product cost and application rate information into the pesticide plan and the decision tool will calculate a cost per acre.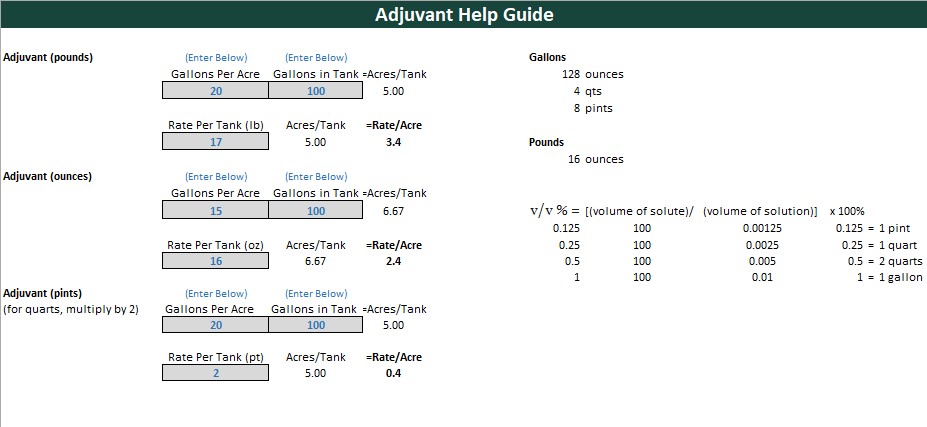 Chemical List tabs:
Your farm may use different products that those provided in the decision tool. The chemical list tabs provide an opportunity to add additional products. An example of the information needed to add additional products is provided within the tab section. There is a separate chemical list for corn, soybeans, and wheat.
*Note: The tool is a macro-based Excel file. Click the "reset" buttons on each page or section to clear tool for your individual use.
**Note (Non-Macro Users): The tool has been updated to ensure it functions if you do not have macro or Visual Basic for Application (VBA) capability. This is often the case if using the program online versus on a computer desktop. "Reset" or "toggle" buttons will not work, but fields that would be changed by those macro features are unlocked and can be manually entered.
Walkthrough Videos
Introduction of Tool & Features
Herbicide Products Section
Fungicide & Insecticide Product Section