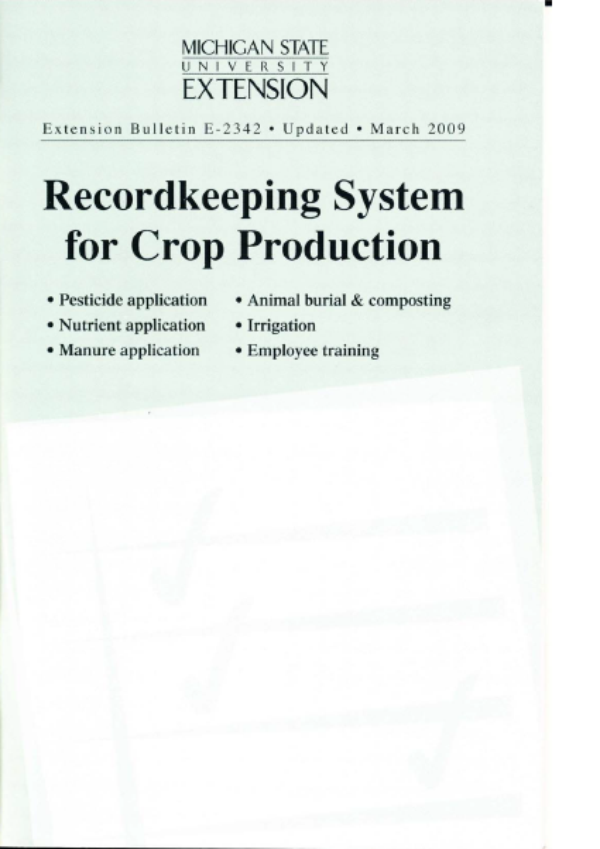 Recordkeeping System for Crop Production (E2342)
DOWNLOAD FILE
November 6, 2015 - Author: Allen Krizek
Why keep production records?
Keeping records meets the requirements of various state and federal regulations.
Complete and accurate records help demonstrate your protection of soil, water and other environmental resources. Records will help you analyze the performance of your farm's cropping system.
Records may provide liability protection in the event of a complaint or lawsuit concerning your farming operation.
Complete records demonstrate conformance with Michigan Right-to-Farm guidelines and are needed for Michigan Agriculture Environmental Assurance Program (MAEAP) system verification.
Table Contents
Index for Individual Fields
Laws Related to Pesticide Recordkeeping
Required Pesticide Information
Pesticide Applicator Information
Calibration of Application Equipment
Pesticide Drift Management Plan
Individual Field Record Sheets
Manure Application Records
Record for Manure Hauled Off-site
Manure Storage Inspection Record
Animal Burial Record
Animal Tissue Composting Record
Irrigation Application Record
Employee Training Record
Worker Protection Standard
CNMP employee training
Other employee training
Pesticide Application Tips
Use integrated pest management programs to optimize pesticide use.
Use conservation practices that reduce erosion and surface runoff.
Follow label directions.
Use the lowest pesticide rate that provides adequate control.
Calibrate application equipment accurately.
Measure pesticide concentrates accurately.
Prevent back-siphoning of pesticides into water sources.
Avoid spray drift and volatilization.
Clean up pesticide and other spills.
Store pesticides away from water sources.
Nutrient Application Tips
Soil sample and test all fields on a regular basis before applying nutrients.
Use fertilizer recommendations consistent with those of Michigan State University.
Take nutrient credits for organic matter, legumes, and manure or other biological materials.
Manure Application Tips
Determine the nutrient content of manure with a laboratory analysis.
Apply manure uniformly to soils. Know the amount of manure applied per acre so that nutrients can be effectively managed.
Liquid manure applications should not result in ponding, soil erosion or manure runoff to adjacent property, drainage ditches or surface water.
Monitor title drains. An application of manure that results in manure flow in a field tile is not acceptable.
Avoid applications of manure to frozen or snow-covered soils.