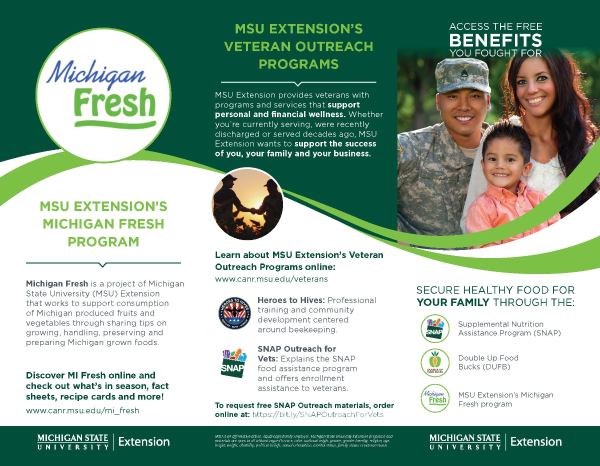 SNAP for Veterans MiFresh
DOWNLOAD
June 16, 2021
SECURE HEALTHY FOOD FOR YOUR FAMILY THROUGH THE:
Supplemental Nutrition Assistance Program (SNAP)
Double Up Food Bucks (DUFB)
MSU Extension's Michigan Fresh program
APPLYING FOR BENEFITS IS AS EASY AS 1-2-3
1. Visit: www.michigan.gov/mibridges
Enter your information to create your free account

Answer a few optional questions to verify your identity
2. Sign up for optional text notifications for updates
Click on 'Apply for Benefits'
3. Select the program(s) your household would like to apply for
You can select more than one program
Complete the questions and you will be contacted once your application is reviewed
Need help applying for SNAP benefits?
For help finding a food pantry, assistance in applying for SNAP benefits or referrals to other resources call: Food Bank Council of Michigan's Food and Other Resources (F.O.R.) HELPLINE at (888) 544-8773
SUPPLEMENTAL NUTRITION ASSISTANCE PROGRAM (SNAP) BENEFITS
With a Bridge Card:
Your children automatically qualify for free school meals
You can receive free nutrition and physical activity education
You can purchase seeds/plants to grow your own food
You can buy food online from ALDI, Amazon and Walmart
You can purchase prepared food from participating restaurants (if disabled, homeless or aged 60+)
You can use Double Up Food Bucks to get free produce
Who can receive SNAP benefits?
Eligible low-income families, individuals and college students
Note: The SNAP benefit is now available to individuals with a drug-related felony conviction.
For more information, explore 'Assistance Programs' within the Michigan Department of Health and Human Services page: www.michigan.gov/mdhhs
MORE ABOUT DOUBLE UP FOOD BUCKS (DUFB)
If you have a Bridge Card, DUFB matches your fruit and veggie purchases, up to $20 a day!
To find locations near you, visit: www.DoubleUpFoodBucks.org/locations
At Farmer's Markets: Go to the info booth and ask about Double Up Food Bucks. Many markets use tokens for both your Bridge Card and DUFB, which you can use to buy Michigan grown produce.
At Grocery Stores: Before you shop, ask how DUFB works at your nearest participating location. Stores may load DUFBs onto their loyalty card, use a DUFB card and app, or use coupons.
Double Up Food Bucks is at 250+ MI grocery stores & farmers markets. Contact DUFB at (866) 586-2796 or info@doubleupfoodbucks.org
DUFB is a Fair Food Network program.
MSU EXTENSION'S VETERAN OUTREACH PROGRAMS
MSU Extension provides veterans with programs and services that support personal and financial wellness. Whether you're currently serving, were recently discharged or served decades ago, MSU Extension wants to support the success of you, your family and your business.
Learn about MSU Extension's Veteran Outreach Programs online: www.canr.msu.edu/veterans
Heroes to Hives: Professional training and community development centered around beekeeping.
SNAP Outreach for Vets: Explains the SNAP food assistance program and offers enrollment assistance to veterans
To request free SNAP Outreach materials, order online at: https://bit.ly/SNAPOutreachForVets
MSU EXTENSION'S MICHIGAN FRESH PROGRAM
Michigan Fresh is a project of Michigan State University (MSU) Extension that works to support consumption
of Michigan produced fruits and vegetables through sharing tips on growing, handling, preserving and
preparing Michigan grown foods.
Discover MI Fresh online and check out what's in season, fact sheets, recipe cards and more! www.canr.msu.edu/mi_fresh