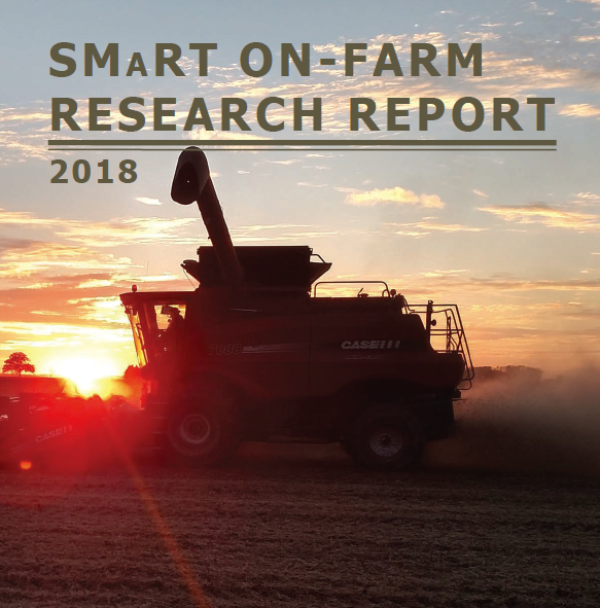 Soybean SMaRT On-Farm Research Report 2018
DOWNLOAD FILE
December 1, 2018 - Author: Michael Staton, MSU Extension and Mark Seamon, MSPC Research Coordinator
2018 marks the eighth season of the SMaRT on-farm research program, made possible by the checkoff investment of Michigan soybean producers. This year 48 producers around the state conducted on-farm research trials within 11 projects. Contained in this publication you'll find the results from 51 individual trial locations. The research projects were developed with producer input and represent some of the most challenging production issues confronting producers. Most of the projects were conducted at multiple locations and, in some cases across several years, improving the reliability of the results.
Agronomic and economic data is presented for each treatment. Partial budgets and breakeven yields utilized the projected USDA 2018-19 average soybean price of $8.60 per bushel, the manufacturers' suggested retail prices for all product(s) and application costs associated with the treatments.
Conducting these trials would not be possible without strong partnerships. One example is the unique collaboration between Michigan State University Extension and the Michigan Soybean Promotion Committee (MSPC) to jointly fund Mike Staton, MSU Extension statewide soybean educator and SMaRT project coordinator. This program would also not be possible without the efforts of Ned Birkey in southeast MI and Dan Rajzer in southwest MI with whom MSPC contracts to implement SMaRT trials and who are essential to this project's success. Ty Bodeis, MSPC soybean production specialist, took final plant stand counts, rated ILeVO trials for foliar symptoms of sudden death syndrome and white mold trials for white mold incidence. Ty also collected soil samples for soybean cyst nematode testing and nutrient analysis. We also want to thank the Center for Excellence and MSU Extension educators Martin Nagelkirk and George Silva for their efforts in making this research possible.
Dr. Arnold Saxton, Professor Emeritus, University of Tennessee, provided the SAS statistical procedure used for analyzing the 2018 trial results and provided valuable input regarding experimental design and statistical analysis.