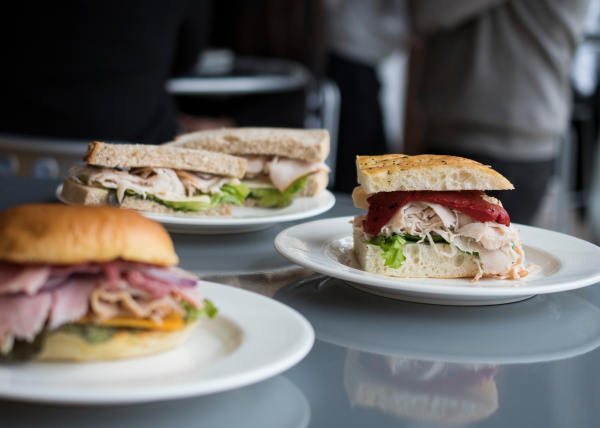 The Kitchen, Inc.
DOWNLOAD FILE
Another Making It In Michigan Success Story: The Kitchen, Inc.
Bob and Patti Watson, owners of The Kitchen, Inc. have been in the industrial catering field for over twenty years. The company began as a party store with a deli that sold a few sandwiches each day. Slowly several catering trucks in the area stopped by the store to purchase sandwiches to resell on their trucks. Bob quickly realized there was a strong need in the Metro-Detroit area for fresh sandwiches with quality ingredients manufactured and sold at a reasonable price. The Watsons eventually sold their party store to concentrate all their efforts in industrial catering. The menu was vast and varied providing a complete line of breakfasts, cold sandwiches, hot sandwiches, salads, and specialty items such as fresh baked pizza made from scratch. Bob felt it was important to stay on the cutting edge going above and beyond the State and Federal mandates with regards to label requirements, cleanliness, and state of the art equipment.
In October of 2000, outgrowing the small facility, the corporation moved to a brand new 3,200 square foot facility located in Madison Heights. Bob began to look for ways to diversify the customer base into the vending machine industry and in servicing charter schools in Michigan providing lunches to students without cafeterias.
In 2012, the company discussed getting inspected by the USDA and completed the application but didn't do much follow-up as they did not have a space that would really allow them to do what they wanted to do. In 2016, they received a letter from the USDA asking if they wanted to keep their plant numbers. The Watson's daughter Courtney has loved everything about food science and safety so she was excited for the challenge of becoming and running a USDA inspected plant. Courtney went to Hazard Analysis and Critical Control Point (HACCP) Training at Michigan State University, and after training she wrote their first Fully Cooked, Not Shelf Stable HACCP plan for the USDA. In February 2017, they moved into their new state-of-the-art facility just under 10,000 square feet in Sterling Heights and utilized the MSU Product Center for help in their USDA inspection, ultimately becoming a Dual Jurisdiction plant.
The Kitchen, Inc. currently has 39 employees, six of which work with Courtney directly in the USDA room. The Kitchen, Inc. hand-makes thousands of sandwiches daily for over 100 different customers including several local vending companies, schools, and government buildings. They are discussing starting a second shift, adding more employees, creating new HACCP plans to make different items, and taking on more business.
"I constantly say, there is no way I could have done this without the help of the MSU Product Center," states The Kitchen, Inc. USDA Manager Courtney Watson. "They helped me take our small family business to the next level. Everyone I interacted with was more than willing to help. There were trips made to our facility, e-mails as early as 5AM, phone calls at 5PM, and video conferences, I always knew I had someone that would teach me how to get to the next step. This was so much more than I could have asked for; I made great friends, and gained the best Mentor I could have asked for."
"It was an absolute privilege to work with this business. They have such a great desire to do their best and be the best at what they do, it's contagious. The facility design is outstanding and their programs are well written and executed perfectly. I am so glad that the MSU Product Center was able to help them along the way with their Federal Grant of Inspection, working with this caliber of company was truly a pleasure."
Tina Conklin, Director, Accelerated Growth Services, MSU Product Center Food•Ag•Bio