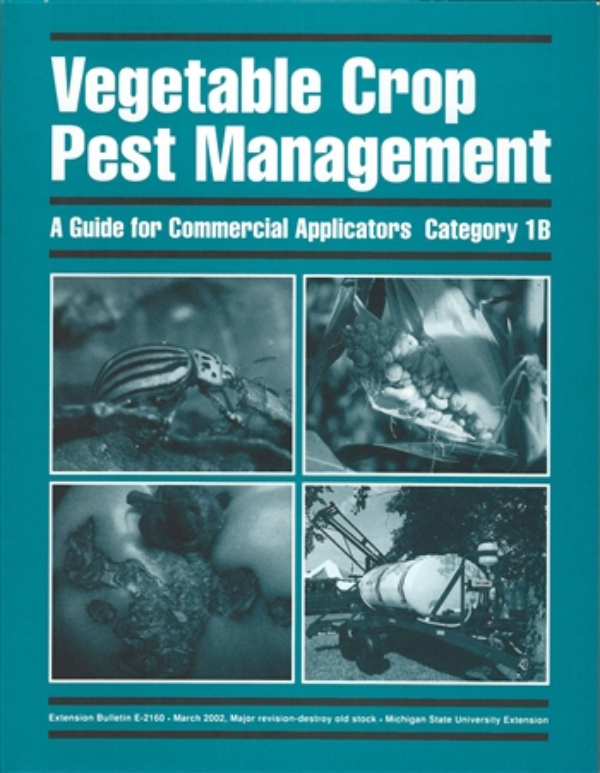 Vegetable Pest Management - A Guide for Commercial Applicators - Category 1B (E2160)
October 28, 2015 - Author: Rebecca L. Hines
Order Information
To order training manuals, go to https://npsecstore.com/pages/michigan
INTRODUCTION
How to Use This Manual
This manual contains the information needed to become a certified commercial applicator in Category 1B, Vegetables. This manual is intended for use in combination with the Pesticide Applicator Core Training Manual (Extension bulletin E-2195), available through the Michigan State University Bulletin Office. However, this manual would also be useful to anyone interested in learning more about vegetable pest management.
Category 1B, Vegetables, covers the management and control of common pests in asparagus, carrots, celery, cucurbits, cole crops, onions, potatoes, snap beans, sweet corn and tomatoes. The manual presents basic scientific information on pest life cycles and emphasizes protecting non-target organisms and preventing the development of resistance in pests.
The Category 1B certification exam is based on information found in this booklet. Each chapter begins with a set of learning objectives that help you focus on what you should understand from each chapter. The table of contents helps you identify important topics and understand how they relate to one another through the organization of headings and subheadings. As you prepare for the exam, read each chapter and answer the review questions. These questions are not on the certification exam, but are provided to help you prepare for the exam. Questions on the exam will pertain directly to the learning objectives.
The appendices and glossary, including an answer key (Appendix A), at the end of this manual provide supplemental information that will help you understand the topics covered in the chapters. Terms throughout the manual text that are bold or italicized can also be found in the glossary.
This certification manual benefits the applicator and the general public. By learning how to handle pesticides correctly, applicators can protect themselves, others, and the environment from pesticide misuse. For more specific information on how to become a certified applicator in Michigan, refer to the beginning of the core manual (E-2195) or the Michigan Department of Agriculture's Web site or call the MDA at 1-800-292-3939.
CHAPTER 1: INTEGRATED PEST MANAGEMENT
Integrated Pest Management
Field Scouting, Monitoring
Economic Thresholds
Control Strategies
Cultural Control
Biological Control
Chemical Control
Review Questions
CHAPTER 2: MINIMIZING PESTICIDE IMPACT
State and Federal Laws
Guidelines for Selecting and Using Pesticides
Protecting Our Groundwater
Keeping Pesticides Out of Groundwater and Surface Water
Protecting Non-target Organisms
Potential for Pesticide Resistance
The Development of Resistance
Resistance Management
Notifying Neighbors
Review Questions
CHAPTER 3: APPLICATION EQUIPMENT
Methods of Application
Types of Sprayers
Parts of a Sprayer
Tanks
Agitators
Pumps
Strainers
Hoses
Pressure Regulators
Pressure Gauge
Nozzles
Operation and Maintenance of Sprayers
Before Spraying
During Spraying
After Spraying
Granular Applications
Field Operations
Global Positioning System and Geographical Information System
Review Questions
CHAPTER 4: CALIBRATION
Introduction
Calibration of Sprayers
Variables that Determine the Spray Rate
Precalibration Check of Nozzle Output
Spray Pattern Uniformity
Broadcast Sprayer Calibration
Amount of Pesticide to Add to Tank
Granular Applicator Calibration
Review Questions
CHAPTER 5: INSECT MANAGEMENT
Growth and Development
Considerations for Pest Management
Insect Pests of Asparagus
Asparagus beetles
Asparagus miner
Cutworms
Insect Pests of Carrots
Aster leafhopper
Carrot weevil
Insect Pests of Celery
Aster leafhopper and carrot weevil
Green peach aphid and sunflower aphid
Celery looper and cabbage looper
Tarnished plant bug
Variegated cutworm
Insect Pests of Cucurbits
Aphids
Cucumber beetles
Squash bug
Insect Pests of Cole Crops
Imported cabbagewonn
Cabbage looper
Diamondback moth
Cabbage maggots
Insect Pests of Corn (Sweet)
Corn flea beetle
European corn borer
Corn earworm
Fall armyworm
Insect Pests of Onions
Onion maggot
Onion thrips
Insect Pests of Potatoes
Colorado potato beetle
Potato leafhopper
Green peach aphid and potato aphid
Insect Pests of Snap Beans
Potato leafhoppers
Tarnished plant bug
European corn borer
Insect Pests of Tomatoes
Colorado potato beetle
Tomato hornworm
Tomato fruitworm
General Vegetable Insect Pests
Seedcorn maggot
Review Questions
CHAPTER G: WEED MANAGEMENT
Development Stages
Life Cycles of Weeds
Common Weeds in Michigan
Grass and Grasslike Weeds
Broadleaf Weeds
Weed Control
Cultural Control
Mechanical Control
Chemical Control
Types of Herbicides
Preplant Herbicide Soil Applications and Incorporation
Preemergence Herbicide Applications
Postemergence Herbicide Applications
Herbicide Carryover
Herbicide Combinations
Herbicide Additives (Adjuvants)
Herbicide Compatibility Problems
Review Questions
CHAPTER 7: DISEASE MANAGEMENT
Introduction
Fungi
Bacteria
Viruses
Disease Triangle
Disease Cycle
Disease Management
Cultural Control
Biological Control
Chemical Control
Diseases of Asparagus
Rust
Purple spot
Fusarium wilt and crown rot
Diseases of Carrots
Aster yellows
Alternaria leaf spot
Cercospora leaf spot
Damping off
Diseases of Celery
Aster yellows
Septoria leaf blight
Bacterial leaf blight
Fusarium yellows
Diseases of Cole Crops
Black leg
Black rot
Alternaria leaf spot
Clubroot
Downy mildew
Diseases of Corn
Common rust
Corn smut
Stewart's wilt
Diseases of Cucurbits
Alternaria leaf spot
Mosaic viruses
Powdery mildew
Phytophthora root, crown, and fruit rot
Diseases of Onions
Purple blotch
Downy mildew
Smut
Botrytis leaf blight
Diseases of Potatoes
Early blight
Late blight
Fusarium dry rot
Common scab
Black scurf/stem canker
Diseases of Snap Beans
Fusarium root rot
White mold
Halo blight
Diseases of Tomatoes
Early blight
Septoria leaf spot
Anthracnose
Bacterial spot
Review Questions
CHAPTER 8: NEMATODE MANAGEMENT
Introduction
Plant-parasitic Nematodes
Nematodes of Importance in Vegetable Production
Northern Root-knot Nematode
Lesion Nematode
Cyst Nematode
Stem and Bulb Nematode
Common Needle Nematode
Pin Nematode
Sampling Nematode Populations
Management of Plant-parasitic Nematodes
Review Questions
APPENDIX A: Answers to Review Questions
APPENDIX B: Conversion Tables
APPENDIX C: Glossary
APPENDIX D: Selected Bibliography
Pesticide Emergency Information
APPENDIX E: Crop-destroying Pests