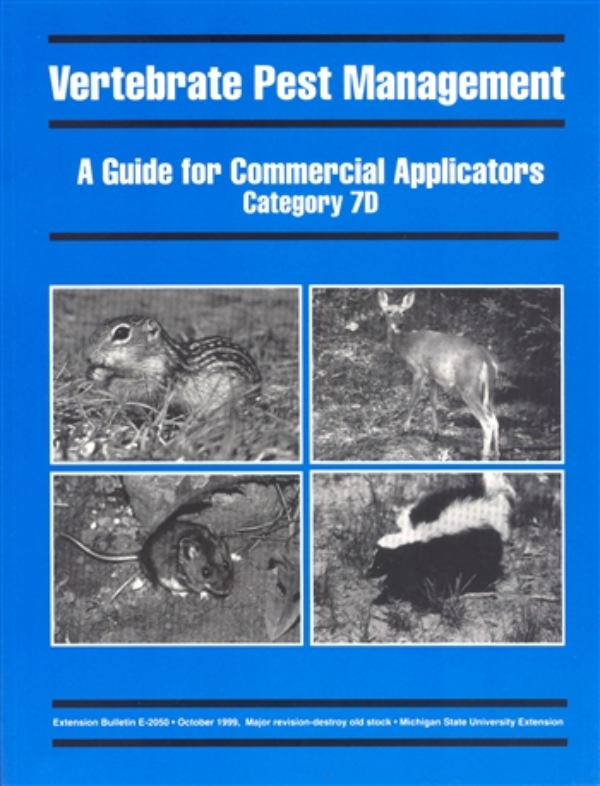 Vertebrate Pest Management: Commercial Applicators - Category 7D (E2050)
October 27, 2015 - Author: Carolyn Randall
Order Information
To order training manuals, go to https://npsecstore.com/pages/michigan
INTRODUCTION
How to Use This Manual
This manual contains the information needed to become a certified commercial applicator in Category 7, Vertebrate Pest Management. This manual is intended for use in combination with the Applying Pesticides Correctly. However, this manual would also be useful to anyone interested in learning more about vertebrate pest management.
The Category 7 certification exam will be based on information found in this booklet. Each chapter begins with a set of learning objectives that will help you focus on what you should get out of each chapter. The table of contents will help you identify important topics and understand how they relate to one another through the organization of headings and subheadings. As you prepare for the exam, read each chapter and then test yourself with the Vertebrate Pest Management review questions located at the end of the chapter. These questions are not on the certification exam. They are provided to help you prepare for the exam. Questions on the exam will pertain directly to the learning objectives.
The appendices and glossary, including an answer key (Appendix A), at the end of this manual provide supplemental information that will help you understand the topics covered in the chapters. Terms throughout the manual text that are bold and italicized can also be found in the glossary.
Topics covered within this manual are listed below.
CHAPTER 1: LEGALITIES OF VERTEBRATE PEST MANAGEMENT
State and Federal Laws
Federal Laws
Endangered Species Act
Federal Migratory Bird Treaty Act
CHAPTER 2: BIRDS
Pigeons
Habits of Pigeons
Starlings
Habits of Starlings
House Sparrows
Habits of House Sparrows
Canada Goose
Habits of Canada Goose
Pileated Woodpecker
Habits of Pileated Woodpecker
Sea Gulls
Ring-billed Gull
Habits of Ring-billed Gull
Herring Gull
Habits of Herring Gull
Other Birds
Health Hazards Associated with Birds
Histoplasmosis
Cryptococcosis
Ectoparasites
Defacement and Damage to Structures and Equipment
Legal Considerations
Federal Laws
State and Local Laws
Tools and Methods for Managing Pest Birds
Inspection
Habitat Modification
Exclusion
Ultrasonic Devices
Trapping
Lethal Alternatives
Toxic Perches
Ornitrol
Shooting
Risks to Non-targets
Public Relations
Bird Droppings Removal and Cleanup
Control of Pest Birds in Agricultural Areas
Exclusion
Frightening Devices
Chemicals
Cultural Practices
Summary
Review Questions
CHAPTER 3: DOMESTIC RODENTS
Rats
The house mouse
Rodents: Pictorial Key to Some Common U.S. Genera
Rats and Mice as Disease Carriers
Rat-bite Fever
Salmonella Food Poisoning
Leptospirosis or Weirs Disease
About Rabies
Rat-spread Diseases
Plague
Murine Typhus Fever
Trichinosis
Mouse-spread Diseases
Rickettsial Pox
Meningitis
Dermatitis
Ray Fungus and Ringworm
The Norway Rat
Habits of Rats
Life Cycle
Social Behavior
Senses of Rats
Fear of New Objects (Neophobia)
Physical Abilities
Food and Water
Range
Nests
Inspection
Flashlight
Sounds
Droppings
Urine
Grease Marks
Runways
Tracks
Gnawing Damage
Burrows
Pet Excitement
Odor
Estimating Rat Numbers
Control and Management of Rats
Sanitation
Eliminate Hiding Places
Rat-proofing (Exclusion)
Building Interior
Traps
Rodenticides
The House Mouse
Losses Due to Mice
Habits of House Mice
Life Cycle
Social Behavior
Senses of Mice
Curiosity
Physical Abilities
Food and Water
Range
Nests
Inspection
Sounds
Droppings
Urine
Grease Marks
Runways
Tracks
Gnawing Damage
Visual Sightings
Nest Sites
Pet Excitement
Mouse Odors
Estimating Number of Mice
Control and Management of House Mice
Sanitation
Mouse-proofing
Traps
Rodenticides
Summary
Review Questions
CHAPTER 4: WILD RODENTS
Wild Rodents as Disease Carriers
Hantavirus Pulmonary Syndrome
The Deer Mouse
The White-footed Mouse
How is Hantavirus Transmitted?
Symptoms
Prevention
Voles
Control and Management of Voles
Exclusion
Habitat Modification
Repellents
Rodenticides
Trapping
Tree Squirrels
Control and Management of Tree Squirrels
Exclusion
Repellents
Trapping
Ground Squirrels and Chipmunks
Control and Management of Ground Squirrels and Chipmunks
Ground Squirrels
Habitat Modification
Trapping
Rodenticides
Fumigation
Chipmunks
Exclusion
Trapping
Woodchucks
Control and Management of Woodchucks
Exclusion
Fumigants
Trapping
Shooting
Muskrats
Control and Management of Muskrats
Exclusion
Habitat Modification
Rodenticides
Trapping
Shooting
Summary
Review Questions
CHAPTER 5: OTHER VERTEBRATE PESTS
Bats
Bats and Disease
Habits of Bats
Location of roost
Control and Management of Bats
Exclusion
Repellents
Moles
Control and Management of Moles
Skunks, Raccoons, and Opossums
Skunks
Raccoons
Opossums
Control and Management of Skunks, Raccoons, and Opossums
Trapping
Shooting
Prevention through Habitat Modification
Rabbits
Control and Management of Rabbits
Exclusion
Habitat Modification
Repellents
Trapping
Shooting
White-tailed Deer
Lyme Disease
Prevention of Lyme Disease
Control and Management of Deer
Exclusion
Repellents
Live Capture
Shooting
Snakes
Control and Management of Snakes
Summary
Review Questions
APPENDICES
Appendix A: Answers to Study Questions
Appendix B: Glossary
Appendix C: Damage Prevention and Control Methods
Appendix D: Selected Bibliography
Appendix E: Common Vertebrate Pest