Feed The Future Innovation Lab For Food Security Policy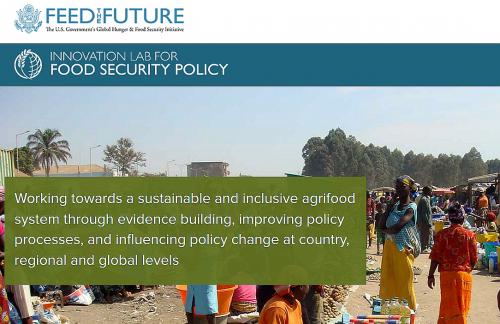 The overall mission of the Feed the Future Innovation Lab for Food Security Policy (FSP) is to promote inclusive agrifood system productivity growth, improved nutritional outcomes, and enhanced livelihood resilience through improved policy environments. Taking a broad view of agriculture, including the farm and off-farm parts of the agrifood system, FSP strives to increase countries capacity to generate policy-relevant evidence and analysis. This knowledge, when utilized by stakeholders, will improve policy formulation and implementation throughout the food system.
FSP is led by MSU AFRE Food Security Group (FSG), in partnership with IFPRI and the University of Pretoria.
The FSG is a team of faculty and graduate students from AFRE and other departments who believe that good food and nutrition policy, informed by solid empirical evidence that is generated jointly with local partners, can transform economies and lives in low income countries. FSG brings this vision to bear in conducting collaborative research, working actively with local partners to engage in policy analysis and advising, and building local capacity for the same on issues of food security and nutrition. The Group brings over 30 years of experience to the Feed the Future Innovation Lab for Food Security Policy consortium.
MSU Food Security Group Contributors to FSP