Plat Books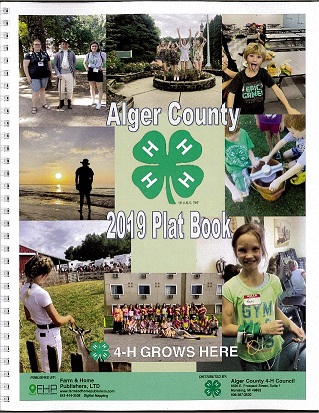 Alger County Plat Books - $35.00*
The 2019 Alger County Plat Books are now available. To order by mail, please send a check or money order for $38.75 ($35 + $3.75 shipping) made payable to Alger County 4-H Council and mail to: Alger County 4-H Council c/o MSU Extension, E9526 Prospect Street, Suite 1, Munising, MI 49862.
They are available to purchase from the Alger County MSU Extension Office, 906-387-2530
*Additional Pricing Information through MSU Extension: To purchase the book(s) with a credit card, the cost is $36.75 + 6% MI Sales Tax. If you want your book mailed (1st Class through the U.S. Postal Service), there is an additional $3.75 charge to cover the shipping.
You can also purchase the books at Peoples State Bank and the Alger Conservation District in Munising.
Schoolcraft County Plat Books
Information can be found by contacting the Schoolcraft County Clerk & Register of Deeds office at (906) 341-3618.