Featured Speakers
2023 Keynote Speaker
Amy Yoder
Chief Executive Officer,
QC Supply
Amy Yoder serves as the Chief Executive Officer of QC Supply. QC is the second largest distributor servicing the protein segment in North America. QC has over 30 locations focused on servicing biosecurity and disease prevention. Prior to this Amy founded Anuvia, an ag tech startup that enables farmers to implement sustainable practices that improve farm profitability, soil health, and environmental stewardship. For more than two decades Amy has contributed to the growth of the agricultural industry in key roles as Chief Executive Officer of Arysta LifeScience, North America and President of Spectrum Brands Home and Garden, and Biolab. She's also held leadership positions at Monsanto and NuFarm Limited.
Amy currently serves on the board of directors for Profile Products and Arcadia Biosciences (NDQ RKDA). She also promotes agriculture through her directorship on the Clemson University Order of the Oak t and the Michigan State University Hannah Society and as past president for the Sigma Alpha Foundation (a sorority promoting women in agriculture). In 2018 she was named by i4 Business as the 2018 Spirit of Innovation honoree, a leadership program recognizing women in Central Florida who have made a positive impact on local economies. In 2022 she was recognized as one of the "Women Who Mean Business" by the Orlando Business Journal.
Amy's leadership, and business acumen have been a driving force for growth and profitability at each organization she has represented. She is adept at building strong operational teams, has a diverse background in marketing, distribution and manufacturing, and seeks to move companies forward through timely and relevant organizational analysis.
She graduated with a BS in Agricultural Technology Systems Management from Michigan State University. Michigan State University also awarded Amy her Doctorate of Agriculture degree in 2021, for her work in advancing sustainable agriculture and supporting women's initiatives within the industry.
Outside of work, Amy enjoys spending time with her family in Florida, cheering on the Clemson Tigers and in competitive show jumping.
---
2023 MSU Leadership Speaker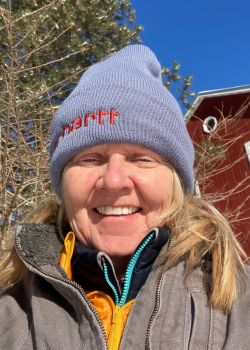 Dr. Laurie Thorp, Ph.D.
Director, Residential Initiative on the Study of the Environment (RISE)
Michigan State University
Laurie Thorp is a faculty member in the Department of Community Sustainability and director of the Residential Initiative on the Study of the Environment (RISE), an interdisciplinary living/learning program at Michigan State University (MSU). She teaches a first year and advanced seminar dealing with current environmental issues. Dr. Thorp assisted with the curriculum development of a competency-based sustainability specialization at MSU as co-investigator of a $625K Department of Education grant to assess student learning outcomes. She has served on the MSU Vice President for Finance and Operation's Environmental Stewardship Systems Team as technical team leader for behavioral research associated with strategic change initiatives advancing campus sustainability.
Her research interests are focused on participatory/emancipatory methodologies and alternative knowledge construction for sustainable food systems. She is co-founder of the MSU Student Organic Farm (SOF) and Bailey Urban Farm. For the past decade she has collaborated with colleagues in the departments of Animal Science and Philosophy to study environmental boundary crossing and student ethical development. Most recently she received a $50,000 grant from Organic Valley Foundation to support the development of indigenous foodways at the MSU Student Organic Farm Thorp's work has been published in Qualitative Inquiry, Agriculture and Human Values, The International Journal of Sustainability in Higher Education, Resources, Conservation and Recycling, The Journal of Ethnographic and Qualitative Research, and The Journal of Experiential Education.
---
2023 Moderator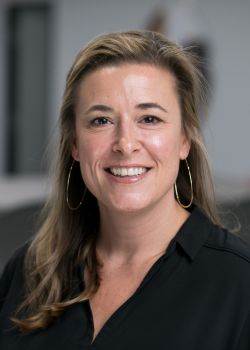 Dr. Stephanie Morley
President, Vetlen Advanced Veterinary Devices
Dr. Stephanie Morley is a 1997 graduate of The School of Hospitality Business at MSU and 2003 graduate of the College of Veterinary Medicine at MSU. Her career began with the frequently asked question, "How did you transition from Hospitality Business to Veterinary Medicine?'' and that question was a definite foreshadowing of her unique career path.
Over the course of her 20+ year career, Stephanie established a reputation as a transformational leader excelling at strategic development and execution in both the private and public sectors. She practiced small animal medicine in New Mexico and Michigan before transitioning into laboratory animal medicine. Her business acumen led her into management at the largest single site contract research organization in the world, ultimately leaving as Vice President of Operations at MPI Research (now a Charles River company). She transitioned to academia working at the University of Michigan Medical School as Associate Director of Business Development for Fast Forward Medical Innovation. With the exposure to academic IP commercialization she jumped at the chance to become a co-founder of Zomedica in 2015. She leveraged this experience for the veterinary sector by identifying new technologies that could advance veterinary practice. Zomedica listed on the Toronto Stock Exchange Venture Exchange in 2016 and cross-listed onto the NYSE American in 2017. Upon launch of Zomedica's first product in 2021 Dr. Morley took the opportunity for her latest career pivot and left to pursue other opportunities. She enjoys working with founders, in and out of the biomedical sector, to develop business strategy, support fundraising efforts and provide personal guidance as they navigate the choppy waters of leading a start-up. Most recently she accepted a role as President for Vetlen Advanced Veterinary Devices, a start-up out of Utah developing a transformative solution to post-surgical infections.
Stephanie lives in Brighton, Michigan as the matriarch of a busy blended family with 5 teenagers and a dog with three legs. She believes businesses are only truly successful when solving a problem for their customer and no one is better equipped to solve global problems like a Spartan!