4-H Livestock Association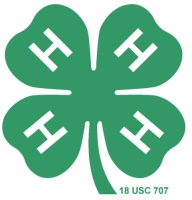 The Bay County 4-H Livestock Association is comprised of 4-H members and volunteers working with livestock projects. All members of the association also hold membership in organized 4-H clubs. The primary purpose of the Livestock Association is to help members working on livestock projects to receive appropriate training and resources on animal handling and showmanship. The Livestock Association coordinates all activities related to the annual Livestock Auction held during the Bay County Fair and Youth Exposition.
The association meets on the third Thursday of the month, 6:00 p.m., at the Fair Grounds Canteen. The association does not meet during the months of November and December.
The current officers of the 4-H Livestock Association include:
President: Grant Mammel
Vice President: Melea DeCatur
Secretary: Rachel Mammel
Treasurer: Emily Wolfe
Officer at Large: Tristen Julian
Adult Advisors:
Jeff Histed
Kym Kram
Marc Reder
Melissa Ruple
Darlene LaBean: Adult Treasurer
Superintendents
Small Animal:
Diane Julian
Jeremy Miller
Large Animal:
Katie Schumacher
Jeff Histed
Forms and Downloads
4-H Livestock Activities
Below is a listing of County 4-H Livestock Activities. Keep checking as these events will be updated as info becomes available!
More Livestock Events and Resources
For more information about Statewide 4-H Livestock Events and Resources go to the links below.
Youth for the Quality Care of Animals
This is a requirement from the Fair Board for youth, participating in a Swine project, at the Bay County Fair and Youth Exposition.
Youth for the Quality Care of Animals
Meeting Schedule - 6:00 p.m. Bay County Fairgrounds - Canteen Building - click on date for meeting minutes.
• January 17, 2019
• February 21, 2019 (pdf)

• March 21, 2019
• April 18, 2019
• May 16, 2019
• June 20, 2019
• July 18, 2019
• August 15, 2019
• September 19, 2019
• October 17, 2019
• November and December - TBD